Mauritius Historical Map
Mauritius Historical Map from year 1880
For those who are more fans of history, the map below offers a very unique overview of Mauritius from over 100 years ago, during the 19th century when the British govern Mauritius. The map was published at the year 1880, while the majority of the information and date obtained during the period of 1850 – 1875.
It is quite remarkable to see how the map is so accurate while referring to the topography of Mauritius.
The map includes information on all mountains, rivers, villages, islets and many more.
It also offers a great presentation of the various provinces of Mauritius and the border of each province during that period in time.
Unique to this map is details on all the estate plans, title deeds, and land plots and these were allocated during that period.
Click on the map image to see a larger image of the Mauritius Historical map.
This Mauritius Historical Map is a true piece of art a result of much hard work and a lot of skill in map making.
Mauritius Historical Map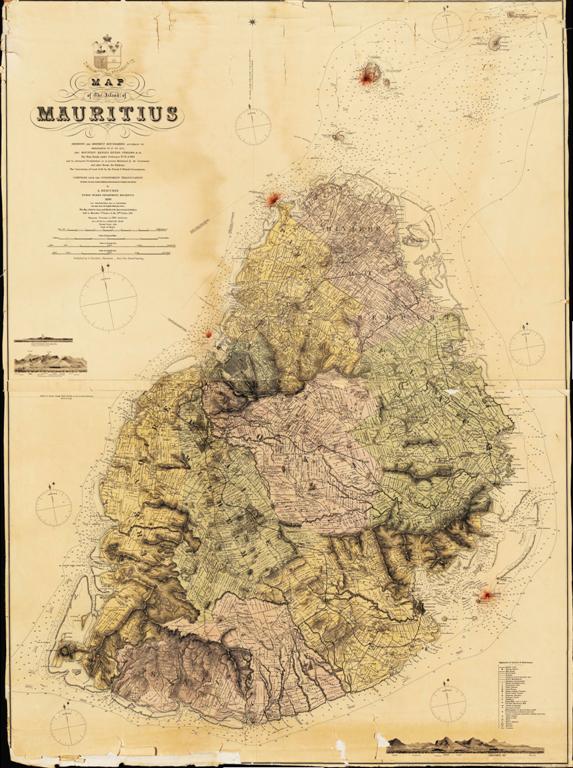 Mauritius during the early days: Mauritius Island first appears on the map during the 16th century after being discovered by the Arabs. Few years after Mauritius appeared first in maps produced in Europe as one of the group of islands located south east of Madagascar. On this map, Mauritius was known as Dina Arobi which was the name first given to Mauritius by the Arabs.