Day and Evening at Shanti Maurice
| | |
| --- | --- |
| Location | South |
| Minimum Age | 10 |
| Operating Days | All Days |
| Duration | 12 hrs |
| Activity Time | 11:00 - 23:00 |
| Transportation | Offered as Supplement |
A Day and Evening at Shanti Maurice Resort
A day and evening of true luxury in paradise!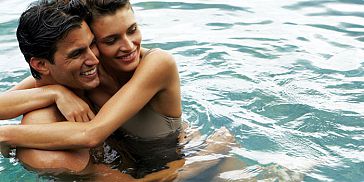 Mauritius Attractions now offers you the golden opportunity to satisfy all the senses with a very luxurious day package at the Shanti Maurice – 5* Resort, nestled between sugarcane fields and the turquoise waters of the Indian Ocean.
We bring you a new concept about enjoying elite day and evening experience in one of the most luxury hotels in Mauritius, including lunch, dinner and spa treatment, just for you to enjoy at best possible price!
You will simply fall in love with the pristine beaches, extensive range of facilities and warmest of welcomes; all accompanied by sincere service that comes straight from the heart.
Shanti Maurice truly gives a new definition for a wonderful moment in a little paradise.
Special promotion offer!
The actual public price of this day package is 190 Euro per person and we now offer you to enjoy this amazing package for a special discounted rate - the best possible price available in Mauritius!!!
---
Why the Shanti Maurice Resort..?
This is another Mauritius Attractions Exclusive product that is sure to please couples, families and those who want to have a great time.
Enjoy the most luxurious day and evening package starting at 10:30 am and ending the day after dinner at 22:30 pm.
During the entire time be sure to relax while being pampered - your happiness will be taken cared of as we shall do all the work for you to enjoy a Day filled with royalty treatment.
The Shanti Maurice Day-Evening Package Shanti Maurice includes
Welcome drinks
Cold Towels
Access to the Beach
Swimming Pool, Sauna and Hammam and Jacuzzi
Usage of the Fitness and Health Care Centre
Access to the Les Petits Dodo Kids Club and its variety of facilities
Free Wi-Fi
Usage of non-motorised water sports
1 hour of Swedish Massage or Balinese Massage at the Shanti Maurice - Nira Spa
2 Courses a La Carte Lunch at the Stars Restaurant
3 Courses a La Carte Dinner at the fine dining Stars Restaurant
Beach lounge sofas and various comfortable beach sun beds
---
About Shanti Maurice Resort
Shanti Maurice is a boutique lifestyle resort with an award-winning spa located on the largely untouched south coast of Mauritius.
.
Shanti Maurice was chosen as one of the leading resorts in the world, also featured in the list of top 100 resorts in the world, known for its unique setting, high level of services, top gourmet cuisine and amazing atmosphere.
This luxurious 5* Resort provides its guests with access to the sights, sounds and flavours of the unique mix of Indian, African, French and Chinese influences that form the Mauritian culture.
The Shanti Maurice Resort has it all....
White, coral free sandy beach with crystal clear turquoise waters
Beautiful Garden, perfect for a leisure stroll or moonlit walk after dinner
Boutique & Library
Beach trails for ideal strolls along the remarkable beach
Selected of pools, including its main infinity pool with heated Jacuzzi
Beach lounge sofas and various comfortable beach sun beds
Kids Club (3-12) – Les Petits Dodo offering fun-filled pursuits, such as flower making, kids yoga, face painting and musical games and many more...
Personalized service from A to Z
---
Culinary at Shanti Maurice
The culinary art is sacred at Shanti Maurice, an unforgettable mix of inherent and artisanal experiences.
Fresh from the ocean, the special Shanti Maurice herb garden or nearby farms, the skilled chefs offer local produce and imaginative choices. With casual beach barbeques, fine Cape-inspired dining at the oceanfront restaurant and simple, healthy fare from the Garden Wok menu, Shanti Maurice caters to the most discerning of palates.
Lunch at Pebbels Restaurant
As part of this package, you will get to relish the delicious Lunch as from 12:00 Pm – 14:00 Pm served at:
Pebbles Restaurant
In a relaxed setting open to ocean views and gentle breezes, the cuisine at Pebbles celebrates the rich diversity of Mauritian history and culture.
From delicately spiced curries that embrace time-honoured Indian and Creole traditions, to fresh salads bursting with local goodness, the expert hands of the chefs create a wonderful fusion of authentic recipes and contemporary gastronomical delight.
Dinner at Stars Restaurant
As part of this package, you will be served a Full 3 Course Dinner in the evening as from 18:30 Pm – 22:30 Pm:
Stars Restaurant
Stars, serving the finest, freshest Cape food, shines at night. With exquisite, perfectly prepared dishes and a setting offering views over a starlit Indian Ocean, the restaurant turns dinner into a memorable occasion. This is the place to lose track of time as the hours slip by as you savor your favorite wine.
---
Nira Luxury Spa – One of the most spacious spas in the Indian Ocean
The Shanti Maurice Nira Spa is built around an enchanting tea pavilion, surrounded by lily ponds and indigenous flower gardens. Covering over 75,000 sq. feet and comprising 25 treatments rooms, Nira Spa is one of the largest and most comprehensive in the Indian Ocean.
In line with the culturally referential philosophy of the resort, the treatments offered at the Nira Spa reflect the diverse Indian and African heritage of Mauritius with the superb core Ayurvedic spa being complimented by the multi award-winning African products and treatments developed by Africology.
As part of this package you would enjoy a unique 1 hour Swedish massage
Swedish massage is the manipulation of the superficial layers of the muscles against the bone. Through medium pressure, it relaxes the body, increases circulation, removes metabolic waste products, and helps you obtain a feeling of connectedness.
---
Shanti Maurice Resort is indeed the ultimate resort to spend your day and evening, experiencing the very best that Mauritius has to offer.
Your every wish is our command! Therefore, relax and savor this precious time with a true taste of paradise & tranquility in lively vibes including the best customer services ever...
Prices
Price per participant: 129 Euro
Dear Customer, to book this activity please contact us on +230 269 1000.