Mauritius Golf - Golf in Mauritius
About Mauritius Golf
Situated in the warm azure water of the Indian Ocean lies the beautiful tropical island of Mauritius. Mauritius is famous for its vast stretches of pristine white-sanded beaches, warm temperatures and pleasant weather all year round which provide excellent conditions for golf and for a great golf holiday.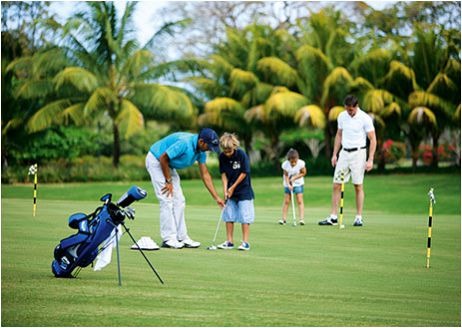 Today golf has become one of the top sports in Mauritius and one of the main attractions for visitors to the island.
In fact, Mauritius was the third country in the world where golf was played after the United Kingdom and India. Being an ancient colony of the British Empire, golf is practiced in Mauritius since 1902 when the first Golf club (The Gymkhana) was open by the Royal Navy members. The Mauritius Gymkhana Golf club is the oldest golf club in the Southern Hemisphere and the fourth oldest golf course in the world.
Since these early days, Mauritius has become an ultimate Golf destination for any golfer. There is an astonishingly high number of golf courses dotted all over the island, ranging from basic 9 holes courses to world class championship golf courses with 18 holes deigned by the world leading golfers such as Ernie Els, Bernard Langer sprawls and David Leadbetter.
The golf courses in Mauritius are designed in such a way to examine the efficiency and accuracy of golfers. From bushes to bunkers and from water hazards to nails concealed by verdure foliage, the golf courses in Mauritius offers exciting experience in beautiful natural setting.
All golf courses offer exciting experience in beautiful natural setting. Many of these courses offer spectacular sea views and open coastal panoramas.
---
Beginner Golfers
For the non experience golfers, there are professional instructors which will assist you during your first golfing experience and also upon request will provide private coaching.
Golf balls, clubs, golf cart, and caddies can be hired at all the golf courses.