Ebene Cybercity
Ebene is located at the center of the island and is the second most important business hub after Port Louis. It is the preferred destination for business and professionals to create wealth and employment through the use of information technology.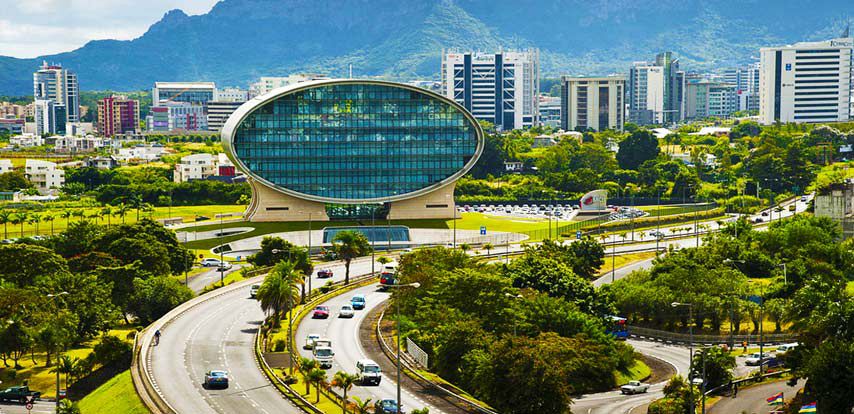 Ebene's History
The construction of Ebene Cybercity began in November 2001, with the suburb being promoted as a new information technology hub for Mauritius and as a link between African and Asian markets. The aim being to create a Hi-tech office area in order to dynamise the country. As a result, it is also referred to as Ebene Cybercity or Cyber City.
The creation of the Ebene Cyber City was the first initiative towards the transformation of Mauritius into a Cyber Island. Within a record time of 18 months, the iconic Cyber Tower One, a building of 44,000 square meters on 12 floors, emerged and the first occupants moved in from 2004.
The Cyber tower 1 was voted Intelligent Building 2005 by the Intelligent Community Forum of New York. This award propelled Mauritius to a higher level of technology-led businesses and Ebene Cyber City rapidly became the reference place for IT Software development and high-end IT enabled services, just to name a few.
Ebene's Location
Ebene is ideally situated at the center of the island, along the main M2 highway, only 15 kilometres south of the capital, Port Louis and around 35 kilometres from the international airport.
Climate in Ebene
Average temperatures in Ebene vary very little. Considering humidity, temperatures feel nice most of the year, excluding some hot weeks in the summer, with a chance of rain throughout most of the year. If you're looking for the very warmest time to visit Ebene, the hottest months are January to March.
The warmest time of year is generally early to mid February where highs are regularly around 82.9°F (28.3°C) with temperatures rarely dropping below 71.4°F (21.9°C) at night.
Ebene as a Business Hub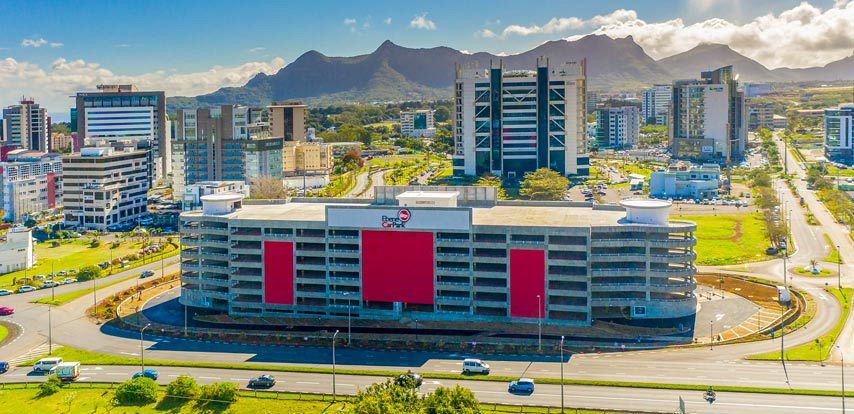 Ebene is the center for most IT companies and headquarter for global companies such as:
HSBC
KPMG
DHL
Oracle
Orange business services
Absa House
Deloitte
Allianz
PWC
Hotels in Ebene
Hennessy Park Hotel
Conveniently located in the heart of the new Hi-Tech Business Park of Ebene Cybercity, between the capital city Port Louis and the international airport, the Hennessy Park Hotel is a modern, vibrant and innovative 4-star business hotel. The Hotel offers business travelers a fast and efficient place to do business while the ambience has a real artistic twist. A complimentary daily shuttle service runs between the Hennessy and the Waterfront Hotels in Port Louis.
Ebene Shopping Complex
Ebene Commercial Centre
It is a small and practical shopping mall with lots of dining options and ideally located in the Ebene Cybercity. This place is a good choice if you are staying nearby and has a selection of small shops, a pharmacy and a food court with many modern restaurants and cafes with a variety of food options.
Take a break - Spa Time!
Wellness and Spa - Hennessy's wellness and fitness facilities offer rejuvenating treatments and active workouts. I Spa's expertly trained therapists use the Germaine de Capuccini range of cutting-edge skin care solutions, found in many of the world's top hotels and spas.
Waves Esthetique & Spa - In a welcoming and unique atmosphere of Waves Esthetique and Spa you can find a wide selection of treatments with different service categories. Explore a diversity of massages and beauty treatments that will awake your sense in a moment of tranquility.
Restaurants & Bars in Ebene
Check-In Bistro - Located at the Ebene Junction and offers delicious lunch with a different menu everyday
House of Canton - Set up in the Nexteracom building, is a contemporary Chinese restaurant offering lunch and dinner . Their menu includes Cantonese classics, as well as a few specialty dishes.
Indian Summer Restaurant - Located in the Ebene commercial centre, has an Indian-style décor with a pleasant ambiance and serves lunch as well as dinner and offers a wide range of Indian food especially North Indian and South Indian.
Sushi Me - Located in Hennessy Park hotel, offers genuine sushi, maki, sashimi and other Japanese specialities expertly prepared by the Sushi Chef.
Nine Dragon - Located in Ebene commercial centre, is a chinese restaurant which offers the best dim sum in the area.
KAS POZ - is a restaurant bar located in the Nexteracom building which offers local food and snacks and welcomes local artists almost every Friday and Saturday nights for live concerts.
Backstage lounge bar - Backstage is a vibrant platform for local artists, with fashion and art shows, stand-up comedy, live concerts and Happy Hour on Friday nights and is located in the Hennessy Park hotel.
Gallery Pool Bar - Hennessy's best-kept secret is the exciting Gallery Pool Bar. This exclusive new gathering spot is located on the hotel's rooftop, overlooking Cybercity, and offers guests a lounge and pool with panoramic views of the city.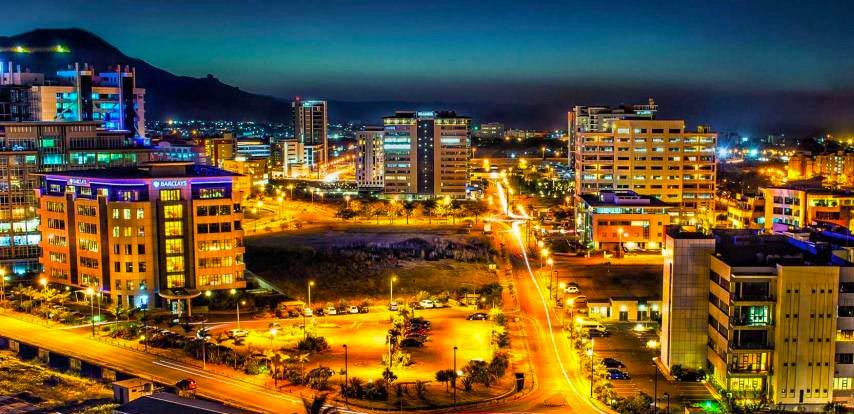 Other interesting places in Ebene CyberCity
Trianon Convention Centre
Trianon Convention Centre is a prestigious venue for conventions, conferences, meetings and events of all descriptions and is ideally located in the heart of beautiful Mauritius, just a stone's throw from Ebene Cybercity. They provide abundant space, leading edge technology and first-rate facilities make this place a primary convention centre choice.
Ebene Recreational Park
The park includes a children's play area with a mini track and a slide and different types of outdoor sports equipment, a fitness trail of approximately 800 meters, bowling alleys, an esplanade and an open amphitheater that can accommodate up to 350 people. You will also find exotic and endemic plants and it's a perfect area for picnics.