Belle Mare
Belle Mare is found in the midst of the touristic region, on the East Coast of Mauritius, the village of Belle Mare is a calm hamlet with a year-round holiday-perfect climate and is one of the favourite vacation hotspots of both Mauritians and tourists.
Belle Mare's History
Mauritius has throughout its history been governed by several European nations including Portugal, who claims to have discovered them in the 16th Century, The Netherlands, France, and England, but it is Belle Mare's French name which has prevailed, meaning "beautiful sea". This simple, yet accurate description of the dreamy lagoon it holds, described the Belle Mare region perfectly, which, in turn, probably played a central part in the development of this place. Belle Mare's turquoise waters and white, sandy beaches place it as an ideal spot for high-end holidays in Mauritius
Belle Mare is today mainly a beach resort area, attracting visitors from Europe and Asia because of it's tropical year-round climate. It's warm waters and coral reefs are perfect for scuba diving and other water sports. Belle Mare is also considered to be a good destination for families with a number of different activities for both children and adults at its resorts.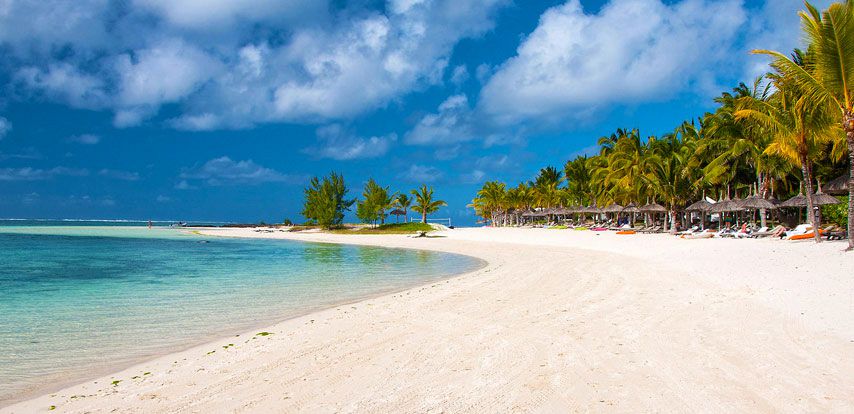 Belle Mare's Location
Belle Mare is located on the eastern coast of Mauritius in the district of Flacq and is less than one hour from the international airport and a few mins away from the commercial area of central Flacq. Belle Mare is situated about 45 km east of Port Louis the Capital of Mauritius and the drive takes around 1 hour. Belle Mare is located along the east coastline, with many hotels and villas having direct beach access.
Climate in Belle Mare
Belle Mare has a hot tropical climate with only a small variation in temperature annually, typically there are both wet and dry seasons, however even during the wet season, showers often arrive in the form of short and heavy downpours usually separated by extended periods of sunshine. The very best time to visit is between October and December when it's usually quite hot with low rainfall. The hottest month of the year is February with an average daily maximum of 30 C and an average low of 25 C. The coolest month of the year is July with an average daily maximum of 25 C and an average low of 20 C.
Hotels in Belle Mare
Belle Mare has a variety of hotels, from 3 star hotels, to luxurious 5 star deluxe villa resorts. Today, visitors to Belle Mare can choose from a selection of exclusive top class luxury resorts and five star hotels, to small family owned bungalows, apartments and villas. Below please find the list of the main hotels found in Belle Mare :-
The Residence Mauritius- situated on the east coast of Mauritius along a mile-long beach of immaculate white sand, fringed by the azure Indian Ocean and tropical gardens. This hideaway is an idyllic retreat for your unreserved relaxation.an idyllic retreat for your unreserved relaxation
Constance Belle Mare Plage - Stretching along 2 km of private beachfront and with an offshore coral reef, Constance Belle Mare Plage includes 7 restaurants and 6 bars
LUX* Belle Mare- offers luxurious accommodation, a spa featuring an outdoor treatment area and a 2 000 m² swimming pool.
Veranda Palmar Beach Hotel- Surrounded by sandy beaches and casuarina trees and located on the edge of a beach front lagoon, Veranda Palmar Beach Hotel offers guests air-conditioned rooms with surrounding views. It features an outdoor pool, a restaurant overlooking the Indian Ocean, 2 bars and a garden
Maritim Crystals Beach- The contemporary-designed 4-star hotel has 181 sea-facing rooms and suites, including Family Rooms. It offers a host of superb facilities for guests, from a fabulous swimming pool and children's pool to a choice of four superb restaurants and two bars.
Salt of Palmar- is set on the white sandy beach of Palmar on the east coast of the island, 1.7 km from Belle Mare. The hotel features an on-site restaurant and 3 bars
Solana Beach- Nestled amongst palm trees and offering stunning sea views and it features an outdoor pool, a spa and a fitness centre
Emeraude Beach Attitude hotel- Facing the white-sand beach of Belle Mare, this hotel offers air-conditioned rooms with private terraces. Guests can lounge beside the outdoor pool, furnished with sun loungers and umbrellas
C Mauritius- is an all-inclusive destination with a boutique and beachfront location. The Deluxe and Prestige rooms, both with on-the-beach options, include sofa swings on the terrace
One&Only Le St Géran- is the ideal luxury resort in Mauritius. With amazing views, top-notch amenities and inspired cuisine, you'll have the time of your life.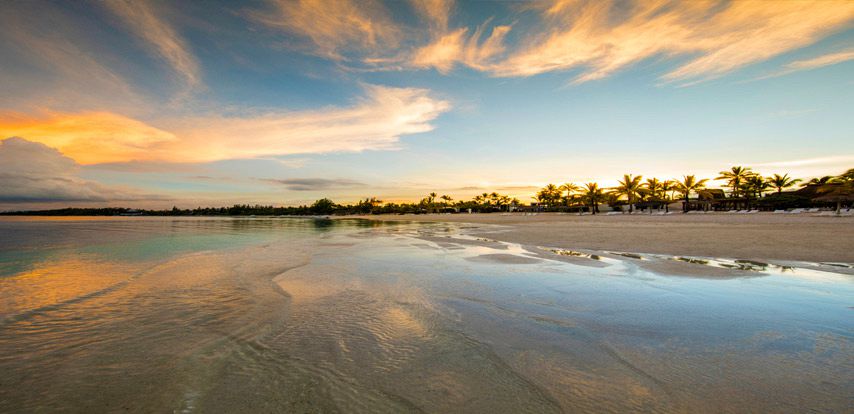 The Famous Belle Mare Beaches
Belle Mare beach is one of the most beautiful beaches of Mauritius with its white and pristine sand and is one of the longest beaches in Mauritius. The beach starts at Belle Mare village and stretches all the way south till the village of Trou dÈau Douce.
It's known for calm waters as there is a great deep lagoon that runs between the shoreline and the beach. Because of its length, the beach of Belle Mare is perfectly suited for sport and water activities.
Palmar Beach is located near the village of Palmar, in the east part of Mauritius. Palmar Beach. The beach is situated between the vast beach lands of Quatre Cocos and the popular Belle Mare beaches.
Places of interest at Belle Mare
Arts 28 Art Gallery
This Art gallery is a quaint space based in Quatre Cocos, close to the tropical beaches of Belle Mare which showcase a large selection of original modern & contemporary artworks by local Mauritian. Arts 28 welcomes art lovers and tourists from around the world to commission their very own masterpiece to be painted during their stay, or to browse the many different artworks on display to acquire a piece of the lovely isle of Maurice to take back home with them.
Splash and fun Water Park
Splash and fun is tastefully themed and designed Waterpark on a large area of over 20 acres of land with sensational water slides and entertainment rides.
Belle Mare Golf
Belle mare is a paradise for golf lovers and the golf course listed below has been specially designed for all golf enthusiasts
Links Golf Course
Legend Golf Course
Saint-Geran Golf Course
Diving Centre
There are few scuba diving tour operators driven by a passion for the ocean, eager to share with complete beginners and qualified divers alike to discover or rediscover the fascinating and breathtaking underwater scenery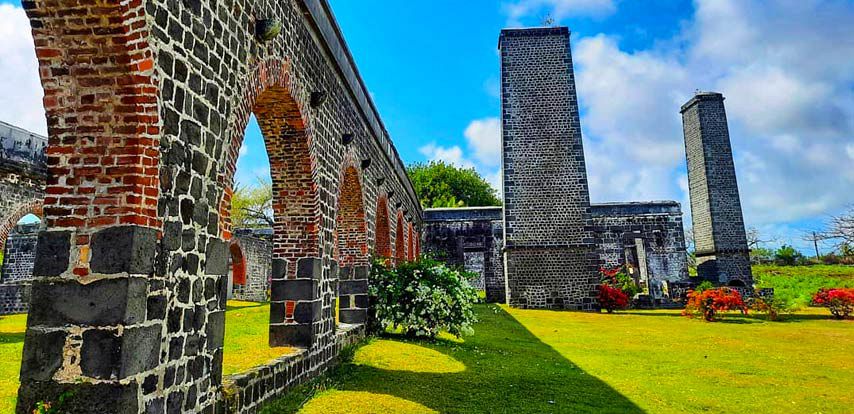 Water Sports at Belle Mare
Mauritius is a paradise for water-lovers and you can experience a selection of exciting water and sea activities listed below at Belle Mare:
Underwater Sea Walk Excursion - unique, safe and fascinating underwater walk on the ocean bed, and witness firsthand the magnificent marine life of the Eastern coast of Mauritius.
Parasailing adventure - offers a breathtaking bird's eye view of the beautiful lagoon and beach of the East Coast of Mauritius, making it one of the ideal excursion for those looking for a special sea-air activity
Tube ride - an original pneumatic tube which is being pulled by the speed boat through the water of the Belle Mare beach. All you have to do is hold the two handles at the sides of the tube, while enjoying an exhilarating ride
Water Ski - a sport where you are pulled behind a motor boat wearing one or more skis. The surface area of the ski (or skis) keeps the person skimming on the surface of the water allowing the skier to stand upright while holding the tow rope.
All those water activities can be booked online on mauritiusattractions.com
The Belle Mare Market
Short distance from Belle Mare you will find the Flacq market. It is a very busy and important place for the villagers and tourists as well. It is open every day in the morning till 18:00. Local farmers bring their fresh produce like fruits, vegetables, grains to sell only on Wednesday and Sunday and the market is crowded on these days. The clothing and accessories have everything for everyone from Western to Indian and local made products where you can also bargain. There's also a wide variety of souvenirs for tourists. The food stalls have different menus like Chinese, Indian and local dishes. For refreshments you can try alouda (mauritian milkshake) and fresh coconut water.
Other Highlights
Trou d'eau douce located not far from Belle Mare, is known to be the meeting point for embarking on sea adventures to île aux Cerf which is a picturesque island spread over 87 hectares of untouched land off the east coast of Mauritius. It is famous for its white sandy beaches, its turquoise lagoons and for the wide range of restaurants, water sports and land activities on offer.