Horse Riding On Belle Mare Beach
| | |
| --- | --- |
| Location | East |
| Minimum Age | 5 |
| Operating Hours | 08:00 - 18:00 |
| Operating Days | All Days |
| Duration | 1 hrs |
| Activity Time | Flexible |
| Transportation | Offered as Supplement |
Horse Riding On Belle Mare Beach
With spectacular scenery, the East coast of Mauritius is a wonderful setting for horseback riding. Whether you enjoy a romantic trot on the beach or a leisurely morning ride, this is certainly one of the best ways to see the beauty of Mauritius.
So, come & experience our horse riding excursion on this absolutely stunning beach of Belle Mare; overseeing a blue lagoon followed by never ending ocean. Share this experience with your family, friends or partner, and see why you should not miss out on this dream ride at Belle Mare Beach.
A special Horse Riding on Belle Mare Beach:
Far from the city rush, situated in a very peaceful and calm environment, you will be welcomed by a very friendly staff and you will get to meet your horse. These fun rides are suitable for all levels and even for those with no horse riding experience.
Novice riders will be given basic instructions and briefing on how to mount & control their horse. You will be accompanied all along by a guide on foot during the trip, who will make sure you are comfortable with your horse.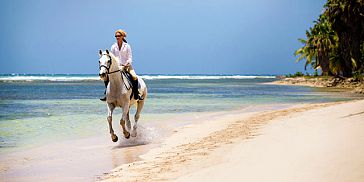 This horseback ride is organized with calm, trained and docile horses in order to ensure a safe and pleasant ride to our valued clients.
You will then set the trail from the nearby stable and proceed with the ride along the picturesque beach of Belle Mare. You will enjoy a ride in the blissful environment on your horse.
You can also bring along your camera having one of the guide capturing some of the many beautiful moments of the day for you to cherish for a lifetime.
The horses are familiar with the beach environment so they are calm and trustful. During the ride, you can have a nice chat with the professional guides, who would be delighted to share their experience & love for the horses with you.
This horseback ride lasts approximately 1 hour and once back at the stable, you will are welcome to stay a little longer with the horses.
This special horse riding trip is performed every day in the morning or during the afternoon on the Belle Mare Beach and is planned carefully according to the level of the riders; so each participant can enjoy the excursion and experience unforgettable moments.
About the Stud
The adult 15 horses and 1 pony (ideal for children) are kept and trained in this unique environment on the East Coast. The horses are treated and vaccinated. They are taken care of with regular exercises every day and are fed with freshly cut grass and cereals. These horses are ideal for both beginners and experienced riders.
Comments
This is a private horse riding excursion which is limited to small groups of up to 4 riders
This trip is offered in the morning at 08:00 Am and during the afternoon at 16:00 Pm. Upon request; we can also arrange the ride for any other time during the day.
During weekend, The trip is offered only in the morning at 08:00 Am
This ride is suitable for all levels, including for those with no horse riding experience
It is required to wear long trousers, and sport shoes with socks.
Maximum weight limitation is 85 Kg per person for the excursion
All along you will be accompanied by professional guides Horse riding equipment such as riding helmets & chaps will be offered.
1 Pony is available for children riders and is offered for children from 5 years old
The horseback rides last approximately 1 hour
Pregnant women and physically challenged person are not authorized to go on this excursion.
Occupying a spectacular stretch of sandy beach, Belle Mare beach offers an unforgettable experience for horse riding over the dream island Mauritius.
Prices
Price per adult:59 Euro
Price per child (ages 5-13): 49 Euro
Customers who bought this activity also purchased