Mauritius Underwater Activities – Submarine, Sea Walk, Sub-Scooter & Snorkeling Trips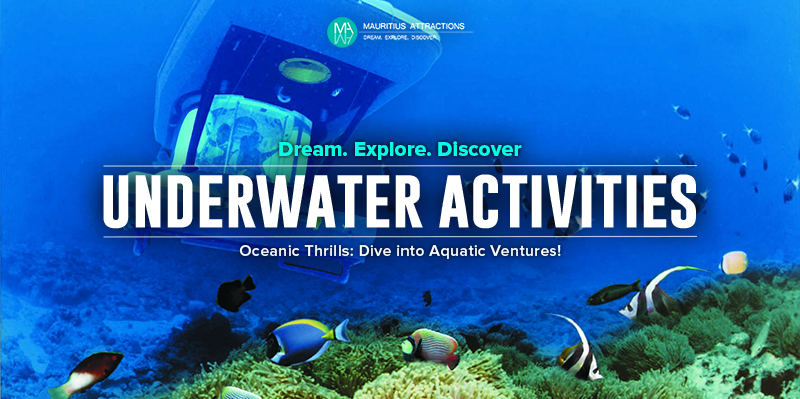 Mauritius is home to some of the world's most breathtaking coral reefs and marine life ever to be seen. Full with hundreds of bright-colored fish, the underwater world of Mauritius can be deemed a natural wonder.
The possibilities for discovering the underwater marine world are vast and you are spoilt with choices. From various family friendly activities such as the Glass Bottom boat trip, the Semi Submarine and the Underwater Submarine to selection of more adventurous activities including the Underwater Sea Walk, Scooter Cruiser Underwater Experience the Underwater Scooter Adventure, Mauritius has it all!
For all the Non swimmer or non-divers, you have nothing to worry about, as you could join and enjoy almost all the underwater activities.
Snorkeling fans can definitely try our Exclusive trips: Coin de Mire - Private Snorkeling Trip and Private Traditional Mauritian Boat Trip to Coin de Mire.
So be sure to book your activities long in advance and to unveil this truly remarkable underwater world of Mauritius….not to be missed!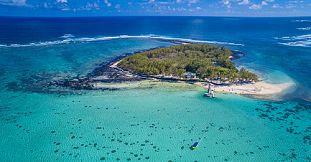 Glass Bottom Boat Trip and Snorkeling at Blue Bay Mauritius Enjoy a Glass Bottom Boat trip to Blue Bay including snorkeling at the Blue Bay Marine Park The Blue Bay marine park, situated on the South… read more →
---
---
South East
Duration : 2 hrs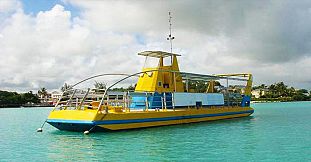 Semi Submarine trip in Mauritius. A trip in a semi-submarine, a unique look at the undersea world in complete safety. This vessel features underwater surface, which resembles a surfaced submarine.… read more →
---
---
North
Duration : 1 hrs 45 mins
Underwater Sea Walk Excursion The Underwater Sea Walk is one of the most unique attractions that one must experience when visiting Mauritius. It is a true once in a life time experience for all the… read more →
---
---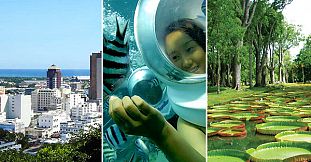 Underwater Sea Walk – North Tour – Port Louis - Shopping - Day package Visit selected exciting sights and attractions of Mauritius in one day! This trip offers you to enjoy an exciting… read more →
---
---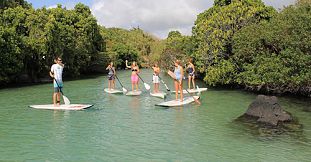 Full day Stand Up Paddle (SUP) to Blue Bay Marine Park including 3 course meal. Mauritius Attractions offers you this great opportunity to take a break from your routine life, get on a water board,… read more →
---
---
South East
Duration : 7 hrs
Unique Sea-view Breakfast & Snorkeling trip to Coin de Mire If you are looking for that mesmerizing morning getaway, then look no further! Step out from the traditional way of having breakfast & let… read more →
---
---
North
Duration : 1 hrs 30 mins
Scooter Cruiser Underwater Experience The Scooter Cruiser is an awesome experience riding your own single motorized scuba bike, which resembles a cross between a scooter and a midget submarine. You… read more →
---
---
North West
Duration : 1 hrs 30 mins
Pilot your own underwater submarine scooter by yourself or as a couple to 3-4 meters depth in full safety, and enjoy a unique experience in the World! Did you ever want to know how it feels to be a… read more →
---
---
Amazing Submarine trip to the deep mystery of the sea of Mauritius. Enjoy a dream adventure going underwater to 35 meters depth on board of a real submarine. Go for a once in a lifetime experience… read more →
---
---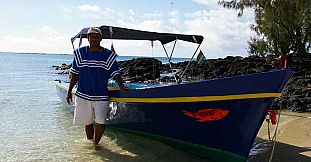 Private Traditional Mauritian boat trip at the North of Mauritius to Coin de Mire This private Traditional Mauritian boat trip is about discovering Mauritius northern coastline and best snorkeling… read more →
---
---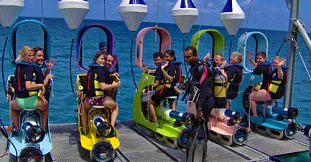 Underwater Adventures - Incredible Half Day Package Spend a half day at Trou aux Biches in the North of Mauritius with this incredible underwater adventures package! You don't have to be a diver to… read more →
---
---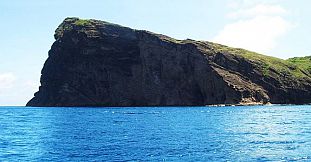 Private Snorkeling trip to Coin de Mire (Gunner's Quoin) This private speed boat snorkeling trip is about discovering Mauritius best snorkeling site and having many bird watching opportunities. You… read more →
---
---
Underwater Adventures Day – 1 Day package Mauritius is home to some of the world's most breathtaking coral reefs and marine life ever to be seen. Full with variety of fish and plenty of bright… read more →
---
---
Exclusive Submarine Trip!!! Go in your own exclusive submarine for an amazing trip to uncover the mysteries of the deep sea. Enjoy a dream adventure of going underwater to as much as 40 meters depth… read more →
---
---