Semi - Submarine Trip (Nessee)
93% Level of Satisfaction
Based on 5 reviews
| | |
| --- | --- |
| Location | North |
| Operating Hours | 08:00 - 16:00 |
| Operating Days | All Days |
| Duration | 1 hrs 45 mins |
| Activity Time | Flexible |
| Transportation | Offered as Supplement |
| Comment | Activity times: 10:00am / 12:30pm / 14:30pm |
Semi Submarine trip in Mauritius.
A trip in a semi-submarine, a unique look at the undersea world in complete safety.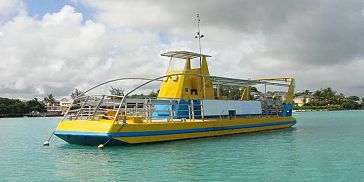 This vessel features underwater surface, which resembles a surfaced submarine. Upon arrival to the semi-submarine, passengers will descend to seats below the waterline, where big glass windows on its sides enable a fantastic underwater view, arousing the illusion of sailing in a submarine.
This is a great way to discover the beautiful colorful marine life without getting wet. You will get to explore the rich coral reefs of Mauritius and encounter the rich aquatic underwater life of Mauritius.
The trip lasts 1:45 hours. All along you will be comfortably seated underneath sea level in an air-conditioned room offering you an optimal and close panoramic view of coral reefs, of the abundant colorful fish and of many other species.
The guides will explain you about the different species you will encounter during the trip and guide you on Mauritius' marine world.
At any time you can take a break and go on board to enjoy some sun, beautiful views of the lagoon, of the beaches and of Mauritius landscape.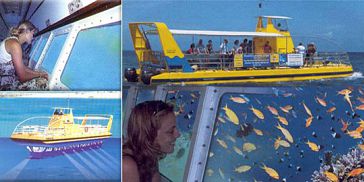 In one key location during the trip, the semi submarine will stop along the reef and you can choose to go off board and enjoy some snorkeling along the beautiful coral reef. This is a great way to enrich the experience and discover the large variety of corals and fishes firsthand (the snorkeling gear is available for you to use).
On the way back to Grand Bay, the cruising route is slightly different giving you the possibility to see a new area of the reef and the lagoon and discover species like turtles, rays, barracudas and many more.
The semi-submarine is an ideal activity for children, who love watching fish from close by. They will enjoy spectacular view with maximum safety behind the boat's glass windows.
Refreshments will be served during the excursion.
Facilities onboard
Deck with sitting area covered with sun shelter
Bar Area
Toilets & Showers
Air-conditioned cabin equipped with public address system and radio cassette
Life Jackets / Distress Rockets / Mobile Telephone / Radio / Fire Extinguishers / First Aid Kit
Comments
Departure from Grand Bay
The semi-submarine trip is available every day
This excursion is ideal for passengers of all ages
Reservations should be made enough time in advance
Snorkeling equipment is available for you to use during the trip free of charge
Capacity: 30 Passengers
Prices
Price per adult: 25 Euro
Price per child (ages 3-10): 15 Euro
Price per baby (ages 0-2): Free of charge
Reviews
93% Level of Satisfaction
Based on 5 reviews
|
reviewed by Israel Silberstein – Israel
|
May 02, 2019
Reaction time to your queries and requests
Travel consultant's professionalism level
Added value given to you by the travel consultant
Consultant's knowledge of Mauritius and the products / services
Overall satisfaction from the customer support service
Level of services provided as part of the activity?
Level of professionalism by activity operator staff / guide
Your level of enjoyment from the activity
Ease of booking the activity
Overall satisfaction from the activity
---
|
reviewed by Holley Beckermann – South Africa
|
October 12, 2017
Reaction time to your queries and requests
Added value given to you by the travel consultant
---