Discovery Trail by Quad or Buggy- Heritage Nature Reserve
93% Level of Satisfaction
Based on 1 review
| | |
| --- | --- |
| Location | South |
| Minimum Age | 5 |
| Operating Days | Tuesday, Wednesday, Thursday, Friday, Saturday, Sunday |
| Duration | 2 hrs |
| Activity Time | Flexible |
| Comment | Session Times: 09h30 | 13h30 No previous quad bike or buggy experience is needed. |
The Spirit of thrilling Adventure - Quad or Buggy Drive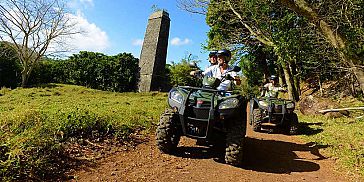 This is a fantastic adventure trail, taking you off the beaten track to discover one of the most rejuvenating sites on the island. This package has specially been designed to meet your expectations for an amazing adventure moment!
In this two hours of comprehensive and intensive exploration at Heritage Nature Reserve, sightseers are indulged into a rich diversity of sites and panoramas, including stops and a possibility of swimming at the L'Exemple waterfall.
More about the Quad/Buggy Discovery Trail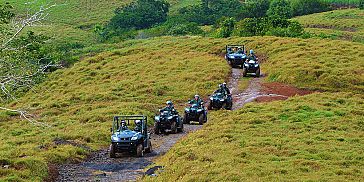 Your journey will start on a four wheel ride in a beautiful natural setting, featuring spellbinding waterfalls, beautiful rivers and enticing geological wonders in the south coast of Mauritius.
Drive through the sugar cane fields along the beautiful coastline, up the Dalsing plains to the higher lands and discover amazing fauna and flora through valleys drenched by enchanting waterfalls and streams.
Throughout this exciting adventure, you will be guided by a professional trainer, who will give you insights about the history of the natural site.
Spot the mysterious Java deer gracefully parade in vast lower plains as you enjoy this absolutely fun drive!
The Discovery Trail at Heritage Nature Reserve includes:
Duration of excursion: 2 hours
Activity can be done by either of the following:
Safari 4x4
Quad (single or double)
Buggy (Single or double)
Family Buggy (4 or 6 seats)
Around 5 minutes' walk to L'Exemple waterfall for a swim.
Equipment/ facilities that will be provided:
Sanitary caps with helmets
First aid kit
Bottle of water
Goggles
Rain coat
Test drive and security briefing.
Experienced guides by your side for the whole duration of the trip.
---
Exclusive Quad, Buggy or Safari 4*4 (Optional)
For those of you who want to enjoy the activity with more privacy we recommend the Exclusive Quad, Buggy or Safari 4*4
The Quad, Buggy or Safari 4*4 guarantees you personal guidance from the accompanying guide and a ride at your own pace with no rush or being delayed by others!
Some of the benefits of having the Exclusive Quad, Buggy or Safari 4*4 are:
Having a personal guide only for you and your partner/ group
Benefit from maximum flexibility in the riding pace
You can decide when to take break, stop for a photo or enjoy more time in any of the viewpoints
Included in the package: 2 hours Private Quad, Buggy, or Safari 4*4 and Personal Guide
---
Comments
Activity: There are morning and afternoon activity sessions
Session Times: 09h30 | 13h30
Number of participants: Maximum 20 pax.
Minimum age:
Single Quad- Driver must be at least 16 years old
Double Quad - Driver must be at least 18 years old; passenger as from 12 years old
Buggy – Driver must be at least 16 years old; passenger as from 5 years old
4x4- Passenger as from 3 years old
What to wear: Sports or walking shoes, jeans or trousers, t-shirt, sweat shirt, hat or cap for trekking.
Equipment provided: Safety helmets, goggles, rain coats, water and first aid kit.
Note: No previous quad bike or buggy experience is needed.
Safety Requirements: This activity is not meant for disabled persons or pregnant women for their own security.
What to bring: Sunscreen lotion, sun glasses, camera, spare set of clothes, swimming suit, and towel.
Booking: Should be done 48hrs in advance depending on availability.
---
Prices
Safari 4*4: 28 Euro/ Person
Eco Quad Double/Single: 118 Euro/ Quad
Single/Double Buggy: 118 Euro/ Buggy
Family Buggy 4 seats: 196 Euro/ Buggy
Family Buggy 6 seats: 245 Euro/ Buggy
Supplement for Private Quad / Buggy / Safari 4*4: 120 Euro
Minimum Number of Participants
Safari 4*4: As from 5 persons
Family Buggy 4 seats: Minimum 3 persons/ buggy
Family Buggy 6 seats: Minimum 5 persons/ buggy
Reviews
93% Level of Satisfaction
Based on 1 review
|
reviewed by Andrea Bühler – The bay, La Preneuse, Room 18
|
January 27, 2017
Reaction time to your queries and requests
Travel consultant's professionalism level
Added value given to you by the travel consultant
Overall satisfaction from the customer support service
Level of services provided as part of the activity?
Level of professionalism by activity operator staff / guide
Your level of enjoyment from the activity
Ease of booking the activity
Overall satisfaction from the activity
---