Bel Ombre
Set on Mauritius' wilder, less developed southern coastline, Bel Ombre is the perfect destination for nature-loving travellers who prefer unspoiled beauty to shops, restaurants and bars. Beaches here are some of the most picturesque on the whole island, and the backdrop of Le Morne Brabant lends a touch of drama to an idyllic peninsula.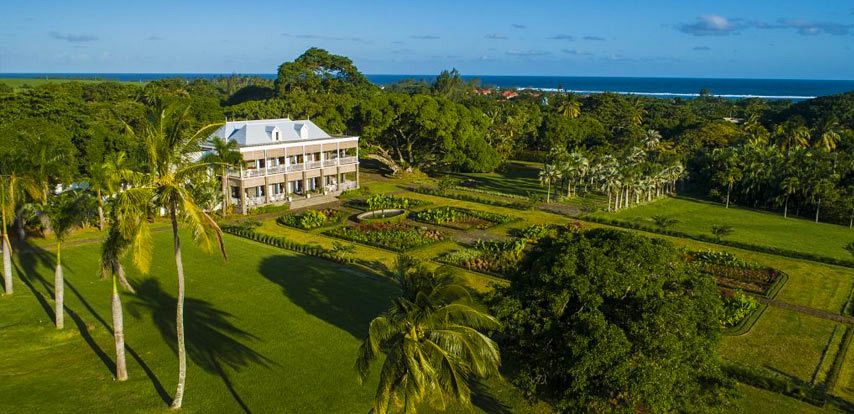 Bel Ombre History
There was a pond on the Bel Ombre sugar estate home to a species of salmon-like fish called the "shadow" ("ombre" in French). The fish was named "ombre" because of the rapidity of its movement. The first tenant named the place Bel Ombre after fishing a rather large specimen of the fish.
The "ombre" is a handsome silver fish with a green or blue back, yellow and gray stripes on its sides, dotted with small black spots, and big orange dorsal fin with purple spots between the spines, which cannot be found anymore.
The sugar production held a major place for decades in Bel Ombre, but was eventually discontinued in 1999. Since then, most of the cane grown in the region is transported to a place called Medine where it is being processed. The economic activity today mainly rests on tourism and real estate development
Bel Ombre's Location
Bel-Ombre is a village in Mauritius located in Savanne District in the south of Mauritius and is located around 50km or 1 hour drive from the Capital, Port-Louis and is around 40km and 40mins drive from the International Airport.
Climate in Bel Ombre
Mauritius has a tropical climate, with moderately high temperatures and humidity all year around. Temperatures never rise to such high levels that they become unbearable.
The wettest period is from January to March (198-221mm per month), which for some make it an unattractive time to go. During these months, cyclones may pass nearby giving occasional heavy rain and wind.
May to November, on the other hand, are much drier and are a popular time to visit Bel Ombre. There is between 7 and 9 sunshine hours per day throughout the year and the south and southeast coast are slightly windier than the rest of the Island.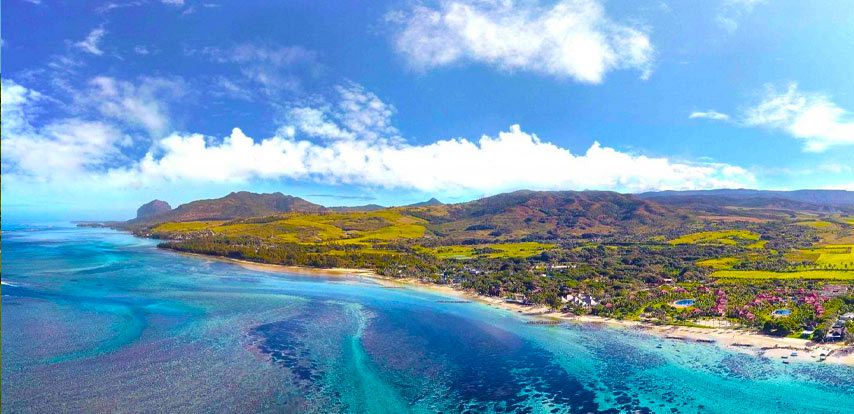 Hotels in Bel Ombre
In Bel Ombre, you can book your resort in a 4-star hotel or 5-star hotel which are listed below or you can choose small family owned bungalows, apartments and villas.
Tamassa Resort - an elegant beach resort surrounded by tropical lagoons and lush hillsides, it features 3 swimming pools and a luxury spa with dry and wet saunas
Outrigger Beach Resort - is nestled in the nature reserve of Bel Ombre and boasts splendid views of the Indian Ocean and has 4 swimming pools and 3 restaurants.
Heritage Le Telfair Golf & Wellness Resort Hotel - Beautifully nestled on a beach and surrounded by a lush green garden, Heritage Le Telfair Golf & Wellness Resort is situated in the heart of Domaine de Bel Ombre.
SO Sofitel - this 5-star resort offers views of mountains, lagoons and the Indian Ocean and features a private white sand beach
Kaz'alala - located at the heart of Bel Ombre, right next to Heritage Le Chateau and the award-winning Heritage Golf Club, Kaz'alala Hosted B&B is a unique lodging option in Mauritius for a different Mauritius experience.
Heritage Awali Golf and Spa Resort - ideal place to experience authentic Mauritius and relax in harmony with nature either for just the two of you, or with the whole family and has an 18 hole golf course overlooking the ocean.
Shanti Maurice - is a 5 star boutique lifestyle resort and a sanctuary where habitués return time and again for its world-class spa, health-conscious cuisine, and the warm, friendly staff. Your stay in this earthly paradise promises to be nothing short of wonderful.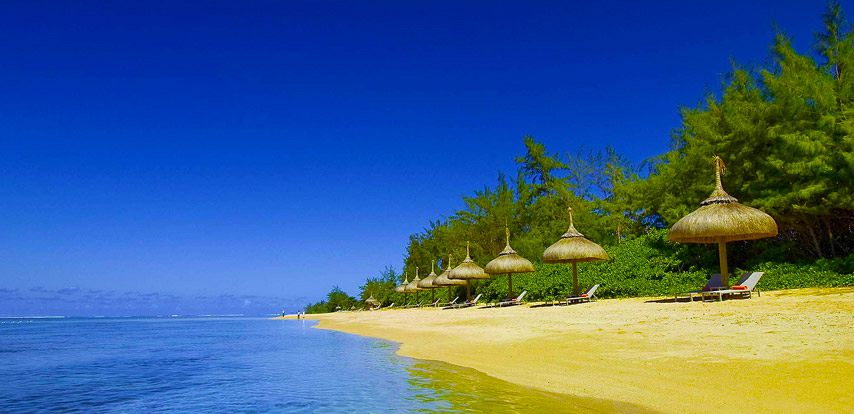 Famous Beaches near Bel Ombre
La Prairie Beach : located just south of Le Morne Brabant, on which it offers a lovely view. Its corals which start a few meters from the beach and its shallow depth make it a popular snorkeling spot, especially as the beach is rarely crowded. Around the coral and on the sandy bottoms, you will encounter many reef fish as well as some sea stars.
Le Morne Beach : located at the foot of the majestic Morne Brabant mountain listed as the World Heritage by the Unesco is popular with windsurfers and kite surfers
St Felix Beach : The beach is beautiful, perfect for a day at the beach with friends or for adventurers eager to find a piece of paradise to perfect their tans away from the crowded beaches of the island.
Riambel Beach : This beach is a peaceful bliss and a secluded spot of white sandy beach excellent for a stop while road tripping the South Coast.
Telfair Beach : is located near the town of Souillac and is a small beach as a part of the Telfair Garden. This is a nice place near the seaside where the inhabitants often go for a picnic. The garden and beach bears the name of Charles Telfair, a naturalist and land proprietor who developed the sugar estate of Bel Ombre.
Parks & Attractions in Bel Ombre
World of Seashells
A Natural history museum in Bel-Ombre where you will discover all the secrets of the shells, their morphology, their living mechanism, their defense system, the beautiful, perfect patterns and dreamy colours. You will also learn how men have used shells throughout the world over the course of centuries. This amazing place has some 8,000 seashells displayed and also have a souvenir shop.
Heritage Golf Club
The Heritage Golf Club is a multi-award winning championship golf course which is accompanied by beautiful vistas from every green and tee and it is one of the most spectacular golf courses in Mauritius. The Heritage Golf Club offers a truly exceptional and enjoyable experience of golf in Mauritius for golfers of all handicap levels.
La Vanille Nature Park
This park is half an hour from Bel Ombre and is a wonderful attraction for families, with lots to keep children entertained. The giant tortoises are the star attraction and for an extra fee kids can feed them themselves There's plenty more to see and do, including their collection of more than 20 000 insects, feeding times at the Nile crocodile farm, meeting Oscar the iguana, the museum dedicated to extinct Mauritian wildlife, pony rides, and doing a feeding at the nursery for baby tortoises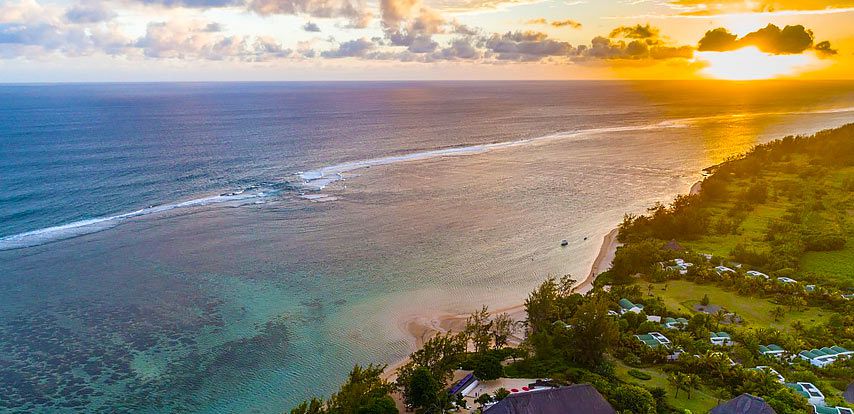 Activities in Bel Ombre
Heritage Nature Reserve
The mountainous topography of Heritage Nature Reserve offers breathtaking views, vast plains where stags parade majestically, impressive waterfalls and intact natural beauty. The scenery is overwhelming and can be discovered through several activities such as :
Quad biking
4×4 discovery tour
Trekking
Kids tour
Segway
Restaurants in Bel Ombre
Le Château de Bel Ombre
An elegant 19th century mansion, built in the typical colonial style and set in beautiful gardens full of ancient trees, has been transformed into a gourmet restaurant that promises a truly unique dining experience in a romantic setting
Places of interest near Bel Ombre
Ilot Sancho
A small canal separates both land and islet and is accessible by foot. Once on the islet, you get to admire magnificent views of the ocean and why not go for a treasure hunt since legend has it that the place is where pirates have for long been hiding treasure on Ilot Sancho.
Gris Gris
Gris-Gris is located a few kilometres from Bel Ombre and is well known for its sea cliffs and offers visitors a magnificent view from the top and is definitely a sight worth seeing. Coral reefs do not surround this part of the island, which allows large waves to crash directly on the cliffs, creating big splashes of water.
La Roche Qui Pleure (Weeping Rock)
Situated near Gris-Gris, La Roche Qui Pleure gives visitors a glimpse of a rock that cries. Due to the lack of coral in the surrounding water, the powerful waves crash into the basaltic cliffs, causing an illusion of the rocks weeping.
Rochester Falls
The fall is one of the most popular tourist attractions and the widest waterfall in Mauritius. It is highly popular for its rectangular flank rocks and is located around 20mins from Bel Ombre.