Trou aux Biches
Along the northern coast of Mauritius, located in the district of Pamplemousses, lies the charming town of Trou aux Biches. This popular tourist area is full of exciting experiences, outdoor activities and wonderful restaurants and bars. What was once a quaint fishing village, Trou aux Beach has now turned into one of the ultimate areas to stay in for those looking to see some of Mauritius' most famous sights. Trou-aux-Biches began as a fishing village in the 19th century. Its name appears on the Lislet-Geoffroy map drawn in 1807 during the French colonial rule of the island. In the contemporary era it has evolved into a small town with a two kilometre long white sand beach shaded by casuarina trees, snorkelling reefs, boutique shops, a supermarket and other facilities along the road catering to family tourism.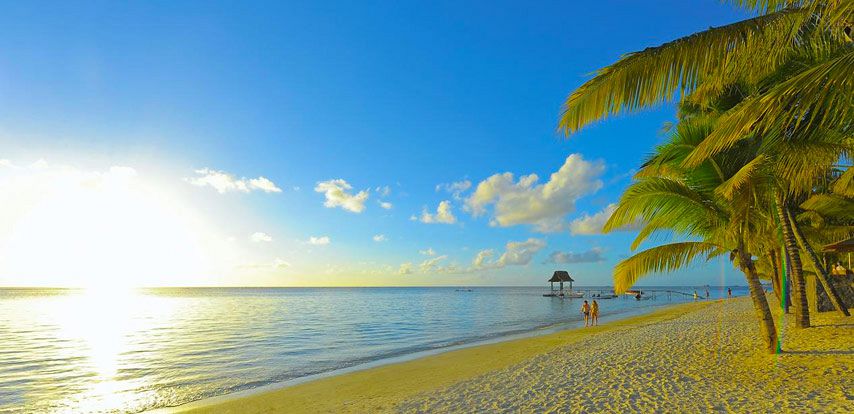 Trou aux Biches - Location
Trou-aux-Biches is located approximately half an hour from the island's bustling capital city, Port Louis, and a fairly short drive away from many of the phenomenal natural and historical sites in and around the area. From the airport, the drive takes around 1 hour and 15mins to reach Trou aux Biches.
Trou aux Biches has a good bus route leading to key locations in Mauritius. You can easily get the bus to Port Louis or to other cities such as Triolet, Goodlands, Grand Gaube and can easily venture further across the island.
Trou aux Biches, World's Leading Beach Destination
With what many consider to be the most beautiful beach on the island, it's little wonder that this coastline has attracted many boutique establishments, tourist resorts and hotels. The award-winning beach spans more than two kilometres, where it's sugar white sandy shores, bordered by casuarina trees, provide the perfect place for holiday revellers to enjoy the gorgeous Mauritian sunshine and tropical climate. The reefs in the protected lagoon make for wonderful snorkelling, there are boutique shops in the area as well as restaurants, bars and supermarkets. It's a fabulous place for everyone to spend lazy days in the sun, and well worth a visit.
Famous beaches near Trou aux Biches :
Mont Choisy
Grand Bay
La Cuvette
Péreybère
Climate in Trou aux Biches
The summer months of Mauritius, from October to April, are the perfect time for a beach holiday in Mauritius. During summer the days are long, hot and humid, which makes the baths in the ocean more refreshing and the breeze more welcome. The hottest month of the year is February with an average daily maximum of 30°C and an average low of 25°C The coolest month of the year is July with an average daily maximum of 25°C and an average low of 20°C
Hotels in Trou-aux-Biches
From excellent boutique hotels and self-catering villas to aparthotels, B&Bs, holiday rentals and two-, three-, four- and five-star hotels in Trou aux Biches, there is sure to be an establishment that is right for every type of traveller.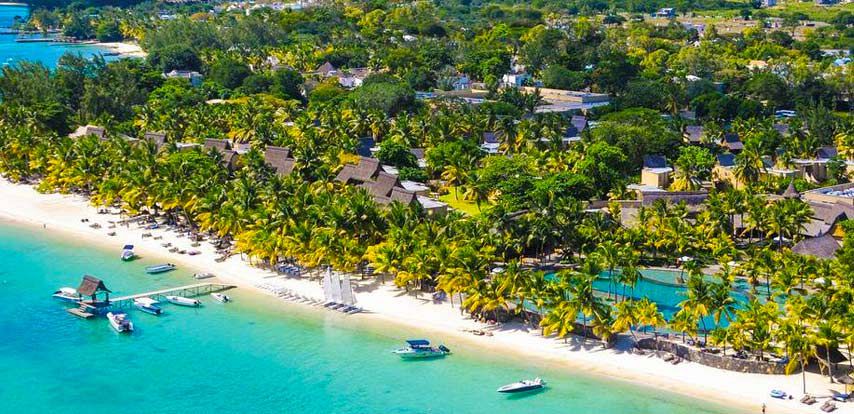 Main hotels in Trou-aux-Biches:
Trou aux Biches Beachcomber Golf Resort & Spa - located on one of the finest resort sites on the island, the resort unfolds its magnificent suites and villas along a long stretch of beach and reaches back another 300 metres into lush, tropical greenery.
Veranda Pointe aux Biches - a boutique hotel with two distinct sections — one catering for families and the other an adult-only section, with its own à la carte restaurant, pool and bar.
Le Palmiste Resort & Spa - a great place for couples and families alike, it offers a delightful mix of relaxed atmosphere amidst a beautiful exotic garden, modern comfort and excellent value for money
Le Sakoa Boutik Hotel - is a boutique hotel where you can expect all the frills and perks of a resort without being overwhelmed by the crowds - intimacy and privacy are guaranteed.
Le Cardinal Exclusive Resort - a boutique hotel that offers an exclusive exotic and exhilarating atmosphere, at its stellar beachside location of Trou aux Biches.
Casuarina Resort & Spa - built in a moorish style and is the perfect location for a romantic getaway, a once in a lifetime family holiday or a dream wedding in paradise.
Places to visit nearby Trou aux Biches
Evaco Beach Club- La Plage Restaurant is a perfect Mauritius restaurant for guests looking for beachfront dining, exceptional cuisine and laid back ambience.
Mauritius Aquarium - Located along the Coastal Road in Pointe-aux-Piments and around 10mins drive from Trou-aux-Biches, the Mauritius Aquarium is a perfect place for families to see marine life that ranges from sharks to butterfly fish to sea turtles.
Maheswarnath Temple - One of the oldest and largest Hindu shrines in Mauritius which is located in the village of Triolet, a short drive of 5mins from Trou-aux-Biches.
L'Aventure du Sucre - A short drive to Pamplemousses, the former Beau Plan sugar factory houses one of the best museums in Mauritius. It not only tells the story of sugar in great detail but also covers the history of Mauritius, slavery, the rum trade and much more.
Sir Seewoosagur Ramgoolam Botanical Garden - The Botanic Garden is located in the proximity of Port-Louis in the district of Pamplemousses and is famous for its giant water lilies with leaves that span two metres across and also features native spices, ebony trees, sugar cane and around one hundred species of palm
The Château de Labourdonnais - The Château de Labourdonnais is an old sugar estate located in Mapou which has been converted to a museum and restaurant with a colonial period theme/
Shopping at Trou aux Biches
Mont choisy mall
Mont choisy mall is your "one-stop" convenience shopping destination in the North of Mauritius, offering smaller, "boutique"-size retail stores that allow consumers to personalise their shopping experience while discovering the island's finest local products. This unique lifestyle centre enjoys a prime location at the heart of the northern region.
La Croisette
Located in Grand Bay and is the biggest shopping mall in the North of Mauritius which offers an unparalleled retail mix combined with world-class fashion, dining, entertainment and leisure attractions.