Blue Bay
Blue Bay, located in the south-east of Mauritius, not far from Mahebourg, is a village which is known for its beach not only by Mauritians, but also by tourists, who visit it as often as they can. Reflecting bright colours and a charming landscape, Blue Bay Beach is one of the most welcoming and visited ones on the island. Entertainment, modernity, peace, tranquility, what is there not to love about this village?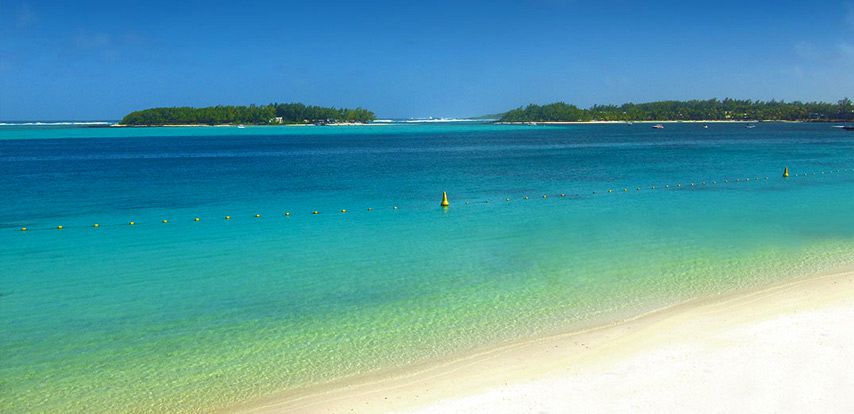 Blue Bay's Location
Blue Bay is located on the south east coast in the district of Grand Port and is only a few kilometers away from the beautiful village of Mahebourg
The beach is easily accessible both by car and by bus where you can easily catch the bus in the direction of Blue Bay from the bus station in Mahebourg.
Blue Bay is around 15 mins and around 10km from the International Airport. Port Louis, the capital is located about 55 km and about one hour drive from Blue Bay.
Climate in Blue Bay
The summer months of Mauritius, from October to April, are the perfect time for a beach holiday in Mauritius. During summer the days are long, hot and humid, which makes the baths in the ocean more refreshing and the breeze more welcome.
The hottest month of the year is February with an average daily maximum of 30°C and an average low of 25°C
The coolest month of the year is July with an average daily maximum of 25°C and an average low of 20°
Hotels in Blue Bay
There are many places to stay in and around Blue Bay including hotels, guest houses and private villas that range from deluxe resorts to rooms to let.
Below please find the list of the main hotel and guesthouses in Blue Bay:
Shandrani Beachcomber Resort & Spa
Shandrani Beachcomber Resort & Spa is a welcoming 4 star resort with a lively vibe. All of the rooms are sea facing and the hotel offers a choice of three beaches, each with an individual atmosphere. A broad range of accommodation allows for single travellers, couples and families. Family apartments have two bedrooms and two bathrooms.
Chantauvent Guesthouse
A charming guesthouse located in the coastal region of Blue Bay, Chantauvent Guesthouse is an idyllic destination for all those seeking rest, peace and serenity. Individuals, couples, and families are all invited to experience the dazzling natural wealth of this region.
Coral Bay Beachfront Apartments
Coral Bay Beachfront Apartments is a 4 star + holiday complex, located on a fabulous beach between Pointe d'Esny and Blue Bay. Apartments are sea-facing with spectacular panoramic views and all studios are at the back, behind the coastal road. Coral Bay suite is a perfect location for a family holiday or with friends.
Explora Prestige Guesthouse
The 3-star Explora Prestige overlooks Blue Bay and is the ideal place to enjoy a nice laid back getaway at an affordable price. You can take advantage of this proximity to have a well-deserving break by the sea and unwind peacefully.
Le Peninsula Bay Beach Resort
Le Peninsula Bay Beach Resort offers you holidays filled with conviviality, magic, charm, and relaxed ambience. Embark upon a stay where young and old alike will be in heaven. As you relax in the shade of a palm tree, admire the fauna and flora of the Blue Bay Marine Park, or take advantage of all the activities they offer, you will find everything you need for unforgettable holidays.
Astroea Beach Hotel
A charming 3-star boutique hotel and a dream destination at the heart of Mauritius' South-Eastern region, with direct access to a beautiful white sandy beach and view on Pointe d'Esny turquoise lagoon, stretching as far as the eye can see.
Anantara Iko Mauritius Resort & Villas
A gateway to traditional Mauritian culture and spectacular natural wonders, Anantara Iko Mauritius Resort & Villas is positioned on Le Chaland Beach on the southeastern coast of Mauritius.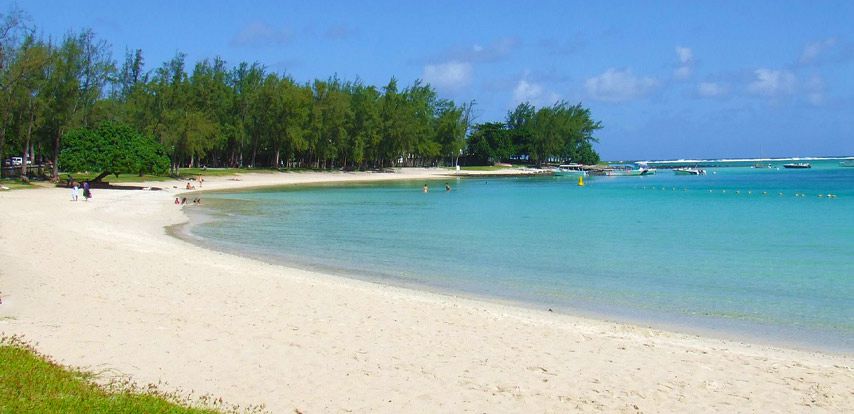 Blue Bay Beach
With white, delicate sand and shade provided by the filaos, Blue Bay is very suitable for family outings and it remains true to its name by offering an amazing emerald blue water of pure beauty, a white sand beach surrounded by large casuarina trees. Blue Bay is also home to a marine park, ideal for snorkeling with an almost translucent clear water allowing you to rub shoulders with small colorful fish and abundant marine life that live among the many corals disperse in the lagoon.
Other beaches worth visiting near Blue Bay :
La Cambuse
Pointe d'Esny
Le Bouchon
Savinia
Places of interest in Blue Bay
Blue Bay Marine Park
Blue Bay was declared a national park before being designated as a wetland site. The remarkable coral garden, which harbors hundreds of varieties of corals and its abundant fauna is the reason why the marine park is so famous. The bay boasts a coral garden with a remarkable surface area and biodiversity. Tourists usually go to Blue Bay to visit the Marine Park and it is without a doubt the main tourist attraction in the region and the best site to observe the coral life in Mauritius.
The Ferney Valley
Another famous attraction in the neighborhood is the Ferney Valley, the 200-hectare nature sanctuary is a forest and wildlife reserve. It is not only an excellent spot to discover the flora and fauna of Mauritius but you will be able to enjoy quality time by yourself or with your friends and family in a highly peaceful atmosphere.
National History Museum
This free-entrance museum located on the two floors of a colonial house at the entrance to Mahébourg which is only a few mins away, will amaze you with the rich history of Mauritius. The museum also exhibits watercolours, engravings and period objects, and overlooks a park where the remains of a railway line can be found.
Mahebourg Waterfront
In the village of Mahebourg, the waterfront is a peaceful place to enjoy long walks and contemplate the magnificent views over the lagoon and the lion mountain. The Monument that commemorates the only naval battle Napoleon won against the English is a great historical place.
Biscuiterie Rault
This family biscuit factory is a must-go to enjoy the history of the company created in 1868. Discover the stages of artisanal production of the well-known Mauritian biscuit, made from manioc. The visit will finish up with a biscuit tasting with local tea.
Market and Shops near Blue Bay
Market of Mahebourg
Nowhere can you better feel the heart and soul of Mauritius than in the market of Mahebourg. It offers shops specializing in unique products that blend into the population's customs and habits. Through these you may live within the experience of entirely new sensations, colours, scents, which combine to create the unique qualities of this diversity. Stalls of colourful tropical fruits and vegetables are found side by side with medicinal plants and spices. You can also find clothes and a special arts and crafts section. You can also buy fresh fish and prepare it in Mauritian style.
Bo'Valon Mall
It is located in the intersection of Blue Bay and Mahebourg arterial roads which boasts great accessibility to the mall from both directions.
The mall has a specious food court as well as 46 other shops such as Espace Maison, fashion outlets, health and beauty stores, and sports outlets, bringing a diversified retail offer.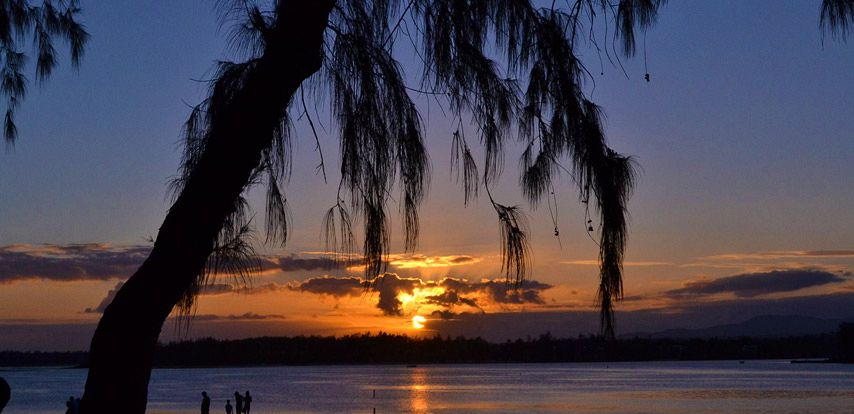 Highlights visiting Blue Bay
Ile aux Deux Cocos
Blue Bay beach also offers an incredible view of the beautiful island Ile Des Deux Cocos. It is an island resort in Mauritius, located in the surroundings of Blue Bay and is an invitation for you to enjoy a day of pure indulgence with the highest levels of comfort and relaxation offered by a dedicated and friendly staff.
Ile Des Deux Cocos offers a unique opportunity to experience authentic island living on your individual private piece of paradise. This mesmerizing destination will sweep you away on winding paths through the woods to a quiet place under a palm tree or a scenic spot near the ocean.
Ile aux Aigrettes
L' Ile aux Aigrettes, a protected nature reserve is one of the most sought after places to visit when you live in the South East of Mauritius. A short boat trip on the translucent waters of the lagoon will take you there to discover this island, spared by human activity. The guide who will paint a very informative picture of this island during the one hour walk during which you will see turtles in the wild and other endemic animals and plants saved.