Luxury Day At Ile Des Deux Cocos Island
91% Level of Satisfaction
Based on 11 reviews
| | |
| --- | --- |
| Location | South East |
| Operating Days | Monday, Tuesday, Wednesday, Thursday, Friday, Saturday |
| Duration | 6 hrs |
| Activity Time | 10:00 - 15:30 |
| Transportation | Offered as Supplement |
| Comment | Price includes: Glass bottom boat trip to Blue Bay Marine Park including snorkeling equipment |
Luxury Day at Ile Des Deux Cocos Island
All-Inclusive Luxury Private Island Retreat on Ile Des Deux Cocos
This luxury day at Ile des Deux Cocos is an invitation for you to enjoy a day of pure indulgence with the highest standards of comfort and services provided by a dedicated and friendly staff.
A day on the private paradise island of Ile des Deux Cocos has been the highlight of many visitors' stay in Mauritius and it is an unmissable experience while holidaying here. Located off the South-East coast of Mauritius in the vicinity of the Blue Bay Marine Park, Ile des Deux Cocos offers an idyllic tropical island setting for utmost relaxation.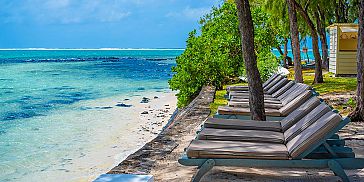 Itinerary of the Luxury Day at Ile des Deux Cocos
The day trip to Ile des Deux Cocos starts with a boat shuttle departing from the south-east coast of Mauritius. The 5-minute transfer is done aboard a glass bottom boat for you to enjoy views of turtles and colourful fish in the clear waters of the lagoon.
Upon arrival, you will be greeted at the Ile des Cocos jetty with refreshing towels and welcoming drinks. You will immediately feel the charm of this small paradise island and the relaxed atmosphere all around.
You will have free time to enjoy the fabulous variety of underwater life which can be explored during a snorkeling boat trip or on board a glass-bottom boat trip (both included in the price of this trip).
The buffet lunch which is served on the island at noon features delicious grills and salads, cooked in the open, with tables in the open air and tents with deep settees to relax in. The lunch buffet also includes an unlimited local drinks package: water, sparkling water, soft drinks, fruit juice, a selection of House rums, House wines and beers. You will enjoy the lunch with live music in the background. Before you leave the island, be sure to help yourself to some yummy pancakes at the Pancake Counter, offering special gourmet treats for the islanders.
Whether you choose to meander along the shady island paths, drift into the gently island way of life under a palm tree, or explore the outstanding underwater marine life; Ile des Deux Cocos offers an exceptional and unforgettable experience!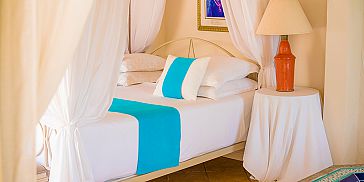 Included in the price
Boat shuttle trip to Ile des Deux Cocos Island
Welcome cocktail
Sun beds
Snorkeling equipment
Glass Bottom boat trip to Blue Bay marine park
Complimentary Activities: Boat trips and snorkeling, Beach Volley, Giant Chess, Bocce Ball, Frisbee, Boot Camp
Drinks package of unlimited drinks
Lunch buffet
Live Music during Lunch
Complimentary Facilities: Tree of Hope, Mojito Counter, Pancake Counter (14h00 -15h00)
Note: Towels are not included
---
Food & Beverages included in the Luxury Day at Ile des Deux Cocos
This day trip is offered on an all-inclusive basis including a boat trip to the island, glass bottom boat trip, snorkeling, delicious lunch buffet and variety of drinks - a dream indulgence.
The Lunch Buffet is served either at tables in the open overlooking the ocean, or under the shade of a white marquee where you can sink into deep settees. Dine on delicious salads topped off with fresh herbs from the garden and grilled specialties from the buffet, while wine, beer and soft drinks flow freely. You know you're on holiday when an ice cream cart trundles past laden with freshly made tropical delights.
The afternoon is yours and culminates in a tasting of homemade flavoured rum to conclude another perfect day. Simply lie back and relax in the sun with a variety in choice of divine cocktails.
Mojito Counter
The island offers a Signature Mojito Counter to pamper guests. Make your own Mojito concoctions with Mint leaves, Basilica or even Curry leaves. A diverse selection and great tastes await you!
Pancake Counter
The Pancake Counter is available everyday, from 14h00 -15h00 for special gourmet treats. Don't miss the yummy pancakes before leaving the island it is a must!
Lunch Buffet Menu
Starter (Make Your Own Salad):
Seafood Salad
Beef
Emmental cheese
Chicken Ham
Olives
Chicken
Onion
Tomatoes
Cucumber
Lettuce
Carrot
Boiled Egg
French Dressing
Vegetables
Sauces:
Cocktail Sauce
Mayonnaise
Olive Oil
Balsamic Vinegar
Main Courses:
From The BBQ – Jumbo Prawn, Catch of the Day, Seafood Skewer and Sauce
Mauritian Delights – Fried noodles with shredded vegetables/ Chicken Curry and plain rice/ Vegetable Fritters/ Chili bites (Gateaux piments)/ Mauritian bruschetta/ Dholl Puri
Desserts
Chocolate mousse
Fresh fruits
Milky rice flavored with orange
Banana flambé
Coconut balthazar
Chocolate financier
Mixed homemade ice cream
Drinks- unlimited soft drinks and local spirits:
Flat and sparkling water, soft drinks, fruit juices, local beers, House wines and a selection of House rums.
Notes:
Menu is subject to change without notice
Should you have any specific dietary requirements and limitations, please do inform us in advance to cater for the same.
Activities on Ile des Deux Cocos
While on the Island you can swim and snorkel, go walking across and around the island, or visit the underwater nature reserve, known as the Blue Bay Maritime Reserve. This is the perfect place to discover the enchanting underwater marine world with its superb corals, wonderful array of brightly coloured tropical fish such as the Surgeonfish, Clowns, Butterfly fish and many more.
The south coast of Ile des Deux Cocos offers dramatic views of the ocean pounding against the reefs and of the mountain range of Mauritius' east coast.
The inside of this small island is rich with native vegetation which you can discover by following one of the many walking trails. Of course, you can also just relax beneath one of the many palm trees and watch the sparkling ocean.
Nestled amongst the trees, lies the magical "Follies" Villa. Built over 100 years ago by Sir Hesketh Bell, one of the first British governors to Mauritius. It is a place of true magic and beauty, which has been used for glamorous and hedonistic parties. The villa's architectural style is a unique mixture of various influences and styles; a clever mix of British and Moorish architecture with a Mauritian-style interior.
Comments
Complimentary activities: Boat trips and snorkeling, Beach Volley, Giant Chess, Bocci Ball, Frisbee, Boot, Camp, and more.
Optional Activities
AVAILABLE AT AN ADDITIONAL SUPPLEMENT
Explore the Shipwreck
A 10-15-minute glass bottom boat ride will take you to the shipwreck site outside the Blue Bay zone. You will then have one hour to enjoy swimming and snorkeling and to explore the site.
The shipwreck off Pointe d'Esny holds an important piece of the island's history; the ship sank during the famous naval battle of Grand Port, that took place between the British and the French. The Grand Port harbour was the scene of a rare heavy naval defeat for the British empire. You can still see part of the wreck on the reefs, with remains of cannons completing the underwater scenery of this historic battle. During the 1-hour snorkelling session, you will also get to encounter a myriad of colourful fish - emperors, lionfish, snappers, jack fish, clownfish, moray eels, anemones, barracudas, amongst others.
Comments
Activity Times: 11.30 a.m. to 12.30 p.m. and 2 p.m. to 3 p.m.
Islands visit
The Islands Visit outing can be tailored to 1 or 2 hours, to suit your needs. Grab this opportunity to discover the famous picturesque islets of Mauritius, namely Ile aux Phares and Ile de la Passe. Once there, you will be able to explore the islands and take pictures of the magnificent landscapes. You will also be able to get a glimpse of the small protected island, Ile aux Aigrettes. All you have to do is relax and let your inner Robinson Crusoe take over.
Ile aux Phare
Also known as Ile aux Fouquets, Ile au Phare is a small rocky island, named after a lighthouse built in 1864, which was still operational until the beginning of the 20th century. It's also where the French explorer, François Leguat was imprisoned by the Dutch. As the island is surrounded by coral, it is only accessible by boats with a flat bottom. Its turquoise waters are home to an incredible number of sea urchins, including the Priest's cap urchin and the stone urchin.
Ile de la Passe
Ile de la Passe is a small but very historic island off the south-east coast of Mauritius. It played an important role during the famous Battle of Grand Port over the possession of the harbour between the 20th-27th of August 1810. The French Navy's victory over the British Royal Navy at that time marks the only victory under the Napoleonic regime and as such is commemorated by an inscription on the Arc De Triomphe in Paris.
Ile aux Aigrettes
Classified as a Nature Reserve by the MWF (Mauritius Wildlife Foundation), this small island is situated a kilometre off Pointe D'Esny and was used as a military base by the British during World War Two. Of the two artillery pieces installed there, one can still be seen while having your trip around the island.
Today, however, huge efforts are being made to restore the island to its former natural glory, with on-going projects to reintroduce and protect endemic flora and fauna. Hence, you won't be able to get down on the island, the boat will take you around it.
Comments
Duration: 1 or 2 hours
Boat capacity: 20 Pax (Minimum 4 pax per trip)
Prices
Price per Adult: 95 Euro
Price per child (ages 6-11): 69 Euro
Price per Baby (ages 0-5): Free of Charge
Additional Activities:
Explore the Ship Wreck: 15 Euro / person
Three Islands visit: 35 Euro / person (Minimum 4 Persons required)
Reviews
91% Level of Satisfaction
Based on 11 reviews
|
reviewed by Inci Ozgul – Germany
|
June 06, 2019
Reaction time to your queries and requests
Travel consultant's professionalism level
Added value given to you by the travel consultant
Consultant's knowledge of Mauritius and the products / services
Overall satisfaction from the customer support service
Level of services provided as part of the activity?
Level of professionalism by activity operator staff / guide
Your level of enjoyment from the activity
Quality of meals & drinks included (if applicable)
Ease of booking the activity
Overall satisfaction from the activity
---
|
reviewed by Nayara Lundetrae – Norway
|
April 07, 2019
Perfekt tur det anbefales , alt hva som forventet ????????????????????????
---
|
reviewed by Rene Legras – France
|
April 02, 2019
Reaction time to your queries and requests
Level of services provided as part of the activity?
Level of professionalism by activity operator staff / guide
Your level of enjoyment from the activity
Quality of meals & drinks included (if applicable)
Ease of booking the activity
Overall satisfaction from the activity
---