Luxury Day At Ile Des Deux Cocos Island
91% Level of Satisfaction
Based on 11 reviews
| | |
| --- | --- |
| Location | South East |
| Operating Days | Monday, Tuesday, Wednesday, Thursday, Friday, Saturday |
| Duration | 6 hrs |
| Activity Time | 10:00 - 15:30 |
| Transportation | Offered as Supplement |
| Comment | Price includes: Glass bottom boat trip to Blue Bay Marine Park including snorkeling equipment |
Day trip to Ile des Deux Cocos
A perfect day of luxury and relaxation on the private Ile des Deux Cocos Island!
Experience real tropical luxury, fringed by clean white sandy beaches and the calm turquoise waters of the Blue Bay marine park.
Ile des Deux Cocos invites you for a pure enjoyment of the highest standards both in comfort and in services provided by a courteous and friendly staff. A day on the private paradise island of Ile des Deux Cocos, has been the highlight of many visitors' stay in Mauritius and it is a trip not to be missed.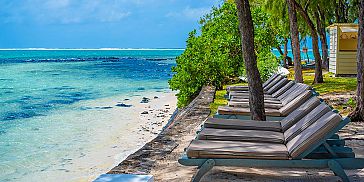 In the midst of Blue Bay Marine park, on the South-East coast of Mauritius, the majestic Ile des Deux Cocos (the Island of Coconuts) rises out of the ocean to welcome you to Paradise. Ile des Deux Cocos is truly a unique Island where nature and man creation walk hand in hand in a marvelous mixture of colors.
This day trip is offered on an all-inclusive basis including boat trip to the island, glass bottom boat trip, snorkeling, delicious lunch buffet and variety of drinks - a dream indulgence.
The lunch buffet served on the island in a beautiful open space, is as unique as the island itself; a delicious mix of culinary styles.
While on the Island you can swim and snorkel in the nature reserve, go walking across and around the island, or simply lie back and relax in the sun with a variety in choice of divine cocktails. Be sure to visit the Mojito Counter where you can sip on custom drinks made with mint, basilica or even curry leaves! You can enjoy a variety of land activities including the fun sports of Archery and Bubble Soccer. Choose your Hunger Games partner and test your aiming skills or enjoy a fun and bouncy experience on the beach, enclosed in a bubble suit.
Along the north of Ile des Deux Cocos you will see the pearl-white beaches and turquoise waters of the lagoon. Calm and inviting, the cool waters around the island protect an outstanding nature reserve hidden underwater.
This underwater nature reserve, known as the Blue Bay Maritime Reserve is one of the best places one can view the vivid and varied underwater marine life of Mauritius. This is the perfect place to discover the enchanting underwater marine world with its superb corals, wonderful array of brightly colored tropical fish such as the Surgeonfish, Clowns, Butterfly fish and many more.
The south coast of Ile des Deux Cocos offers dramatic views of the ocean pounding against the reefs and of the mountain range of Mauritius' east cost.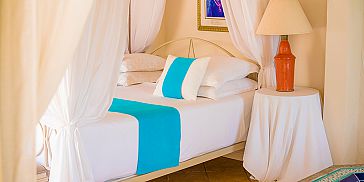 Also on Ile des Deux Cocos Island, nestled amongst the trees, lies the magical "Follies" Villa. Built over 100 years ago by Sir Hesketh Bell, one of the first British governors to Mauritius. It is a place of true magic and beauty, which has been used for glamorous and hedonistic parties. The villa's architectural style is a unique mixture of various influences and styles; a clever mix of British and Moorish architecture with a Mauritian-style interior.
The inside of this small island is rich with native vegetation which you can discover by following one of the many nice walking trails. Of course you can also just relax beneath one of the many palm trees and watch the sparkling ocean.
The day trip to Ile des Deux Cocos starts with a boat shuttle departing from Mauritius South east coast.
The departure for the Ile des Deux Cocos trip is from Ile des Deux Cocos jetty – you will have a short 5 minutes shuttle boat departing from Ile des Deux Cocos jetty heading south east to Ile des Deux Cocos.
Upon arrival to Ile des Deux Cocos you will be greeted at the jetty with refreshing towels and welcoming drinks and will immediately feel the charm of this small paradise island and the relaxed atmosphere all around.
You will have free time to enjoy the fabulous variety of underwater life which can be explored during snorkeling boat trip or on board a glass-bottom boat trip (both included in the price of this trip).
The buffet lunch which is served on the island at noon time features delicious grills and salads, cooked in the open, with tables in the open air and tents with deep settees to relax in.
The lunch buffet also includes an unlimited local drinks package: water, sparkling water, soft drinks, fruit juice, selection House rums, House wines and beers. You will enjoy the lunch with live music in the background. Before you leave the island, be sure to help yourself to some yummy pancakes at the Pancake Counter, offering special gourmet treats for the islanders.
Whether you choose to meander along the shady island paths, drift into the gently island way of life under a palm tree, or explore the outstanding underwater marine life; Ile des Deux Cocos offers an exceptional and unforgettable experience!
Included in the price
Boat shuttle trip to Ile des Deux Cocos Island
Welcome cocktail
Sun beds
Snorkeling equipment
Glass Bottom boat trip to Blue Bay marine park
Free Activities Include: Beach Volleyball, Badminton, Giant Chess, Boot Camp, Frisbee, Bocci Ball, Archery, Bubble Soccer
Drinks package of unlimited drinks
Lunch buffet
Live Music during Lunch
Complimentary Facilities: Tree of Hope, Mojito Counter, Pancake Counter (14h00 -15h00)
Note: Towels are not included
---
Food & Beverages
Lunch Buffet Menu
ANTIPASTI
Make your own salad
Seafood Salad
Beef
Emmental cheese
Chicken Ham
Olives
Chicken
Onion
Tomatoes
Cucumber
Lettuce
Carrot
Boiled Egg
French Dressing + Vegetables
Cocktail Sauce
Mayonnaise
Olive Oil
Balsamic Vinegar
From The BBQ:
Jumbo Prawn
Catch of the Day
Seafood Skewer
Lamb Skewer
Lebanese Chicken
Sauce
DELIGHTS
Fried noodles with shredded vegetables
Chicken Curry and plain rice
Vegetable Fritters
Chilli bites (Gateaux piments)
Mauritian bruchetta
Dholl Puri
Island Burger (Chicken or Vegetarian) served with French Fries
Desserts
Chocolate mousse
Fresh fruits
Milky rice flavoured with orange
Banana flambé
Coconut balthazar
Chocolate financier
Mixed homemade ice cream
LOCAL DRINKS PACKAGE INCLUDES:
Flat and sparkling water, soft drinks, fruit juices,local beers, house wine, flavoured rum, whisky, gin, vodka - All bottled locally
Mojito Counter
The island offers a Signature Mojito Counter to pamper guests. Make your own Mojito concoctions with Mint leaves, Basilica or even Curry leaves. A diverse selection and great tastes await you!
Pancake Counter
The Pancake Counter is available everyday, from 14h00 -15h00 for special gourmet treats. Don't miss the yummy pancakes before leaving the island it is a must!
---
Prices
Price per Adult: 95 Euro
Price per child (ages 6-11): 69 Euro
Price per Baby (ages 0-5): Free of Charge
Reviews
91% Level of Satisfaction
Based on 11 reviews
|
reviewed by Inci Ozgul – Germany
|
June 06, 2019
Reaction time to your queries and requests
Travel consultant's professionalism level
Added value given to you by the travel consultant
Consultant's knowledge of Mauritius and the products / services
Overall satisfaction from the customer support service
Level of services provided as part of the activity?
Level of professionalism by activity operator staff / guide
Your level of enjoyment from the activity
Quality of meals & drinks included (if applicable)
Ease of booking the activity
Overall satisfaction from the activity
---
|
reviewed by Nayara Lundetrae – Norway
|
April 07, 2019
Perfekt tur det anbefales , alt hva som forventet ????????????????????????
---
|
reviewed by Rene Legras – France
|
April 02, 2019
Reaction time to your queries and requests
Level of services provided as part of the activity?
Level of professionalism by activity operator staff / guide
Your level of enjoyment from the activity
Quality of meals & drinks included (if applicable)
Ease of booking the activity
Overall satisfaction from the activity
---