Balaclava
Named after the infamous battle site in the Crimean war, Balaclava is located by the mouth of the Citron River in the northwest coast of Mauritius and was once the flourishing estate of a rich and famous family. Today, the remains of this estate can be found as the ruins forming part of the Maritim hotel. This is where you will notice how the terrain drops dramatically down to the river, and the remnants of an ancient mill and a powder depot can be found.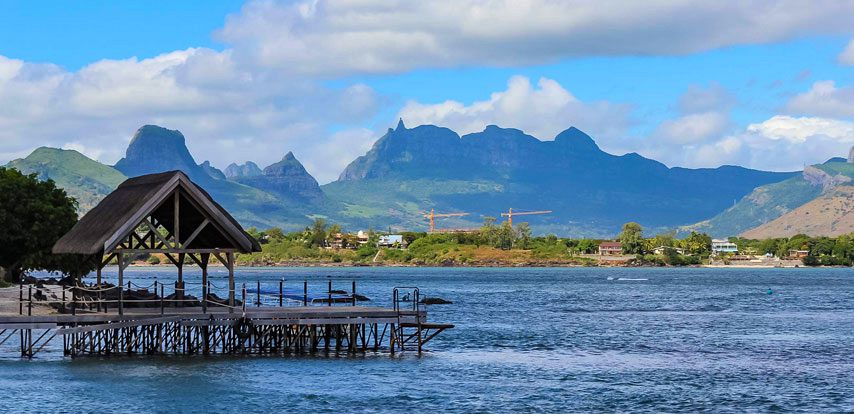 Brief History of Balaclava
Turtle Bay in Balaclava was a popular stop for ships on their voyage from Europe to the riches of the East. Old maps show the bay was first named 'Ebony Bay' by the Dutch. Ebony forests were plentiful in the area and its wood was ideal for ship repairs.
During the 17th century the Dutch changed the name to 'Turtle Bay' as the ebony trees had most probably been chopped. On the other hand there were many turtles frolicking in the bay and thus the name 'Turtle Bay' The British also anchored their ships at Balaclava to stock up with food and other necessities for their long sea voyage.
Balaclava's Location
Balaclava is a tiny village nestled in a secluded cove in Turtle Bay, just next door to the lovely tourist village of Grand Baie, on the picturesque North West coast of the island of Mauritius in the Pamplemousses district.
Balaclava is around 60 kilometres, or a 60 mins drive from the international airport and 20in drive to both Port Louis and Grand Baie.
Climate
The hot and humid summer falls between November and April with temperatures ranging from 27°C to 34°C which is the perfect time for a beach holiday in Mauritius. You can also expect summer showers in Mauritius. The mild winter starts in May and ends in October. Temperatures range between a pleasant 20°C and 26 °C and the climate is drier.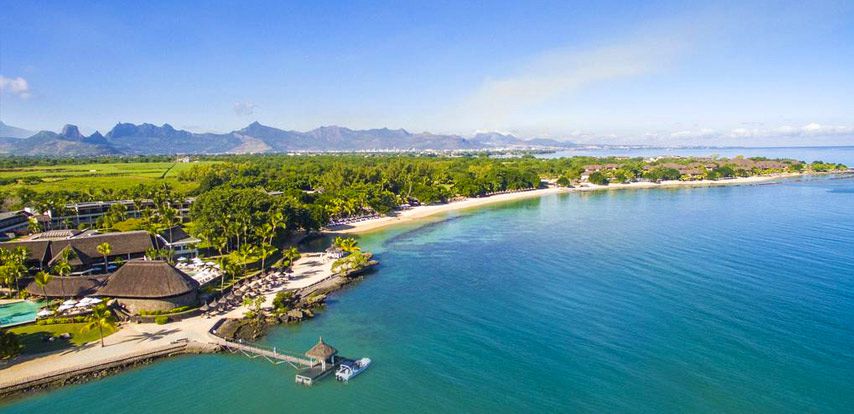 Hotels in Balaclava
Visitors to Balaclava can choose from a selection of exclusive top class luxury resorts and 5 star hotels as well as 4 star and 3 star hotels. Below please find the list of the main hotels found in Balaclava :-
Angsana Balaclava
This all-suite boutique hideaway by Banyan Tree, nestled in Turtle Bay in the island's northwest, has a strong focus on romance and wellness. It's a seductive haven for couples, including honeymooners who are seeking seclusion and barefoot luxury.
InterContinental Resort
Secluded within the boundaries of exclusive Balaclava Bay,this resort was designed to blend modern convenience with traditional Mauritius flavour. It was also created to cater to the needs of couples, families and business travellers alike. At this luxury Mauritius resort, you can choose from energetic sports or sophisticated dining.
The Westin Turtle Bay Resort & Spa
Ideal for romantic getaways, The Westin Turtle Bay is framed by some of Mauritius' most precious surroundings. Its serene spa, oceanfront dining and drinking experiences, and panoramic Whisper Zone Pool make it ideal for couple's retreats, whilst families are also well catered for with interactive play spaces and spacious suites.
Maritim Resort & Spa
Nestled between verdant gardens and the sparkling Indian Ocean, Maritim Hotel's location appeals to all holidaymakers. Honeymooners will discover a world of romance with aromatic, couple's massage treatments and speciality beach dining experiences, whilst families can spend quality time exploring the coast's islands and pony trekking from the onsite equestrian centre.
The Ravenala Attitude
This all-inclusive resort is a heady mix of colonial heritage, contemporary design and genuine Mauritian artistic flair. The only four star all-suite hotel on the island is a laid back destination resort with an emphasis on fine food, excellent service and lots of daytime and evening activities.
The Oberoi Beach Resort
A decadently luxurious resort in the most tranquil locations, The Oberoi offers a number of unique experiences to delight guests of all ages. Oceanfront restaurants and a volcanic rock bar offer interaction with the resort's surroundings whilst the spa's African Hypoxis treatments and candlelit beach dining provide an endlessly romantic environment.
Balaclava Beach
The Balaclava Beach is known for its pristine beauty and a plethora of watersports activities. It's also known as Victoria Beach or Oberoi Beach after the two most luxurious hotels that are located in the region. Also the public beach facing the Balaclava Bay, is an extremely pretty sight. The water here is crystal clear and a striking turquoise blue, with the seabed nearer to the shore. The beach itself is of powdery white sand, which is toasted by the sun all day, thus making Balaclava a perfect location for sunbathing and swimming.
Not far from Balaclava, you can visit the famous beaches below:
Pointe aux Piments
Trou aux Biches
Mont Choisy
Grand Bay
La Cuvette
Pereybere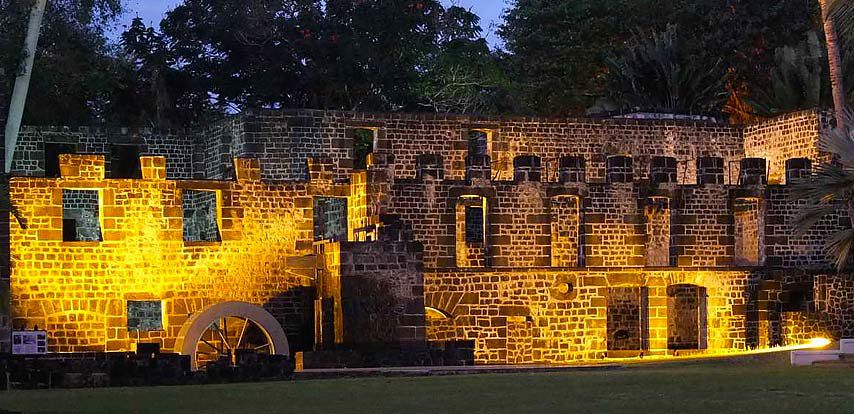 Places to visit in Balaclava
Balaclava Ruins
An infinite range of experiences await you on the Ruins of Balaclava estate within the 25 hectares of the 5-star Maritim Resort & Spa Mauritius site. Enjoy exclusive sights such as the Ruins of Balaclava, a national monument dating from the 18th century, the Citron river and its waterfalls and estuary.
A wide array of activities such as fishing in the river, outdoor games and playground, animal farm, giant tortoises park, archery sessions and more are available. Finally, pamper yourself with culinary delights at one of the two iconic restaurants, Anno 1743 and Château Mon Désir and it's the perfect place for a memorable and joyful family stroll.
Mauritius Aquarium
This small aquarium located in Pointe aux Piments has a decent collection of tropical fish (including clownfish), but the real stars are the whitetip reef sharks and hawksbill turtles. There's daily shark feeding at 11am and fish feeding twice a day.
L'Aventure du Sucre
The former Beau Plan sugar factory houses one of the best museums in Mauritius. It not only tells the story of sugar in great detail but also covers the history of Mauritius, slavery, the rum trade and much more
Sir Seewoosagur Ramgoolam Botanical Garden
Popularly famous by the name of Pamplemousses Botanical Garden and one of the most visited tourist attractions and the largest Botanical Garden in Mauritius. It features an extravagant variety exotic and rare species of plants along with some endemic animals on the verge of getting endangered, this massive garden covers the ground of over a whopping 37 hectares.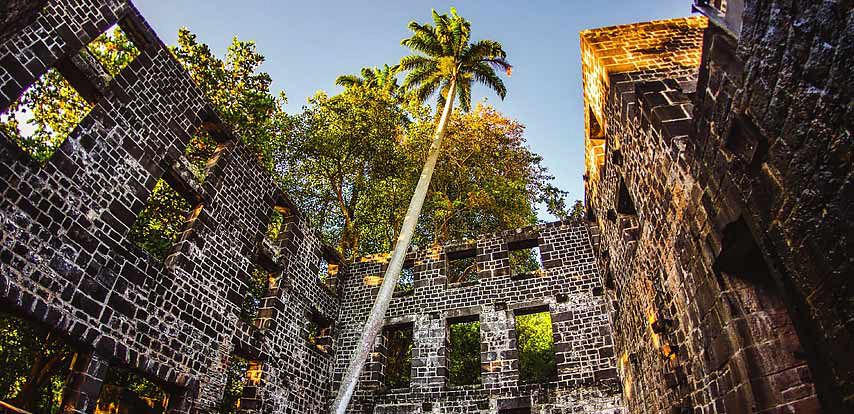 Things to do in Balaclava
Go Diving: Try scuba diving in Balaclava and witness the beautiful underwater world. One who is new to diving can take classes and try this adventurous activity in Balaclava. You get to see a wide variety of colorful marine life along with beautiful coral reefs.
Watching Dolphin: There are cruises arranged in Balaclava for spotting dolphins. You can even experience swimming with these friendly creatures.
Turtle Tour: Venture the stunning landscapes of Balaclava and see a wide variety of turtles, you get to learn about preserving and breeding turtles. You can even feed these turtles.
Spa Session: You can opt for a relaxing and rejuvenating spa session in Flower Spa. The spa is set in the lush green tropical gardens. Get authentic Ayurvedic treatments and sessions in Flower Spa.
Bird Watching: Witness a plethora of bird species in Rivulet Terre Rouge Bird Sanctuary. It is one of the largest habitats for birds in Mauritius. A large number of migratory birds visit this place every year around October to February.