Tamarin
Tamarin is a village on the western coast of Mauritius and is known for the salt pans, surfing spots and nightlife.
Set in a picturesque environment, surrounded with trees and mountains, the small fishing village of Tamarin exudes an incomparable energy and harmony that seduce visitors. It is considered a favourable seaside and tourist destination. Tamarin is renowned for its authenticity, its waves,its gray sand beach and its incredible sunset.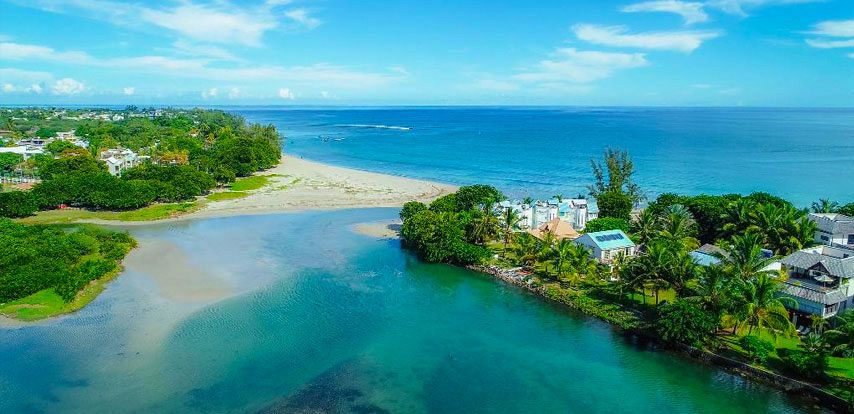 A brief history of Tamarin
From humble origins as a fisherman's village, Tamarin has transformed into a popular residential area and holiday destination. In recent years, Tamarin has become home to a new leisure and commercial area, and it continues to reap the benefits of ongoing development. The area, which is a surfer's paradise, was previously known as Santosha Bay.
In fact, before the bay earned the name Santosha, locals refused to give the beach a moniker because they didn't want outsiders to discover their cache of surfable seas.Today, the waves and currents have changed and the surfing die-hards have moved down the coast to Le Morne.
Tamarin Location
Tamarin is located on the west coast of Mauritius in the district of Black River and is about 50 km and one hour drive from the International Airport. Port Louis, the capital is located about 30 km north of Tamarin and the drive also takes around 1 hour.
Tamarin has a good bus route leading to key locations in Mauritius. You can easily get the bus to Port Louis or to other cities such as Baie du Cap and Quatre Bornes and can easily venture further across the island
Climate in Tamarin
If a tropical environment in which it is warm all year round appeals to you, then Tamarin is a fantastic place to be. The coolest months of the year are July and September, when temperatures typically range between minimums of 19°C and maximums of 26°C. The hottest months of the year are January and February, when the mercury soars into the 30°C on a typical day, with minimum temperatures typically being around 24°C.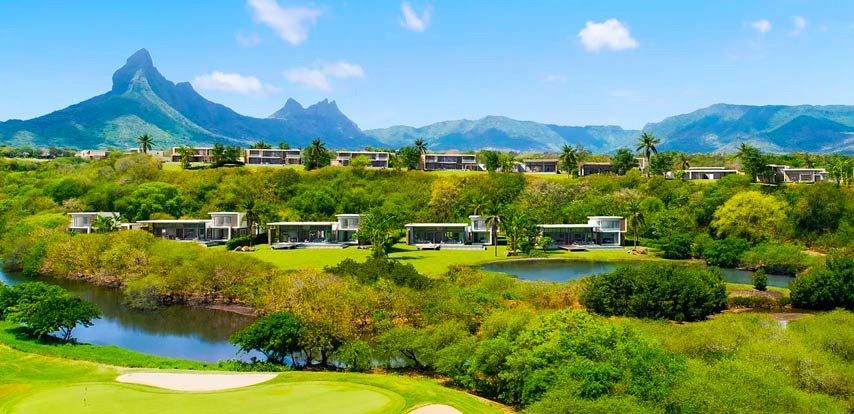 Hotels around Tamarin
From excellent boutique hotels and self-catering villas to aparthotels, B&Bs, holiday rentals and two-, three-, four- and five-star hotels in Tamarin, there is sure to be an establishment that is right for every type of traveller.
List of the main hotels found in Tamarin:
Maradiva Villas Resort & Spa
Maradiva Villas Resort & Spa is a 5-star luxury resort which is designed for those seeking a discreetly luxurious, ultimately private, personalized Mauritian experience. A real haven for relaxation and rejuvenation, Maradiva is also the ideal place for an exclusive romantic getaway.
Sands Suites Resort & Spa
Sands Suites Resort & Spa is a 4 star superior hotel offering five star luxury and is a magnificent resort that sympathetically blends into the local architecture, with magnificent views of Tamarin Bay and Le Morne Mountain.
Tamarina Golf & Spa Boutique Hotel
Located right on the beach of Tamarin Bay, this intimate 4-star boutique hotel offers a selection of 50 garden-facing or sea-facing rooms, a choice of three different restaurants as well as bars and a wellness centre and also features an 18-hole championship golf course.
Veranda Tamarin Hotel and Spa
Ideally located facing the mythical surf spot of Tamarin Bay, this cosy and intimate resort offers a friendly ambiance and a retro surf style and is great for couples, families with older children and all travellers looking for a true taste of Mauritian hospitality and charm.
Apart'Hotel de Tamarin
Apart'Hotel de Tamarin is a 4-star beach apartment located along a white sand beach, offering scenic views of the sea and featuring self-catering accommodation, an outdoor swimming pool and tropical gardens.
Esplanade by Horizon Holidays
Located in the centre of Black-River, Esplanade's location offers everything from local shops and restaurants to the privacy of a very beautiful beachfront. Esplanade is a high-end accommodation facility completed by tasteful interiors and spectacular sea views.
The Bay Guest House
The Bay Guest House is a 3-star beach guesthouse which is famous for its romantic sunsets and all-year round sunshine. The ambient harmony of the exclusive guest house is ideal for those in search of authenticity & conviviality.
La Mariposa
La Mariposa is a charming 3-star hotel situated on the nicest beach of La Preneuse where you can enjoy the most beautiful sunset of Mauritius and discover the island.
Tamarin - The most stunning beaches in and around
Tamarin Beach
The Bay of Tamarin is a wide sandy beach with rolling waves all year round. It is famous as one of the hotspots for surfers around the world, especially in the winter.
Directly behind the bay starts the coral reef, which goes around the island. Along the sandy beach many private houses can be found. In some places along the beach you can find very nice spots for snorkelling.
La Preneuse
The little village is close to Tamarin. It offers a little beautiful public-beach with a view on le Morne. This beach is quite deserted and if you are lucky you can enjoy being there on your own.
Flic en Flac
10 kilometers away from Tamarin is the small village of Flic en Flac. There you'll find a long sandy beach with a beautiful blue lagoon for swimming and snorkelling. In Flic en Flac you'll also find the touristic side of life. This beach is quite popular among tourists and local people, especially on the weekends.
Le Morne
The World Heritage "Le Morne Brabant" is about 15 km or a 25 minute drive from Tamarin away. There you'll find one of the most beautiful sandy beaches of the island. The peninsula is lined with fantastic beaches and turquoise blue lagoons. Le Morne is also known as one of the world's best spots for windsurfing.
Places to visit around Tamarin
Casela Nature Parks
The park is simply a must-see attraction when visiting the island. You can experience so many unique, thrilling activities under one "roof" whether you are with your partner, family or friends. Among the most popular day activities, you will find the Walk with Lions, interaction with rhinos, the Safari Quad, the Zip N Splash at Thrill Mountain and encounters with various animal species. You will also experience nature's best, surrounded by Mauritian flora and fauna, including endemic species and centenarian trees.
The Martello Tower
This museum, located by the beach la Preneuse, is a mandatory stop for those wishing to better understand the history of Mauritius. Inside, one can see weapons dating from the time of the English, wax statues and various utensils which offer a glance on Mauritian life two hundred years ago.
Salt Pans
Tamarin was the main salt pan in Mauritius. It's hot and dry environment provides ideal conditions for salt fields. The pans cover an area of about 30 hectares. Only a small part is still used today, but you can visit it and purchase salt from the small shop on site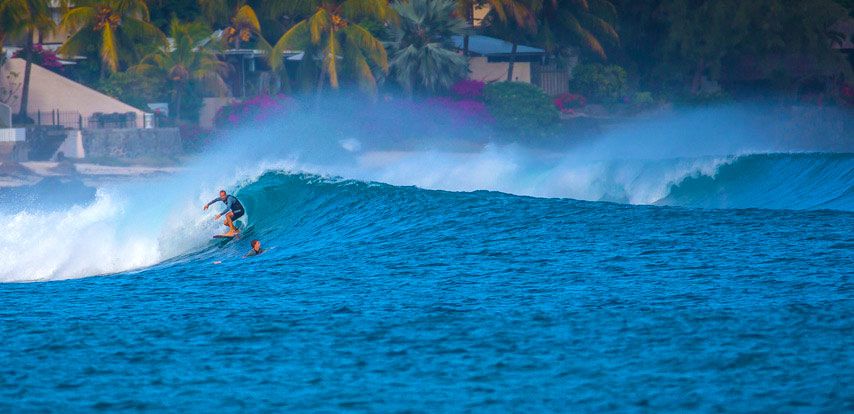 Activities in Tamarin
Tamarin Bay is known to lovers of water sports, especially surfing and bodyboarding, thanks to the fairly spectacular waves. Surfers have known this place since the 70s. It also allows you to practice other water sports and activities such as:
Paddleboarding
Kitesurfing
Snorkeling and scuba diving
High sea fishing
Catamaran cruise
Dolphin or Whale watching (can also experience swimming with the dolphins or whales)
Hiking - The National Park starts just behind Black River and offers numerous Hiking opportunities to waterfalls and beautiful viewpoints. A little further down the road to Le Morne, the road turns left towards Chamarel. Discover Chamarel during a day trip. It offers various waterfalls, it's colored earth and numerous hiking trails.
Tamarina Golf Club - Designed by Rodney Wright, Tamarina 18-hole Championship Golf Course is unmatched by its layout, location and beauty. This Par 72 challenging course undulates over 43 hectares of rugged savannah land framed with mature trees and crossed by the Rempart River. The landscaping of holes and surrounds has been contracted to an international team and the holes have been specially designed to give spectacular views of Mount Rempart and the towering mountain range. Some holes have great views over the crisp blue Tamarin Bay. Golfers will love the contrast between the rough surroundings and the smoothness of the rolling greens and wide fairways that adds to the experience of Tamarina Golf Course.
Shopping in Tamarin
Cascavelle Shopping Village
It's located in Flic-en Flac and is a great shopping destination where you can indulge in some really good retail therapy. The Shopping Village has stores both international as well as unique local brands featuring latest fashion clothing and accessories, jewellery, books, speciality stores and lots more.