Water & Sea Activities On The East Coast – 1 Day Package
| | |
| --- | --- |
| Location | East |
| Minimum Age | 7 |
| Operating Days | All Days |
| Duration | 8 hrs |
| Activity Time | 09:00 - 17:00 |
| Transportation | Offered as Supplement |
| Comment | When ordering this day package you benefit special discounted package price |
Water & Sea Activities - Full Day Package on the East Coast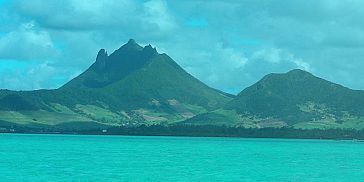 Mauritius is a paradise for water-lovers and as part of this full day package you will discover and experience selection of exciting water and sea activities at the East coast of Mauritius.
You will also visit the famous Ile aux Cerfs Island, and cruise in full speed inside the east coast lagoon reaching the Grand River South East waterfalls on-board a speed boat.
All is included in this fun, exciting and very high value for money, day package!
This 1 day package is all about making sure you have a full day of fun, excitement and making the most of sea activities Mauritius has to offer, while enjoying the breathtaking natural beauty of the East coast.
As part of the Water Activities day package you will enjoy
Underwater Sea Walk Excursion including complimentary photo CD
Parasailing adventure
Tube ride
Delicious BBQ lunch / Indian lunch served on Ilot Mangénie
Complimentary soft drinks and alcoholic beverages served on Ilot Mangénie
Trip by Speed Boat to the Grand River South-East Waterfalls
Speed Boat transfer to Ile aux Cerfs Island
Free time to stay on one of the picture-postcard beach of Ile aux Cerfs
Included in the price of this special day package are
All trips and excursions charges (Underwater Sea Walk, Parasailing, Tube Ride, Speed Boat Trip)
Photo CD consisting of various photos of your Underwater Sea Walk experience
Boat transfers to Ilot Mangénie and Ile aux Cerfs
Delicious Lunch
Complimentary soft drinks and alcoholic beverages served during lunch
Full transportation throughout the day including Pick up and drop off from any hotel / place of accommodation anywhere in Mauritius (optional)
More Information on the Day Package and Excursions:
Underwater Sea Walk Excursion
Enjoy a unique, safe and fascinating underwater walk on the ocean bed (about 3-4m depth), and witness firsthand the magnificent marine life of the Eastern coast of Mauritius, the beautiful fauna, corals, and a wide variety of fish, all in their natural habitat. Qualified experienced guides will accompany you along the course of the Underwater Sea Walk guaranteeing your maximum safety.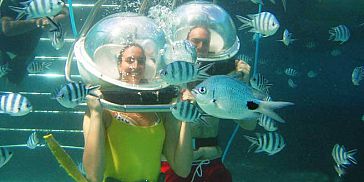 The excursion begins with a motorboat transfer from the Belle Mare beach to a platform situated inside the lagoon. Upon arrival to the platform you will receive a pre departure briefing on the gear, the local marine life, on safety procedures and on the underwater walking trail.
Then, with the help of the guide you will go off board the platform to start your underwater walk adventure.
Underwater Sea Walk Photo CD: For the benefit of all participants your entire experience for the Underwater Sea Walk is captured in digital photography. Pictures of your Underwater Sea Walk experience will be available on CD which will be given to you for no additional charge as soon as you have completed your Underwater Sea Walk experience.
Comments
Total time of the excursion is approx. one hour (walk itself takes about 15-20 minutes)
Wetsuits and soft underwater shoes are available and provided free of charge
Glasses or contact lenses may be worn during this excursions (you will not get your head wet)
Participants do not need to know how to swim
What to bring: swimming costume and a towel
Parasailing Adventure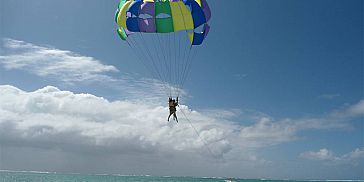 Parasailing is the ideal excursion for those looking for a special sea-air activity. Parasailing offers you a breathtaking bird's eye view of the beautiful lagoon and beach of East Coast of Mauritius, making it one of the best things to do during your holiday in Mauritius.
The parasailing begins with a short safety briefing. Then you will have a speed boat transfer to the launch platform where you will later take off and start the parasailing.
Upon arrival to the launch platform, you will be connected with a secured certified harness to the parasail. Only after the ground assistants will check the rig and the flight harness they will signal the boat driver to start the engine and gradually accelerate the boat. You will slowly take off from the launch pod for a 10 minutes parasail flight above the beautiful lagoon.
Comments
Total duration of the parasailing is about 10 minutes
You can go for the parasailing as individual or as a pair
Tube Ride
Tube Ride is one of the most popular fun water sports activities to enjoy as individual couple or with friends.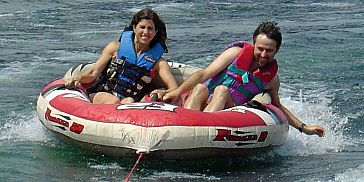 You will enjoy a 100% fun activity and an absolutely mind-blowing 15-minutes tub ride on the colorful water tube.
To cater all participants, you can choose out of a large selection of different models, such as single, twin, triple, kneeling or laying water tubes, each offering a different tube ride experience.
How it works? You will be seated in an original pneumatic tube which is being pulled by the speed boat through the water of the Belle Mare beach. All you have to do is hold the two handles at the sides of the tube, while enjoying an exhilarating ride.
….so get ready for some serious fun, bouncing on the waves, cruising through the crystal clear lagoons while being attached to the speedboat.
Comments
Total time of the excursion is approx. 15 minutes
Maximum number of participants on a tube is 4 participants at a time
Lunch at Ilot Mangénie
At around noon you will end the first part of this exciting day, and you would head from the public beach of Belle Mare to the village of Trou d'Eau Douce which is the departure point for the boat trip to Ilot Mangénie where lunch will be served.
You will then be picked up by the speed boat and head for the BBQ lunch on Ilot Mangénie. The speed boat transfer to Ilot Mangénie.takes only 5-10 minutes.
On the beautiful island of Ilot Mangénie, a delicious BBQ lunch will be served. The lunch menu consists of fresh fish, chicken and a selection of fresh salads and side dishes.
---
Lunch Menu
As part of this tour, you have the flexibility of choosing any of the following lunch menus
BBQ Lunch menu:
Grilled fish, chicken with mixed salads, pineapples and flamed banana
Indian Lunch:
Menu Vegetarian: Vegetarian curry, rice, pickles, chapattis, one fruit
Drinks: During the lunch, you can enjoy a complimentary selection of drinks including both soft drinks and alcoholic drinks; water, Soft drinks, Beer, Wine (Rose, white, Red) and Local Rhum. You will end this delicious lunch with a local dessert of fresh pineapple and banana flambé.
Following the lunch, you will then depart from Ilot Mangénie for a speedboat trip to Grand River South-East Waterfalls
---
Visit to the Grand River South-East Waterfalls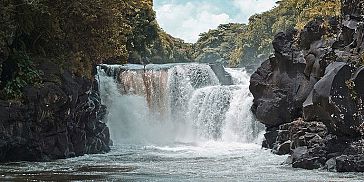 The speed boat trip takes you from Ilot Mangénie along the lagoon proceeding all the way to the Grand River South-East Waterfalls. The Grand South - Eastern River is the longest river of Mauritius. The speed boat will sail along the waterfalls' canal for the beautiful view of the Grand River South East Waterfalls.
Once there you will be amazed by the fabulous view of the waterfalls. You could also admire the wild vegetation on the river banks; sometimes you can also see some monkeys jumping and playing on the trees just beside the waterfalls.
After the visit to the waterfalls, you will head to the Ile aux Cerfs Island where you can spend some free time.
Ile aux Cerfs Island
As you approach the island by boat, you will see the swaying palm trees and the pure white beaches framed by the vivid turquoise waters.
Once you reach Ile aux Cerfs, you will have free time to spend on the beach, going for a stroll, swimming in the beautiful lagoon surrounding the Island, snorkeling or just relaxation on the beach.
---
Additional information on the Water Activities Day Package
Comments
The minimum age requirement for the day package is 7 years old
The water and sea activities Day Package start as from 9.00 am. With that, upon special request it is also possible to have the activities starting during a later time. Accordingly, please do inform us on your preferred departure time for the trips, and we will do the maximum to cater for your request.
The return time back to shore is flexible. The last possible return time is 5.00pm, but should you prefer, it would be possible to return to shore earlier. Already after lunch you could choose to head back to shore and every 30 min there is a boat transfer available from the island back to the departure point.
Car Capacities
You can choose from a selection of vehicles types:
Family Car - Up to 4 passengers
SUV Car - Up to 6 passengers
Minivan - Up to 12 passengers
About the drivers
All drivers speak fluent English and French (Upon special request we can organize driver who speaks additional languages). The drivers, citizens of Mauritius, will be happy to provide you with information about Mauritius and each of its sights.
All drivers are very professional, time efficient and friendly. There is high emphasis on being always on time and providing reliable devoted service to customers.
Prices
Transportation
Private Daily Tour in a family Car (for up to 4 people): 65 Euro
Private Daily Tour in a SUV big Car (for up to 6 people): 75 Euro
Private Daily Tour in a Minivan (up to 12 people): 95 Euro
The Prices are per vehicle referring to the number of passengers applicable for each vehicle type.
Excursions & Entry Tickets Packages
When ordering this day package you benefit special discounted package price on these complete trips package.
The special discounted price for the Water Activities Day Package is:
Price per Participant: 95 Euro