Horseback Beach Riding & Sunset Catamaran Cruise
100% Level of Satisfaction
Based on 2 reviews
| | |
| --- | --- |
| Location | South West |
| Minimum Age | 3 |
| Operating Hours | 14:00 - 19:00 |
| Operating Days | All Days |
| Duration | 5 hrs |
| Activity Time | 12:30 - 20:30 |
| Transportation | Included in price |
| Comment | The exact pick up / drop off times will be determined according to the location of your place of accommodation. |
Horseback Beach Riding & Sunset Catamaran Cruise
Enjoy a private horse riding & sunset catamaran cruise experience along the South West coast of Mauritius.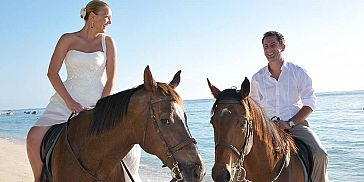 As part of this package you will get to explore Mauritius on a horseback riding along the fantastic white sandy beaches of the Le Morne peninsula, then, board your own private luxury catamaran for a romantic 2 hours sunset cruise.
This is a great romantic afternoon-evening package including riding the most majestic horses along the beach, with the crystal turquoise blue lagoon contrasting the pristine white sandy beaches in the background.
You will be ending the day with an unforgettable sunset cruise including snacks and drinks, having your own exclusive catamaran for you and your partner to enjoy in maximum privacy and romance.
As part of this day package you will enjoy
Private Horse Riding on the Beach (1 hour)
Private Sunset Catamaran Cruise along the west coast (2 hours)
Included in the price of this special day package are
All trips and excursions charges (private horse riding, private sunset cruise)
Full transportation to all the sights including Pick up and drop off from any hotel / place of accommodation anywhere in Mauritius
A personal driver-guide to show you around and inform you on each of the sights
Suggested Day Itinerary:
12:30 – 13:30* : Pick up from your place of accommodation
14:00 – 15:30 : Private Horse Riding on the Beach (1 hour)
17:00 – 19:00 : Exclusive sunset cruise along the west coast (2 hours)
19:45 – 20:30* : Drop off at your place of accommodation
The exact pick up / drop off times will be determined according to the location of your place of accommodation.
Information about each Excursion
About the Private Horse Riding on the Beach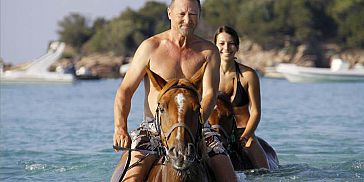 Upon arrival you will be welcomed by the very friendly staff who will introduce you to your horse. You will have 10 minutes initiation before leaving the paddock. Novice riders will be taught how to mount their horse and will be given basic tuition on how to control their horse.
The instructor will watch you ride in the paddock first, which will help you build up your confidence. Now, it's time to set out from the stables and go for a ride along these long stretches of white sand and turquoise sea.
Le Morne's landscape is exceptional and magical! Its unique landscape is one of the most appealing mountains on the island.
As part of this horse riding trip you will ride along the beautiful beaches of the Le Morne Peninsula starting from the South west tip of the peninsula where some of the best hotels in Mauritius are situated and ending the trip at its north part, having beautiful views of Benitiers Island and of the large west coast lagoon.
You will start this ride in-land and finish right into the sea splashing through the waves riding your horse. So, take your time and enjoy this outstanding landscape with your horse.
During your horse ride, you can have a nice chat with the professional guides, who would be happy to share their experience and love for the horses with you.
After the 1 hour ride, you will return to the stables where you can spend more time with the horses.
About the Stud
The adult horses and 2 ponies (ideal for children) are kept and trained in this unique environment of Le Morne. The horses are treated and vaccinated. They are taken care of with regular exercise everyday and are fed with freshly cut grass and cereals. These horses are ideal for both beginners and experienced riders. They are very calm and ensure a safe and pleasant ride also for the non-experienced riders.
Comments
This ride is suitable for all levels, including for those with no horse riding experience
Weight Limitation: 110 KG
This is a private horse riding trip
For experience riders, the trail and technical aspect of the ride are adjusted accordingly for providing the most rewarding riding experience
All along you will be accompanied by two professional guides
Horse riding equipments such as riding helmets, chaps, boots and clothes will be offered at the club.
2 ponies are available for children starting from 3 years old
Refreshments are offered at the end of the horse ride
The private horseback rides last approximately 1 hour
Due to different level of riding by each client, and to guarantee top personal service and maximum enjoyment, all riders are done on Private basis only
Afternoon session (NO trotting and galloping): 12h00- 18h00
About the Exclusive West Coast Sunset Cruise:
Enjoy a romantic and relaxed evening on board of a catamaran, while enjoying the company of your loved ones or friends.
The catamaran cruise departs at around 16:45 from La Carangue Jetty at Black River, situated on the West of Mauritius. Expected arrival time back to Black River is 19:00
Soft drinks, Alcoholic beverages and a selection of snacks will be offered during the cruise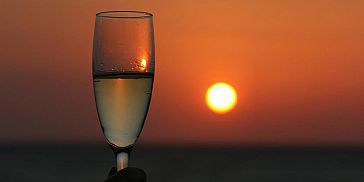 You will embark onboard beautiful 44 feet luxury catamaran for an unforgettable two hours unique sunset cruise done inside Mauritius' largest lagoon along the west coast and while enjoying complimentary soft drinks and alcoholic beverages and local snacks as part of the cruise.
The sunsets seen on the entire west coast of Mauritius are legendary, and the best way to experience one is from the ocean. You will see a symphony of colors in the sky, a mixture of red, purple, blues, pinks and mesmerizing yellow.
Since the region of the Tamarin Bay is home to herds of dolphins, with some luck, sometimes during this trip you will be able to see dolphins swimming beside the catamaran. If this will happen, the crew will stop the boat, in order for you to observe these great animals from close in their natural environment.
This mountainous part of the island contrasts the rich fauna of the Black River Gorges with the wild and beautiful sandy beaches of Tamarin Bay where one can admire incredible sunsets with surfers on the Horizon.
Local snacks which will be served as part of the cruise include
Gateaux piments
Samoussa (veg and non-veg)
Toast with paté
Olives and cheese
Selection of soft drinks and alcoholic beverages are offered throughout the sunset cruise
Beer
Rose and white wine
Coke
Sprite
Juice
Water
About the catamaran
It is a luxurious 44 feet catamaran offering comfort and space bearing in mind the numerous features that it has. A sunshade is part of the catamaran for you to protect yourself from the scorching sun. Also, you will enjoy some music played on a Hi-Fi Stereo(MP3). The catamaran's maximum capacity: 27 people.
Moreover, the catamaran is also equipped with 2 toilets, a fully equipped kitchen and oven and stove.
Onboard Facilities
Luxurious Catamaran 44 Feet (DEEN 440)
Two steering stations
Lounge—Dining Room
4 Double bedrooms
2 Toilets
Fully equipped kitchen
Oven & Stove
Additional equipment and gear includes: Radar, Fish finder, VHF Radio, G.P.S, Pirogue with 15hp.
Additional information regarding this tour package
Car Capacities
You can choose from a selection of vehicles types:
Family Car - Up to 4 passengers
6 Seater vehicle - Up to 6 passengers
About the drivers
All drivers speak fluent English and French (Upon special request we can organize driver who speaks additional languages). The drivers, citizens of Mauritius, will be happy to provide you with information about Mauritius and each of its sights.
All drivers are very professional, time efficient and friendly. There is high emphasis on being always on time and providing reliable devoted service to customers.
Prices
Transportation
Private Daily Tour in a family Car (for up to 4 people): 85 Euro
Private Daily Tour in a 6 Seater vehicle (for up to 6 people): 95 Euro
The Prices are per vehicle referring to the number of passengers applicable for each vehicle type.
Excursions & Entry Tickets Packages
When ordering this package you benefit special discounted package price on these trips and excursions.
Special discounted price for the package
Total price the Horseback Beach Riding & Evening Cruise for 2 people: 600 Euro (300 Euro / person)
Supplement for each additional adult: 135 Euro
Supplement for each additional child (ages 3-12): 105 Euro
Reviews
100% Level of Satisfaction
Based on 2 reviews
|
reviewed by jade – Australia
|
August 23, 2017
Reaction time to your queries and requests
Travel consultant's professionalism level
Added value given to you by the travel consultant
Consultant's knowledge of Mauritius and the products / services
Overall satisfaction from the customer support service
Level of services provided as part of the activity?
Level of professionalism by activity operator staff / guide
Your level of enjoyment from the activity
Quality of meals & drinks included (if applicable)
Ease of booking the activity
Overall satisfaction from the activity
---
|
reviewed by Michael Vidaurri – United States
|
August 20, 2017
Reaction time to your queries and requests
Travel consultant's professionalism level
Added value given to you by the travel consultant
Consultant's knowledge of Mauritius and the products / services
Overall satisfaction from the customer support service
Level of services provided as part of the activity?
Level of professionalism by activity operator staff / guide
Your level of enjoyment from the activity
Quality of meals & drinks included (if applicable)
Ease of booking the activity
Overall satisfaction from the activity
---