Themed Adventure Packages at La Vanille Nature Park
| | |
| --- | --- |
| Location | South |
| Operating Hours | 09:00 - 17:00 |
| Operating Days | All Days |
| Duration | Flexible |
| Activity Time | Flexible |
| Transportation | Offered as Supplement |
Operating Hours
09:00 - 17:00
Transportation
Offered as Supplement
This Activity is Closed Until Further Notice.
Themed Adventure Packages at La Vanille Nature Park - Overview
Have you ever wanted to encounter crocodiles? Or have your kids been dreaming of seeing lemurs up-close ever since watching King Julien from the Madagascar franchise?
Come along for a fun, adventurous day at the La Vanille Nature Park located in the south of the island.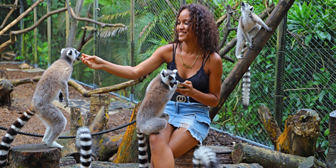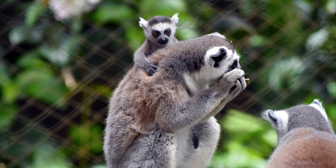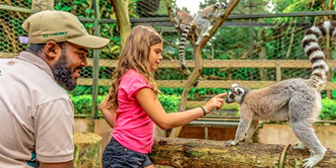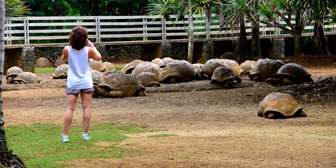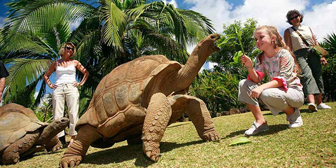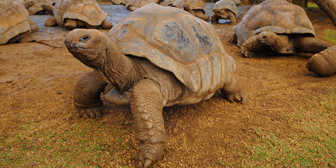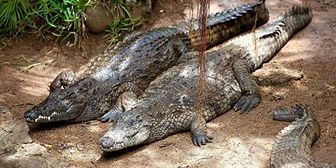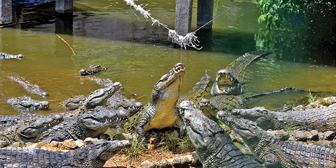 Highlights of this activity:
Come and meet the impressive number of fully-grown crocodiles and their babies
Learn the difference between alligators and crocodiles
See the reptiles from close - a unique experience
Choose your adventure depending on what kind of adventurer you are
Experience this unforgettable activity in the South of Mauritius
---
Crocodile Adventure
Included in this package:
Entrance
Meet Octar the iguana (10:30 or 14:30)
The show of the big crocodiles (11:30)
Feed the baby crocodiles (3 pieces of chicken per participant)
Free visit of La Vanille Nature Park with its other reptiles
Opportunity to see crocodiles, caimans, alligators, iguana, geckos, monkeys, lemurs, bats, etc.
Visit of the 3 museums
Visit of the petting farm
Optional: Crocodile tasting Platter for 2, with a complimentary cocktail at the restaurant.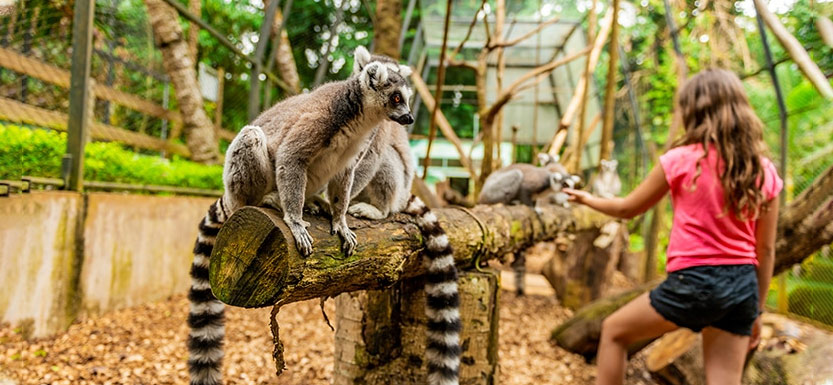 ---
Transportation & Driver Details
Transport is available for an additional supplement and will include pick up and drop off from any hotel / place of accommodation in Mauritius.
Car Capacities
You can choose from a selection of vehicles types:
Family Car - Up to 4 passengers
6 Seater vehicle - Up to 6 passengers
Minivan - Up to 10 passengers
About the Drivers
All drivers speak fluent English and French (Upon special request we can organize drivers who speak additional languages). The drivers, citizens of Mauritius, will be happy to provide you with information about Mauritius and each of its sights.
All drivers are very professional, time efficient and friendly. There is high emphasis on being always on time and providing reliable devoted service to customers.
---
Riviere des Anguilles, South Region
| | |
| --- | --- |
| Operating Days: | Monday-Sunday |
| Operating Hours: | 09:00 - 17:00 |
| Activity time: | |
| Lemur Feeding - | Flexible |
| Meet Octar the Iguana - | 10:30 or 14:30 |
| Baby Crocodile Feeding Activity - | 11:00, 13:00, 15:00 |
| Crocodile Feeding Show - | 11:30 |
* The time will also depend on the time chosen for the visit
---
Crocodile Adventure
Starting with an encounter with Octar the Iguana, you will move onto enjoying a show of the big crocodiles in their enclosure. The Nile crocodile is also the largest freshwater predator in Africa, and may be considered the second-largest existing crocodilian in the world, after the saltwater crocodile.These crocodiles can reach up to 7 metres in length and take down everything from hippos to humans. Seeing them in front of your very eyes can feel quite surreal.
The accompanying caretaker will share fun facts and their personal experiences with the fierce little creatures, and the baby crocodile feeding activity will follow. The young crocodiles are split into different age groups, so you can really get a sense of how quickly they grow.
A highlight of this package and an activity not to be missed is the Crocodile Feeding Show. You will be able to witness these fierce beasts, leap and snap at the food being lowered into their enclosure.
Tha package continues with a free visit to La Vanille Nature Park, where you can come across crocodiles, caimans, alligators, iguana, geckos, monkeys, lemurs and bats, among other species. After that, you can walk around the 3 museums and the petting farm, where interesting discoveries await.
About the Lemurs
Found in only one area on Earth- in Madagascar and the nearby Comoro Islands, lemurs are considered as one of the world's most endangered groups of mammals.
At La Vanille Nature Park, you will be able to encounter ring-tailed lemurs. Lemurs are very social creatures and live in groups called troops. They can be observed sunbathing during the early morning hours, sitting upright on the ground, arms held out from the sides and resting on their knees, much like a human in a yoga meditation position.
About Nile Crocodiles
This is the largest species of crocodile found in Africa and Madagascar. It can reportedly grow to 7 m, but the average length for males is around 5.2 m, with females reaching around 3.5 m. They can grow up to 80 cm in their first year, but the rate then slows down. The average lifespan is between 60 to 100 years. Large crocodiles eat approximately 120 kg of food per year and may weigh more than 500 kg.
The majority of an adult crocodile's diet comes from fish, although they will also eat large mammals such as zebra, antelope and giraffe and any other unfortunate creature found near the water's edge, including the occasional human and also other crocodiles. They are strong swimmers and can stay underwater for up to half an hour. The crocodiles in the reserve come from the population originally imported from Madagascar in 1985. Today La Vanille houses around 1500 individuals in various stages of growth.
About La Vanille Nature Park
Set in a tropical forest, in the midst of exotic fauna and flora, the park comprises a large number of crocodiles grouped according to age and species in secured enclosures. La Vanille Nature Park also showcases a diverse range of animal species, including giant tortoises in an open enclosure amongst others.
You can also learn more about various insects and colourful butterflies at the park's Insectarium that hosts one of the largest collections of insects in the world; a 30-year-old collection by Jacques Siedlecki of over 20,000 species of insects and butterflies originating from all five continents.
Fun-loving children are welcome to indulge themselves in the specially designed play area that includes various entertaining activities and a mini petting farm.
At the Fossil Museum: "100 Million Years Under the Sea", you'll explore an exhibition of international standard that holds hundreds of fossils from Madagascar as well as a mural of what living ammonites would have looked like in their natural environment at the time of the dinosaur.
Ammonites are the most well-known and most popular of fossils. In addition, the museum includes a section on marine mammals of Mauritius - including an impressive display in whale skeletons.
---
Suitable footwear

Suitable clothes

Camera
---
| Crocodile Adventure Including Entrance | |
| --- | --- |
| Adults | 18 Euros |
| Child | 9 Euros |
| Optional Crocodile Tasting | |
| --- | --- |
| Price per Person | 7 Euros |
---
This Activity is Closed Until Further Notice.
Booking Attributes