Golden Capture Studio - Beach Wedding Photography & Videography
Beach Wedding Photography & Videography
Imagine saying "I do" with your feet in the white sand, salty air in your hair, whilst you're lulled by the sound of gentle waves kissing the shoreline…
Mauritius Attractions can make your biggest wish come true, and take it a notch up with this special photography & videography package, which allows you to turn your wedding day into a real life movie where you and your soulmate are the protagonists!
It's no secret that a beach wedding destination is the dream of many. With the gorgeous velvety beaches in Mauritius, the crystal clear lagoon reflecting the spotless blue sky, and the vibrant coloured flowers radiating a beautiful fragrance, you're sure to have the ultimate exotic location and the perfect background to tie your knot.
It would only be fair to capture the essence of the most important day of your life, where you finally get to unite with the love of your life, in the presence of those you truly honour. Hence, having the perfect photography and videography team is a must!
The professionals at the Studio have a keen eye for detail, and will seize the cute little moments, the emotions, and much more! The day goes by really fast, the people won't live forever, but what will stay with you is the memories- and this is exactly why you'll hold on to these photos and videos forever. They'll remind you of the best day of your life!
---
Included in the Beach Wedding Photography & Videography Packages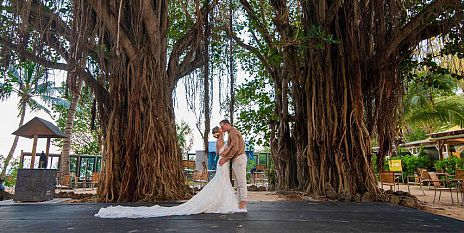 With the Beach Wedding photography or videography package, you'll get to freeze your special day in time, and relive those beautiful moments till you're old and grey. Every single detail will be captured beautifully and your magical event will be treasured in pictures or videos. You get to choose from photography services with different durations, number of photos and drone shots, as well as videography packages.
There's nothing better than reminiscing about your blissful moment of union!
Beach Wedding Photo Packages:
PACKAGE 1
2 hours coverage
1 principal photographer
Up to 120 edited hi-res photos
Photos at the ceremony
A couple of photo sessions after the ceremony at the beach and resort area
Optional: Drone shot 3 - 5 photos (for a surcharge)
PACKAGE 2
4 hours coverage
1 principal photographer
Up to 200 edited hi-res photos
Drone shot 3 photos
Photo preparation of bride and groom
Photos of guests, family and friends (if applicable) at the ceremony
A couple of photo sessions after the ceremony at the beach & garden until sunset
Beach Wedding Video Packages: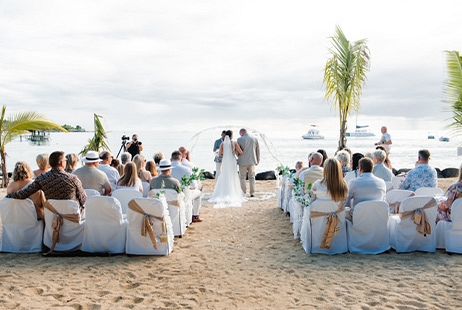 PACKAGE 1
2 hours coverage
The official wedding ceremony location & decorations
Video portraits, capturing emotions of the couple in different locations
About 5-8 mins highlight video of the wedding
Highlight video of 1 music of your choice
PACKAGE 2
4 hours coverage
1 principal photographer
Bride & Groom preparations and details (dress, shoes, rings etc..)
Wedding ceremony
Portraits of the couple in different locations
Dinner, decorations and night videos
Cinematic Wedding Film of about 20 mins
3-4 mins highlight video of the wedding
---
Comments
Drone shots will be done if weather permits.
You'll receive your images in your very own online gallery with the possibility to download all photos to your computer.
What to wear:
It is advised to wear comfortable clothes which make you feel good.
Contrasting outfits are preferred over monochrome clothes since they are eye-catching but all white, or white & jeans still make a classy combination.
We recommend people who sweat a lot to wear an undershirt and materials like cotton, for utmost comfort and breathability.
Black or navy blue coloured clothes can also be worn as sweat stains are less visible on darker clothes.
---
About the Studio - Beach Wedding Photography & Videography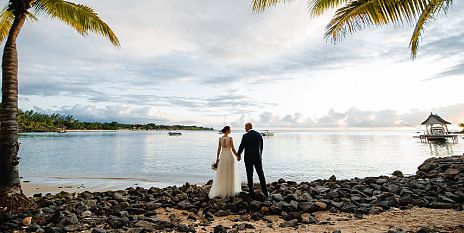 The studio was created by a group of industry leaders who saw that it was time to revolutionise wedding photography. They followed through and now they're one of the most in-demand companies which focuses on telling a story from your unforgettable day and turning it into a work of art! The result is wedding photos and films that are original, beautiful and a true reflection of your wedding day.
Combining the classic knowledge of traditional photographic portraiture and lighting with an innovative and contemporary style, the professional photography services are truly phenomenal! The aim is to further develop the overall excellence and to capture memories that will be cherished for a lifetime, in timeless photographs.
About the Beach Wedding Location
Nestled in the heart of the Indian Ocean is Mauritius- a real gem of an island, also known as paradise island!
Clear warm colored blue turquoise water, endless white beaches with coconut trees and the perfect tropical weather prevailing all throughout the year make Mauritius the exotic dream beach holiday destination- but also the perfect place to celebrate your wedding or honeymoon!
The coastline of Mauritius is approximately 330 km long and you can find nice sandy beaches nearly everywhere. On many of these beaches, you are sure to find hotels and beach resorts which offer wedding services to make your special day a little more memorable.