Go Duty Free Mauritius
Go Duty Free Mauritius - Pre-Order Duty Free Products Online
Experience a new era of luxury shopping with Go Duty Free, brought to you by Mauritius Attractions!
Why go through the hassle of carrying around duty-free items in your luggage? Instead, take advantage of the convenience of online pre-ordering at the most competitive prices on Go Duty Free Mauritius, and pick them up when you arrive at the airport. It's as easy as that!
With an exquisite collection of international brands, regional treasures, and local handicrafts, the pioneering online duty-free service in Mauritius, Go Duty Free, is making waves in the industry by offering an unparalleled blend of convenience, variety, and affordability.
So what are you waiting for? Browse the online catalogue of Go Duty Free Mauritius, reserve the duty-free products you want and enjoy a 10% discount with Coupon Code ISLAND10. See, Order & Collect.
A World of Choices, Tailored to You
At Go Duty Free, the journey begins with choices – choices that cater to every taste and desire. From internationally renowned brands to regional gems and local artistry, the platform boasts a diverse array of premium products.
Whether you're in search of the latest fashion statement, an exquisite bottle of premium liquor, or a piece of local culture to take home, Go Duty Free opens doors to a world of possibilities. The catalogue features an extensive array of premium international liquors, wines, luxury beauty products, branded perfumes, tobacco, fine food, irresistible chocolates and more - all available at a discounted rate when using the code ISLAND10!
Get 10% Off with Coupon Code ISLAND10
Luxury need not come at a prohibitive cost. Go Duty Free understands this sentiment and offers an irresistible offer: a 10% discount on your order using the coupon code ISLAND10.
This stroke of generosity allows travellers to revel in their favourite luxury items while embracing substantial savings. It's a fusion of luxury and affordability that sets Go Duty Free apart from the rest.
An Effortless Online Shopping Experience
The hallmark of Go Duty Free lies in its seamless integration of online shopping with the charm of luxury travel. Travellers can embark on a shopping spree from the comfort of their accommodations, making choices that reflect their style and aspirations.
This eliminates the need to rush through bustling airport shops or compromise on quality. Instead, shopping becomes an extension of the vacation experience – elegant, relaxed, and indulgent.
Pre-Book Duty Free Products at a Discounted Price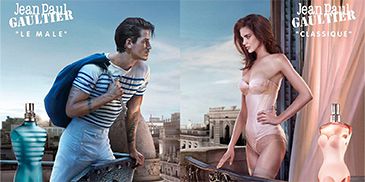 Go Duty Free's innovation extends beyond the digital realm. Travellers can pre-book their tax-free products at a discounted rate with the code ISLAND10, between 30 days and 24 hours before their departure from Mauritius.
This anticipation builds excitement, allowing customers to curate their shopping list and enjoy peace of mind knowing that their desired products are reserved. The platform's user-friendly interface guides customers through the pre-booking process, making it a seamless and rewarding endeavour.
Seamless Collection: From Cart to Departure
The thrill of shopping with Go Duty Free culminates at the airport's departure gate. You will benefit from an exclusive 10% discount with coupon code ISLAND10, plus free airport delivery, and all that's left for you to do is collect your items conveniently on the day of your return flight.
As you pass through Mauritius International Airport, a visit to the MCCI "Tax Refund" counter near Gate 19 is all it takes to claim your treasures. Present your payment receipt, and pick up your duty-free products, elegantly packaged in aviation approved security bags, right before you board your flight.
---
Steps to follow to place an order:
Visit the webpage Go Duty Free Mauritius
Add your products to cart
Use coupon code ISLAND10 and get 10% off on your order
Proceed to checkout
Add your flight details & pay with your credit card
Your products will be delivered to the airport departure at the MCCI counter near Gate 19 before boarding
---
When shopping on Go Duty Free Mauritius Service, you benefit from: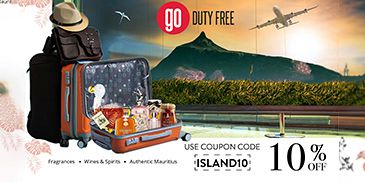 A wide range of duty-free products on offer
10% discount using the coupon code ISLAND10
Free airport delivery
Aviation approved security bags
Hassle free shopping
Best price guarantee
Comments
Online orders must be placed at between 30 days and at least 24 hours before departure from Mauritius.
To enjoy the 10% discount on your order, please enter the discount code ISLAND10 during the checkout process.
---
About Go Duty Free Mauritius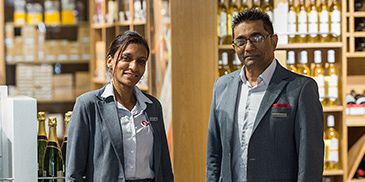 Founded in 2008, Go Duty Free is a Mauritian enterprise with a vision to establish the island as a prominent duty-free hub in the Indian Ocean and Africa. Over the years, the company has meticulously curated an exclusive collection of globally recognized brands, supplying them to duty-free networks across destinations such as Mauritius, Reunion Island, Madagascar, Mayotte, Comoros, and the Seychelles.
Unveil an exceptional range of products, all offered at unparalleled prices, as you explore the extensive duty-free selection. You'll find renowned international brands, regional treasures, and local handicrafts, meticulously chosen based on rigorous quality standards.
Through the "Authentic Mauritius" collection, Go Duty Free Mauritius celebrates local and regional artisans, sharing their narratives along with the expertise and effort invested in crafting their distinctive creations.
Go Duty Free stands as the preeminent duty-free e-commerce platform, with two inviting retail outlets strategically positioned in the heart of the island's primary tourist hotspots - the enchanting Grand Baie seaside resort and the bustling Caudan Waterfront in Port-Louis.
---
Why shop on Go Duty Free Mauritius?
Best Price Guarantee
Customers can shop with confidence as Go Duty Free guarantees the best prices for their purchases when using the coupon code ISLAND10. The platform's commitment to offering competitive rates ensures that customers receive maximum value from their luxury shopping experience.
Order 24 Hours Prior to Departure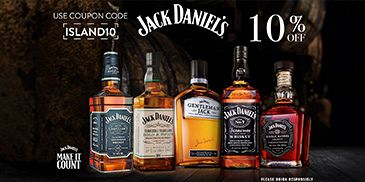 Planning ahead is made convenient with Go Duty Free. Customers simply need to place their orders on the platform at least 24 hours before their departure from Mauritius. This feature enables them to curate their shopping lists and ensures that their desired products are ready for collection upon departure.
Complimentary Delivery at Airport Departure
Go Duty Free offers customers the ease of having their purchases delivered directly to the airport. The platform provides free airport delivery, alleviating the need for customers to carry their items with them throughout their travels.
Aviation Approved Security Bags
Customers' satisfaction and security are paramount to Go Duty Free. The platform ensures that all purchases are meticulously secured in aviation-approved bags, guaranteeing the safety of items as customers journey to their destinations.
Enhanced Online Security with 3D Security
Go Duty Free prioritises customers' online security through its integration of 3D secure technology. This advanced security measure adds an extra layer of protection to online transactions, ensuring a worry-free and secure shopping experience.
Secure Online Payment
Go Duty Free offers a seamless and secure online payment process. The platform's user-friendly online payment system ensures that transactions are smooth, easy, and safeguarded. Customers can shop confidently, knowing that their payment information is handled with the utmost security and privacy.