Mauritius Canyoning and Zip lines Activities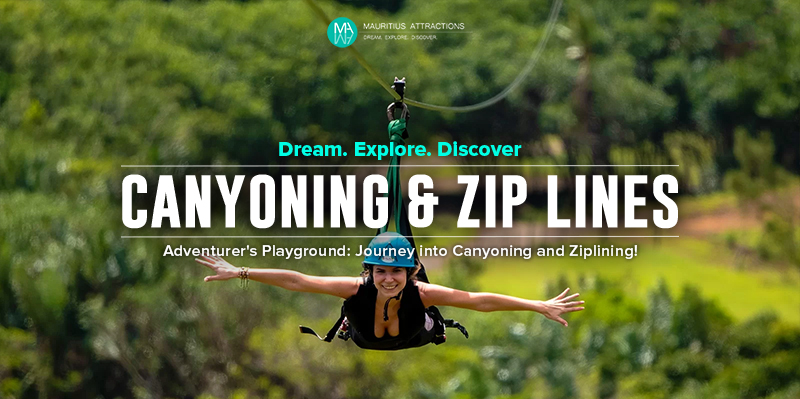 For those looking for adventurous nature activities, the selection is vast and you are sure to find your preferred activity that will thrill and challenge you while offering breathtaking views and unique nature discovery experience.
For the more courageous ones, it possible to test your courage by jumping a 7 meters cliff jump into the water during The Half Day Canyoning trip to Tamarind Falls or discover waterfalls and crystal clear ponds of Rivière Papayes.
In addition to the traditional canyoning activities, we offer a range of great nature activities such as Zip Lines Treks for those wishing to experience flying like a bird (at Galets River, Yemen Reserve and Vallee des Couleurs), mountain hiking, treetops adventures on Ile aux Cerfs and many more.
These exciting trips are done in different regions of the island, allowing you to discover the various landscapes and luxurious fauna and flora of Mauritius.
You will find below exciting, adrenaline-charged schedule of adventure activities suitable for almost all ages catering for everyone from the less adventurous to the extreme lovers.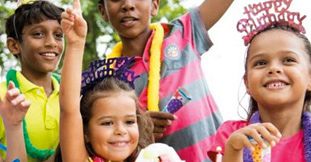 About the Family Adventure & Kids-Friendly Activities in Mauritius - Gros Cailloux Leisure Park This combo activity package is ideal for groups especially families. You will spend an amazing time… read more →
---
---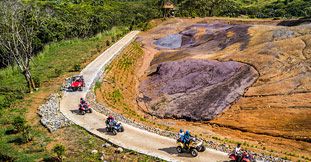 Tailor Made La Vallée Des Couleurs Day Package Embrace the freedom to create your own La Vallée des Couleurs adventure just the way you want it! With our customizable day package, the… read more →
---
---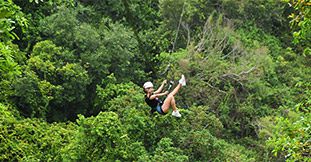 About the Zipline Adventure + Nepalese Bridge + Visit to the Endemic Forest at Lavilleon Adventure Park Located in the South West of Mauritius, Lavilleon Adventure Park is one of the most famous and… read more →
---
---
South West
Duration : Flexible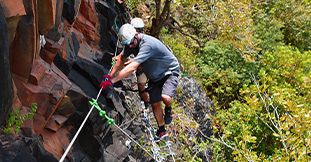 About The Via Ferrata Experience at Lavilleon Adventure Park (Beginner-Friendly Activity in Mauritius) The Via Ferrata at Lavilleon Adventure Park consists of a predefined, secure climbing route… read more →
---
---
South West
Duration : Flexible
Zip line Excursions at La Vallée des Couleurs Located in the South of Mauritius, La Vallée des Couleurs Nature Park is one of the most famous and unique attractions of the island which… read more →
---
---
About the Activities - Ziplining at Casela Nature Parks The 400m Zipline & 4 Ziplines Feel the wind on your face as you soar down the 400m zipline! And after zig-zag across the 4 ziplines for a… read more →
---
---
500m Zip Line & Mini Lunch At Vallée Des Couleurs This activity is a must while you are in Mauritius. Enjoy being out in nature, breathing in the crisp air and taking in the beauty of this… read more →
---
---
About the Nepalese Bridge + Zipline Adventure At Vallée Des Couleurs A walk in the air on wooden platforms suspended high by solid ropes high above lush tropical green forests, pumps both your… read more →
---
---
Half Day Canyoning Excursion at Tamarind Falls Tamarind Falls: Situated on the central plateau, near the small village of Henrietta, the Tamarind Falls canyon is the one canyon of Mauritius which you… read more →
---
---
South West
Duration : 4 hrs 30 mins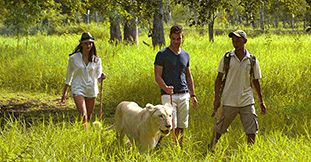 Ziplining - Walk with Lion Activity - Visit Casela Nature Parks Ziplines excursion at Casela Nature Parks The 400m Zipline & 4 Ziplines - Feel the wind like never before as you slide down the… read more →
---
---
South West
Duration : 9 hrs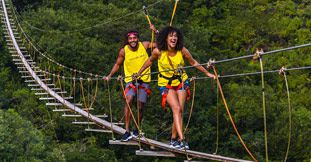 Unforgettable Thrills: Light or Standard Adventure La Vallée des Couleurs Embark on an exhilarating journey of discovery with the Light Adventure or Standard Adventure package at La Vall… read more →
---
---