When I set out to go Parasailing, I wasn't exactly sure of what I was about to experience. I personally do not know anyone who had done it before me, so I could not get stories or tips beforehand (not that I needed any).
I had picked the afternoon time slot for the activity, since it was still winter in Mauritius and the afternoon would make for nicer weather conditions, with the sun still out. I reached the La Cuvette beach, a few minutes before 1PM and it was a remarkable sight. The beach wasn't crowded, so I could see the blue waters right from the entrance. It was tempting to walk straight to the beach but since I had come for an activity, I figured that I could do that afterwards.
I met up with the people in charge of the parasailing activity, where they encouraged me to take off my shoes and keep it just by their office as it was safe there. They then took me to the 'parasailing boat', which was had the words boldly marked on the side of it. One good thing which I appreciated was the fact that they spoke and understood English, even though French and Mauritian Creole were clearly more comfortable for them.
While on the boat, we took a short drive further into the sea, and this was when the main event unfolded. I had to get into the parasailing gear, which included a harness (TIP: Wear light and comfortable clothing) before being attached to the canopy. I started floating into the air as the boat moved away and I continued to move in an upward trajectory for quite a while, until the boat was so far away I could cover it with the palm of my hand.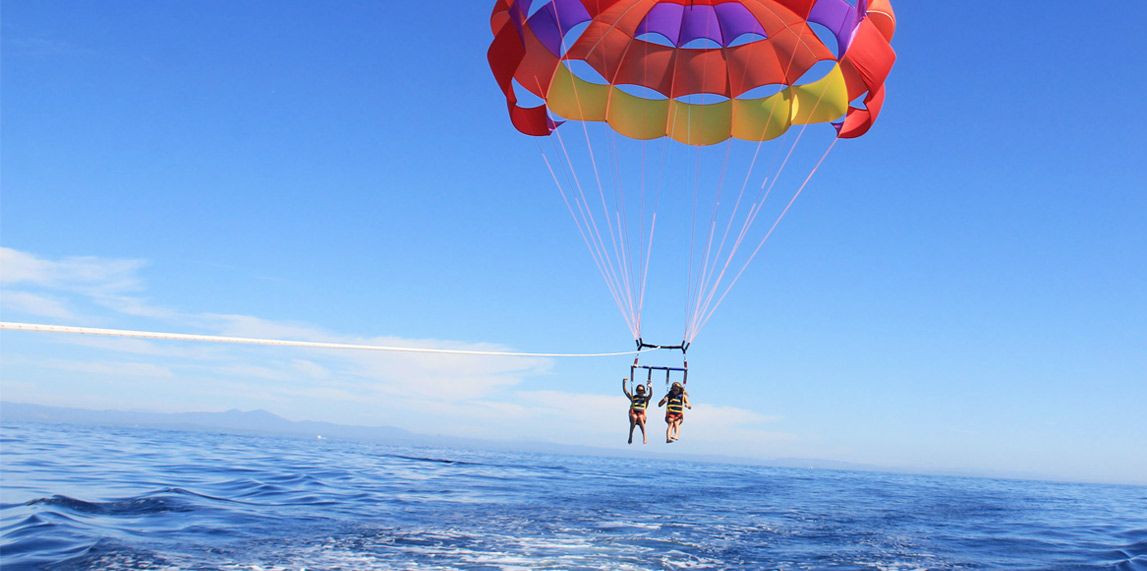 Being that high up was such an adrenaline-packed adventure! The wind would sometimes sway me from left to right and I responded with shrieks and sometimes screams. I had my GoPro camera with me so I took pictures and videos, but I would recommend having someone else accompany you on the boat, so that they can take pictures and you can focus on your grip of the parasailing gear, especially if it is a windy day. While I was up there, I could see the beautiful blue sea and the surrounding neighbourhood of Grand Baie. Further off the Grand Baie coast, Gabriel Island could be spotted. It was an amazing view.
I was probably up there for about 10 minutes, as the boat continued to sail and I continued to float on cloud nine. But all good things must come to an end and soon it was time to descend. The descent was slow and gradual, giving me ample time to contemplate on the beauty of the island, while still up there for one last time. As I got close to the boat, I was instructed by the guides to stand (they tell you to sit with the harness during takeoff).
The landing was perfect, as were the pictures and videos and the entire activity. I definitely didn't want it to end. This adrenaline packed event was pure bliss and I would totally do it again but next time, maybe with friends, so that we can laugh at each other for the shrieks and screams.