Bras D'Eau National Park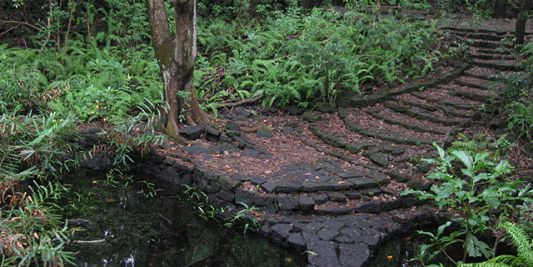 | | |
| --- | --- |
| Location | North East |
| Operating Days | All Days |
| Duration | Flexible |
| Activity Time | Flexible |
| Transportation | Offered as Supplement |
About Bras D'Eau National Park
Attention to all the nature lovers, Bras D'Eau National Park is calling you for a break from the sunny beaches! Head out to the North-Eastern part of the island for the perfect green scenery and nature discovery.
Be it a romantic walk or family time, Bras D'Eau will surely be fit for the occasion. Bras D'Eau National Park is one of the two national parks of Mauritius and is quite known for its fauna and flora but also due to the many picnic spots and hiking opportunities.
Let's kick off the day with one of the most indigenois Mauritius forests located near the visitors' centre. The walking trail of three kilometres named Coq Du Bois Loop has an impressive orchard with around 2000 mangoes and 200 litchi trees. Behind the visitors' centre, you can also admire the ruins of an old sugar mill which shut down operations in 1867.
The Bras D'Eau Park was officially declared as a national park in 2011 and is a definitely a sanctuary for fauna and flora. With a size of approximately 497.2 hectares, you will get to observe trees such as eucalyptus, blackwood, teak, casuarinas and 'Diospyros egrettarum' and 'Diospyros Melinda, two Mauritian ebony tree species that still remain in small numbers and can be spotted at Bras D'Eau.
You will also get the chance to spot several kinds of birds such as sparrows, Mauritius Fodys, canaries, white-eyes and the rare white-tailes tropicbird.
Bras D'Eau is also the habitat of the Mascarene Paradise Flycatcher which is another rare endemic bird. You will also have the lake, Mare Sercelle, a known site for bird-watching as well as a swamp for mangroves.
Choose to end your visit with a picnic on the wooden tables near the parking area or you can opt for a break at the Poste Lafayette beach as well which is located not so far from the National Park. The Bras D'Eau National Park is definitely worth all the effort with all the lush vegetation.
---
Comments
Closed Shoes/Hiking shoes
Bring along your sunscreen
Do not forget your water bottle
Click Here to Book This Tour