Diving & Snorkelling - Flat Island Excursion with BBQ Lunch
| | |
| --- | --- |
| Location | North |
| Operating Days | |
| Duration | Flexible |
| Activity Time | 08:45 - 16:00 |
| Comment | Divers should send their log book before booking the activity and non-diver should inform before booking |
Activity Time
08:45 - 16:00
Comment
Divers should send their log book before booking the activity and non-diver should inform before booking
Diving & Snorkelling - Flat Island Excursion with BBQ Lunch - Overview
Mauritius Attractions brings you this epic excursion to Flat Island with the chance to dive and snorkel in the azure Mauritian waters. Feed your soul with this island getaway as you witness mesmerising seascapes and exotic fauna and flora, feel the salty breeze and listen to the sound of waves or gear up and dive right in the ocean for a memorable encounter with the marine animals.
It keeps on getting better with a divine BBQ lunch served on the pristine beaches and an excursion on the island, giving you the opportunity to view the green sand beach- a marvel you must see to believe. However, the humpback whales might just be the showstopper- if you're going on this excursion between July and October, you're in for a real treat!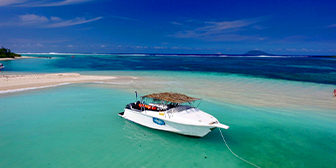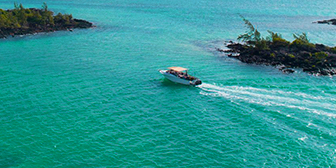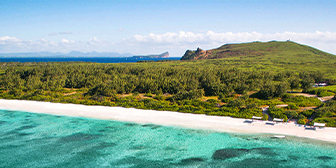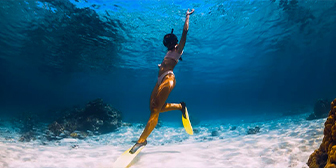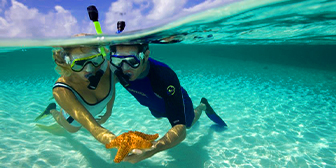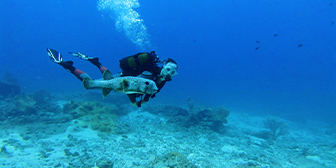 Highlights of this package:
Create memories for a lifetime at sea during this excursion to Flat Island
Sail along the stunning Northern coastline on a comfortable, 10-metre long boat
Take your pick from 3 scuba diving options- Drift, Shallow and Wall
Both divers and non-divers can explore the vibrant underwater creatures with a snorkelling break
Indulge in a flavourful BBQ lunch and quench your thirst with a variety of beverages
Enjoy a wonderful bird watching experience on Flat Island
Discover the beautiful Flat Island with its green sand beach and lighthouse
Opportunity to spot some humpback whales in their natural habitat on the way back (seasonal)
Enjoy a free transfer in the north, ranging from Grand Baie to Grand Gaube (upon request)
Note: This activity is offered once a week, on a shared basis only.
---
Diving & Snorkelling - Flat Island Excursion with BBQ Lunch - Inclusions
Exciting Boat Trip to Flat Island
Cruise along the North Coast, boasting impeccable views
Scuba diving expedition at 1 of 3 sites - divers only (1 dive)
- Pirate Cave - Drift (18m)
- Palissade - Shallow (18m)
- Pigeon Rock - Wall (30m)
Relax on Flat Island's main beach
Swim in the pristine lagoon
Snorkelling break in the crystal clear waters
BBQ lunch with alcoholic and non-alcoholic drinks (see F&B)
Soft drinks, coffee, tea and cookies on board
View the green sand beach and lighthouse on the excursion
Turtles & Bird watching opportunities
Snorkelling & Diving Equipment
Free hotel transfer in the north upon request (Grand Baie to Grand Gaube)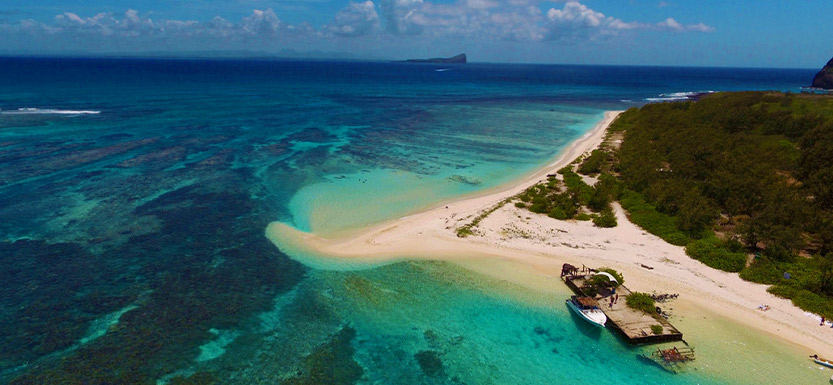 ---
Transportation & Driver Details
A free transfer can be organised from your location if you are in the north (Grand Baie – Pereybere – Bain Boeuf – Grand Gaube). Otherwise transport is available for an additional supplement and will include pick up and drop off from any hotel / place of accommodation in Mauritius.
Car Capacities
You can choose from a selection of vehicles types:
Family Car - Up to 4 passengers
6 Seater vehicle - Up to 6 passengers
Minivan - Up to 10 passengers
About the Drivers
All drivers speak fluent English and French (Upon special request we can organise drivers who speak additional languages). The drivers, citizens of Mauritius, will be happy to provide you with information about Mauritius and each of its sights.
All drivers are very professional, time efficient and friendly. There is high emphasis on being always on time and providing reliable devoted service to customers.
---
Anse La Raie, North Region
Start & End times:
(*Note: May be later between July & October in case humpback whales are spotted)
| | |
| --- | --- |
| Starting Time: | 08:45 (Non-divers should reach the activity point at 08.15 am in order to do the initiation) |
| End time: | 16:00* |
| Duration: | Flexible |
---
About the Diving & Snorkelling - Flat Island Excursion with BBQ Lunch
Spend a day off the mainland of Mauritius, discovering the panoramic sceneries, the neighbouring Flat Island and exploring the azure waters that is home to the most stunning marine life. You will have a marvellous time cruising the Mauritian waters, snorkelling at the reefs, bird watching, lunching on the islet and indulging in one of the best dives of your life!
Feel the excitement rising as the engine roars, marking the beginning of a beautiful day. Departing from Anse La Raie, where the diving centre is based, you'll be headed to one of the most heavenly islets where non-divers will be dropped off to live like a real islander and explore the iconic Flat Island at their own pace. As for the divers, they will be taken to one of the popular diving spots for a breathtaking dive.
Depending on the season you book this excursion, watch out for the humpback whales as you're sailing back, sightings are usually more common between July & October. You never know, nature might spoil you with a sensational view of the gigantic mammal breaching and splashing their fins and tail into the water. That might just be the highlight of your trip…
Diving & Snorkelling - Flat Island Excursion with BBQ Lunch - The Experience
After around 30 minutes of cruising the scintillating waters and viewing the stunning Northern coastline, you will reach your destination - Flat Island. As you near the shore, your senses will be flooded with sheer tropical vibes and postcard-worthy views; a white sandy beach to relax, dotted with lush trees that provide you with crisp air nonstop, lined by a turquoise lagoon that emanates a lingering salty scent as the gentle wind blows.
On Flat Island, you're free to spend your leisure time however you'd like. Not keen on swimming? You can spend more time strolling around and sunbathing on the sandy beach. Wish to explore underwater life without going diving? You can snorkel in the clear water and discover vibrant schools of fish and bewitching tropical corals. Looking for something more thrilling? Well, nothing beats a good diving session.
Diving enthusiasts will be taken to one of the diving sites for an exceptional encounter with the aquatic life accompanied by a certified instructor. Get transported by the tide with a Drift Dive (Pirate Cave), opt for Shallow Dive (Palissade) for increased visibility and less dive time or choose to Wall Dive (Pigeon Rock) along the edges of coral reefs.
For those who enjoy bird watching, a number of native birds can be seen flying around the island or nesting in the cracks of the cliffs. Make sure to capture these alluring sceneries that you can never find elsewhere in the world. If you're lucky enough, you might even spot cute little turtles or their tracks on the beach.
Once the divers are back, the long-awaited BBQ lunch will be served, filling the atmosphere with the most tantalising aromas whilst the flavours of chicken, fish and sausages host a party in your mouth. Juices, wine, beer and rum will be served to quench your thirst. Moreover, soft drinks, coffee, tea and cookies are served on board.
In the afternoon, you'll have an excursion on the island, where you'll be shown some sheltered coves, green sand beach and one of the few functioning lighthouses in Mauritius. And of course, you'll have picture perfect panoramas from start to finish! This excursion to Flat Island is one you will want to cherish for a lifetime so make sure to freeze these beautiful memories in time.
About Flat Island
Also known as "Île Plate" in French, it is located near Round Island, about 11 kilometres north of Cap Malheureux, the Mauritius' mainland's northernmost point. It houses one of the two working lighthouses in Mauritius.
Being 253 hectares in size, Flat Island is the largest of the northern islets. It is mostly flat, but has a single hill topped by a lighthouse, boasting heavily modified vegetation.
Flat Island is a very popular venue for snorkelers, and also offers great dive sites. Set amidst the crystal clear water, bordered by beautiful beaches, this island is a real hidden gem of the Indian Ocean.
About the Boat
Embark on a comfortable 10-metre long and 4-metre wide boat with 150 HP engines, built for divers.
Moored at the jetty located just in front of the diving centre, the boat (Legend 32'') can accommodate up to 20 people.
Equipped with a GPS, sonar, shower, shade cover and a big oxygen tank, it offers you plenty of space to store your equipment. Entering water is made easier thanks to the two platforms located right at sea level and climbing can be done fully equipped thanks to the ladder tree.
All the dive guides are equipped with Dive Alert and a Nautilus Lifeline (Underwater GPS) to call the skipper in case of emergency.
About the Diving Centre
Founded in 1999, the Diving Centre offers great dives, from beginners to certified divers off the north coast and around Mauritius' Northern islands.
The team includes dedicated dive masters and instructors with years of PADI, SDI and First Aid expertise. It's one of the few clubs in the north to operate from a jetty located only 10 metres from all equipment, avoiding any unnecessary effort! An independent comity checks all first aid equipment every 6 months, so can be sure that you are in good hands.
The diving centre is part of the MSDA (Mauritius Scuba Diving Association), who provide a quality label to the diving centre in accordance with international regulations and also work on reef conservation with the Reef Conservation Association.
Diving journalists, including Scuba People - a popular online diving magazine and blog, often choose this particular diving centre for their numerous diving expeditions, training and fun dives. All trips are out of the lagoon with an impressive visibility (min 15m, average 25m and sometimes more than 50m) where one can discover a very wide marine life and beautiful corals.
The diving centre will do their very best to welcome you and cater to your expectations and skill level.
The equipment:
75 Tanks available from 6L to 15L steel tank (DIN & INT)
20 Regulators available: Scubapro
30 BCD available: ScubaproT-One
50 Wetsuits available: XXS to XXL 3mm shorty, 3mm long, 5mm long
80 Fins available: sizes 25 to 47
30 Masks available: Different sizes
---
Towels

Hats

T-shirts

Extra sun block cream for sun protection

Cameras or underwater camera

Swimsuits

Divers must bring their log books and diving qualification certificates.
---
Diving & Snorkelling - Flat Island Excursion with BBQ Lunch - Lunch Menu
---
| Diving & Snorkelling - Flat Island Excursion with BBQ Lunch | |
| --- | --- |
| Adult Diver ( 1 Dive + equipment included ) (4 Pax per group) | 110 Euros / Pax |
| Adult Snorkeling (equipment included ) | 69 Euros / Pax |
| Children Participant (up to 12 years old ) | 34 Euros / child |
---
Booking Attributes