Hiking Adventures Package - 2 Days Package
| | |
| --- | --- |
| Location | South West |
| Minimum Age | 10 |
| Operating Days | All Days |
| Duration | Flexible |
| Activity Time | Flexible |
| Transportation | Offered as Supplement |
| Comment | When ordering this day package you benefit special discounted package price |
Hiking Adventures Package – 2 Days Package
Ideal two days full of surprises and adventures for nature and adventures lovers.
Experience hiking on the paradise island of Mauritius, famous for its breathtaking nature with its beautiful flora, mountains, rivers and waterfalls offering magnificent views, which are a true must for any nature lover.
Whilst enjoying the exciting adventurous activities you will get to discover the native vegetation as well as the endemic and exotic bird life.
2 Days Package – Trips Itinerary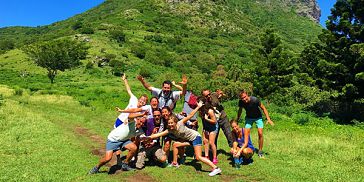 Trip 1: Half Day Hike at Le Morne Brabant
Trip 2: Canyoning Excursion – Half day - Tamarind falls
You have the flexibility to determine the order in which you will be going for these two day trips.
Included in the price of this special day package are
All the trips and excursions charges
Entry fees to the nature parks and reserves
Qualified and experienced guides
Information about each of the excursions
Trip 1: Half Day Hike at Le Morne Brabant
Hiking on the path of the runaway slaves at Le Morne Brabant has to definitely be among the top things to do while staying in Mauritius. Situated at the extreme Southwestern tip of the island, this rocky peninsula has a summit which covers an area of over 12 hectares (30 acres), and is about 556 meters above sea level.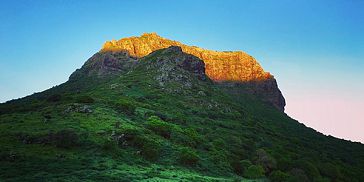 Get into the heart of nature while you experience both the extreme opposites of lush greenery together with the rough and dry patches of the World Heritage Site. While hiking up the mountain, listen to the rustling trees, chirping of the tropical birds, and contemplate on the wild beauty with outstanding turquoise-blue ocean views. As you ascend, you will witness the captivating features of the mountain, whereby there are many caves and overhangs on the steep slopes. Generally surrounded by the lagoon, Le Morne Brabant is worth trying till the summit if you want to contemplate the strikingly gorgeous bird's eye view.
The half day Le Morne Brabant hiking trail invites nature lovers and adventurers for an exciting hiking experience in the southernmost tip of the island. The hike can last between three to four hours, whereby you will be guided by the professionals with EFR/WFA certification. You may also get access to the second part of the mountain which is only accessible through authorized guides.
Deep into the woods, you will encounter the exquisite sea bird, Paille en Queue, and indigenous plant species. As you advance, you will find yourself in the dry and rough terrain of the mountain, which can be quite challenging. The heat will elevate and thus it is recommended to take a sun hat or cap and water with you. It is also important that you are well-equipped with sunscreen and good trekking shoes due to the uneven tracks.
As you progress, you will find a gigantic, basalt rock peak dotted with caves which once harbored runaway slaves where you will have to climb a rocky hill with equipment provided by the authorities. As you gradually move to the summit you can easily spot the huge metal cross which marks the highest accessible point. Take this chance to marvel at the absolutely stunning views of Ile aux Benitiers, Le Morne beach, and the spectacular surrounding areas.
Comments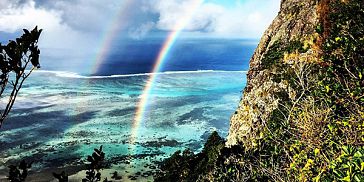 Region: South West Mauritius
Meeting Point: Parking facing the entrance "Le Paradis Hotel"
Difficulty: Moderate-Difficult
Trail Distance: 6 km (round trip)
Operating Days:
Monday to Saturday at 06h00 (November - March) or 07h00 (April - October)
Afternoon hikes only on Tuesdays & Thursdays at 14h00
Trip Duration: 3 to 4 hours
Highest Point: 500m
Number of Participants: Participants may form groups of various sizes; 1 guide will be assigned to every group of 10 people.
Minimum age requirement: 10 years old
What to bring: It is recommended to bring water, hiking shoes, sunscreen, sunhat/ cap and mosquito repellent, spare set of clothes
Note: Water is provided
Trip 2: Half day Canyoning Excursion at Tamarind Falls
Half day Canyoning Excursion at the South West area of Mauritius at Tamarind Falls.
This canyoning excursion is done at the Tamarind Falls which are a scenic attraction of the south west of Mauritius.
This is one of the most beautiful and calmest places in Mauritius, and one of the best places for nature and animals lovers, where one can find many exotic plants and birds. The magnificent location of Tamarind Falls hosts breathtaking views over the west coast and over Le Morne Mountain, a sight not to be missed.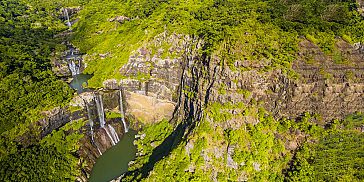 Situated on the central plateau, near the small village of Henrietta, the Tamarind Falls canyon is the one of Mauritius's canyons which you really should not miss. With its 11 waterfalls, multiple jumps, zip lines, deep ponds and lush green vegetation; Tamarind falls is one of the most beautiful canyons of the Island that will suit the beginner to the hardcore adventurer.
This half day canyoning trip to Tamarind Falls is one the most popular canyoning trips. It is easy, fun and accessible to all. This is the ideal excursions for those seeking more adrenalin and thrill. It will challenge you to abseil down the waterfalls of the Tamarind Falls canyon using nature watercourses and canyoning gear.
The canyoning trip starts at 09:00 with a safety briefing and equipment introduction.Then you will follow the trail for a 5 minutes hike discovering the first part of the Tamarind Falls canyon before reaching a 15-meter high waterfall. There you will have the first abseiling experience alongside the waterfall.
You will then cross the water pond and walk down the Tamarind River to reach the second waterfall: an impressive 40m free fall waterfall. From the platform beside the waterfall, everyone can enjoy the trip down on the high speed Tyrolean (zip line), using a harness and a carabiner to make it easier and safer before landing in the water. For the more courageous, it is also possible to test oneself by jumping a 7 meters cliff jump into the water.
Following this, you will enjoy an easy hike to the end point which takes about 20 minutes to complete with 2 short steep trails on the way.
As part of this excursion you will enjoy the beautiful nature of the Tamarind nature reserve by seeing the famous beautiful Tamarind falls from close, and experiencing the adventure of canyoning with Mauritius' top qualified guides. You will get to have a cool bathe at the bottom of the series of falls, hike through Mauritius' forest and have a real exciting adventure by canyoning down canyons, waterfalls and rivers.
This trip is offered all year round
Comments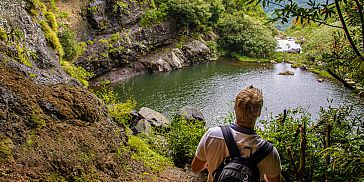 Region: South West Mauritius
Starting point: Tamarind Falls reservoir gate
Trip duration: 09h00- 13h00
Requirements: Have basic swimming skills
Highest Abseil Point: 40m descent down
Full canyoning equipment will be provided including all rope gear (harnesses, helmets etc) and wetsuit
It is recommended to bring: sunscreen, bathing suit, short pants to wear with the wetsuit, spare set of clothes, towel, sport shoes, mosquito repellent, waterproofed camera (camera cover)
Please don't bring with you jewels, watches, alcohol and cigarettes
What is Canyoning? Canyoning (known as canyoneering) is traveling in canyons using a variety of techniques that may include walking, climbing, jumping, abseiling, and swimming.
The terms canyoning and canyoneering are more often associated with technical descents — those that require rappels (abseils) and rope work, technical climbing or down-climbing, technical jumps, and/or technical swims.
Canyoning is enjoyed by people of all ages and skill levels.
Canyoning gear includes climbing hardware, static ropes, helmets, wetsuits, and specially designed shoes, packs, and rope bags.
All the canyoning outings are operated and led by the leading canyoning and rock climbing guides in Mauritius, with vast experience in canyoning and rock climbing activities and rescue operations in all areas of Mauritius. The canyoning is done under the full supervision of qualified canyoning guides.
All canyoning excursions are carried out with a total respect towards nature and making it a top priority to stress the importance of its preservation.
Additional information regarding the Hiking Adventures 2 Days Package
Comments
You have the flexibility to determine the order in which you will be going for each of these two trips
The Hiking Adventures package is available from the age of 10 years old
Transportation
It is possible to arrange a car / minivan transportation for the 2 days trips. In such a case you will be picked up from your place of accommodation, be taken to the departure point of each trip, and following the trip, you will be dropped off at your place of accommodation. We offer such transportation service for our cost price.
The exact transportation charge is determined according to your place of accommodation.
Prices
When ordering the Hiking Adventures 2 Days Package you benefit special discounted package price on these trips and excursions.
The special discounted price for the Hiking Adventures package is:
Price per Participant: 129 Euro