Sea Hover Adventure (Sea Kart Adventure) - 1 Hour Ride
95% Level of Satisfaction
Based on 2 reviews
| | |
| --- | --- |
| Location | South West |
| Minimum Age | 6 |
| Operating Days | Monday, Tuesday, Wednesday, Thursday, Friday, Saturday |
| Duration | 2 hrs |
| Activity Time | Flexible |
| Transportation | Offered as Supplement |
| Comment | Activity Time as from 11h30. You have to be 16 years old or above to drive the Sea Hover or 6 years as passenger. |
Sea Hover Adventure – 1 hour ride Adventure
This package is not available until further notice
Discover the true beauty of the Mauritian Lagoon driving your Own Sea Hover!
If you want to try the ultimate fun water-sport and you enjoy traveling in speed, then this is the trip for you. The Sea Hover is yours to discover new thrilling sensations in absolute safety!
Enjoy a 1hour ride Sea Hover Adventure at the popular West and South West coast of Mauritius.
There is no place for hesitation! This is a great fun sea excursion to enjoy with family or friends. This World Exclusive water-sport takes taking you to a new level of entertainment in a complete safety.
About the 1 Hour Sea Hover Adventure
Before the fun starts, there will be a briefing by the qualified instructor about the sea hover and the safety regulations.
After the briefing you will be taken to the beach to start your 1 hour adventure!
The Sea Hover Adventure includes
Cruising in speed exploring the west coast lagoon
Accelerations for fun
Swimming breaks
You do not have to worry about safety because to ensure your maximum safety there will be a qualified instructor escorting you during the whole journey on our Security boat in case of emergency. Also, each Sea Hover is equipped with a communication system which is connected to the kill switch onboard of the security boat. The qualified instructor will help you take your seat in your Sea Hover.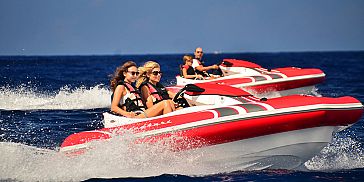 As part of this great adventure you will cruise inside the west coast lagoons, discovering the lagoon of Benitier's Island, Le Morne and also the popular coast of Flic en Flac. All along there will be photographers onboard who will be pleased to take photos to memorize your great adventure. Moreover, you will enjoy a spectacular view of the Rempart Mountain, the Black River mountain range, and of the magnificent Le Morne Mountain and the beautiful Le Morne peninsula.
At the end of the wonderful Sea Hover Adventure, you can further extend the enjoyment in the swimming pool or spend some time in the garden near the river.
After the Sea Hover adventure, there will be only one word "wowww" and you will keep on talking for hours.
About the Sea Hover
The Sea Hover is spacious 2m wide and a length of 3m50. The Sea Hover is also very stable, impossible to flip and provides maximum safety to the participants. Each Sea Hover can accommodate 2 adults and one child. Moreover, the Sea Hover is unsinkable and its specific turbine propulsion prevents any screw propeller danger and it is environment friendly.
The Sea Hover adventure can also be done in family, while respecting the speed limit in some areas near the hotels during the ride. The key word of this adventurous watersport is safety with a life jacket provided, a security boat escort and also the briefing and safety procedures explained to each participant before any ride.
Features of the Sea Hover
Length 3m50, width 2m
110 horsepower engine
Very stable and safe
Turbine propeller = No danger
Capacity: 2 adults + 1 child ( minimum 6 years )
Maximum weight per each Sea Hoover: 170 kg
Easy to drive: accelerator on the steering wheel
Telescopic ladder: easy to get back on board after swimming
Comments
For your convenience, toilets, hot showers, changing rooms, lockers, music, Wi-Fi and a swimming pool is available at the base
What to bring: Swimwear, spare clothes, towels, sunscreen
The Sea Hover is Easy to drive as the accelerator is on the steering wheel
Telescopic ladder is available which makes it easy to get back on board after swimming
You have to be 16 years old or above to drive the Sea Hover
Children above the age of 6 can enjoy this adventure alongside an adult on the Sea Hover
Health restriction: This activity is not recommended for pregnant women
For your maximum a Security boat escorts you during the whole excursion
Note: It is imperative that you arrive at least 30 minutes before. As from 15 minutes late, it will considered as a no-show.
Activity Time: Morning: 11:30 AM & Afternoon : 16:00 PM
---
Prices
1 hour sea kart (total for 2 people)= 155 Euro (or 78 Euro / person)
Child (8- 12 years) can accompany 2 adults in a sea Hover: Free of charge
This package is not available until further notice
Reviews
95% Level of Satisfaction
Based on 2 reviews
|
reviewed by Nicola Morrison – United Kingdom
|
May 15, 2019
Reaction time to your queries and requests
Travel consultant's professionalism level
Added value given to you by the travel consultant
Consultant's knowledge of Mauritius and the products / services
Overall satisfaction from the customer support service
Level of services provided as part of the activity?
Level of professionalism by activity operator staff / guide
Your level of enjoyment from the activity
Ease of booking the activity
Overall satisfaction from the activity
What a blast! Everyone really really enjoyed this trip (just did the 1 hour - which was long enough as so exhilerating). I opted not to drive but was just as happy as a passenger. These boats can seriously shift! So thrilled that they actually took us to the famous rock - it was about the only 'must do' thing we hadn't done, by that point, on our holiday. Thrilled. Photos and videos were great too.
---
|
reviewed by saad – Saudi Arabia
|
May 31, 2017
Added value given to you by the travel consultant
---