All Inclusive Catamaran Cruise - South East Coast
100% Level of Satisfaction
Based on 1 review
| | |
| --- | --- |
| Location | South East |
| Operating Days | Tuesday, Wednesday, Thursday, Friday, Saturday, Sunday |
| Duration | 6 hrs |
| Activity Time | 09:30 - 15:30 |
| Transportation | Offered as Supplement |
"
Did you know?
Snorkeling fan? Don't miss the opportunity to discover one of the two best marine parks on the island: Blue Bay Marine Park and Coin de Mire
All Inclusive Catamaran Trip, including Lunch and drinks, along the South-East coast of Mauritius
Experience a full day cruise filled with tropical warmth, drinks, delicious food and loads of fun aboard the luxury Catamaran gliding along the South-East Coast of Mauritius! Enjoy a relaxing day on a premium Catamaran while cruising to the beautiful Ile aux Cerfs Island, guided by the South-East Trade Winds!
The catamaran cruise departs at 09h30 from the jetty of Mahébourg. The cruise will take you on an exploration tour of the amazing islets surrounding the South-East coast of Mauritius island, during which you will be able to bask in the delightful coastal scenery.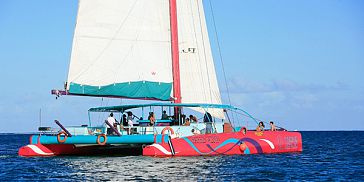 During the course of the cruise, the catamaran will make a brief stop for a snorkelling break when you're ready for a dip. Dive in the amazing tropical world of the exotic marine flora in the clear lagoon and discover beautiful coral reefs and diverse species of tropical fish. The waters here are very calm; you are free to spin around and release your inner fish. You will have the excellent opportunity of making wonderful encounters as the curiosity of other marine creatures may bring them close to you.
After snorkeling, you will sail along the beautiful Eastern coast towards the islets Ile de la Passe and Ile au Phare. You will learn more about their historical background and enjoy a guided visit of Ile au Phare which harbors a lighthouse from 1864. Once, back on the catamaran, a delicious lunch expertly prepared by the Chef onboard will be served to you, including grilled shrimp, chicken and a signature 'Rhum arrangé'.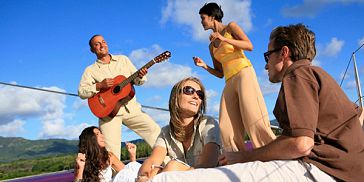 You will then head towards Ile aux Cerfs. It is known in English, as the deer island and constitutes of around 100 hectares of land. Though there are presently no more deer on the island, a visit to the island is a must because its beautiful beaches are well worth it. After that venture, you will re-embark on the catamaran and sail towards, the Grand River South East Waterfalls, where you will be asked to board small speedboats to get closer to the magnificent waterfalls. Marvel at the force of nature in action from up-close with the sparkling vision of this awe-inspiring waterfall about 500m upstream. Afterwards, you will head back to the catamaran and make your way back to the jetty, as you watch the renowned tropical sunset.
Expected arrival time back to Mahébourg is 15h30.
An added bonus for this catamaran excursion is that you can enjoy a full open bar service for free, including both alcoholic and non-alcoholic drinks.
---
Included - Food & Beverages Onboard
You will enjoy a full delicious BBQ lunch buffet prepared by the Chef aboard the catamaran.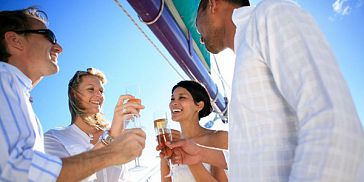 Lunch menu (served on the Catamaran):
Local food experience with dholl puris accompanied by selection of condiments: butter bean curry, pumpkin, tomato rougaille, vegetables achard
Grilled Shrimp
Grilled Chicken
Potato Salad
Rice Salad
Mixed Salad
Garlic bread
Pineapple
BBQ: gambas and chicken accompanied by coleslaw
Snacks: Tuna cake served in the afternoon during rum tasting
*Menu is subject to change
Drink
Non-stop supply of beverages such as: water, juice, soft drinks, local rum, beer and wine - throughout the cruise.
 Upgraded Wines & Rum Arrangé
Note: Kindly inform us in advance if you prefer a vegetarian lunch menu, so we can make the necessary arrangements for you.
---
Comments
What to bring: We suggest bringing hats, t-shirts and sufficient sunscreen for skin protection from the sun, cameras and swimsuits.
Cruise duration: 09:30 - 15:30
Duration: 6 hours
Note: Buoys and paddle are offered to guests on Ile Aux Cerfs
---
Prices
Price per Adult: 55 Euros
Price per Child (ages 3-12): 35 Euros
Price per Baby (ages 0-2): Free of charge
Reviews
100% Level of Satisfaction
Based on 1 review
|
reviewed by Dawn Loureda – United Kingdom
|
August 15, 2019
Reaction time to your queries and requests
Travel consultant's professionalism level
Added value given to you by the travel consultant
Consultant's knowledge of Mauritius and the products / services
Overall satisfaction from the customer support service
Level of services provided as part of the activity?
Level of professionalism by activity operator staff / guide
Your level of enjoyment from the activity
Quality of meals & drinks included (if applicable)
Ease of booking the activity
Overall satisfaction from the activity
---