Fly like Iron Man n' Dive like a Dolphin- FlyboardTM Mauritius
| | |
| --- | --- |
| Location | North |
| Minimum Age | 15 |
| Operating Hours | 10:30 - 16:00 |
| Operating Days | All Days |
| Duration | Flexible |
| Activity Time | Flexible |
| Transportation | Offered as Supplement |
| Comment | Please carefully read terms and conditions before booking |
Amazing FLYn'DiveTM Adventure
Fly like 'Iron Man' and Dive like a Dolphin with this amazing FLYn'DiveTM sea adventure.
If you are craving an upsurge of excitement and fun, where you can fly like 'Iron Man' and dive like a dolphin, in the crystal clear waters of Mauritius, then you will have to definitely try the FLYn'DiveTM adventure. You do not need to have any prior experience to ride the FlyboardTM!
Through the innovative FlyboardTM, you are sure to have an action-packed, exciting adventure. With the experts in hand, you will quickly and easily learn how to maneuver the FlyboardTM, and after some practice you can fly and dive your way through the water and air. You can decide about how soft and low or how sportive and high you want to fly. Your experienced and certified FLYn'DiveTM instructor always controls and takes care of you.
With this amazing activity, prepare yourself for an unforgettable experience!
---
OVERVIEW- FLYn'DiveTM SEA ACTIVITY
Choose your preferred time of the activity, and prepare yourself for an adventure of a lifetime! You will be picked up by boat at the suggested meeting point of either the Grand Bay Beaches or directly from the beach in front of your hotel at Grand Bay.
A very enthusiastic team will greet and prepare you for your adventure. Before starting the activity you will be given full guidance of the experience ahead, whereby the certified and experienced instructors will explain how to handle the FlyboardTM. All the required tips and safety guidelines will be provided, in order to make sure that you will enjoy your adventure to the maximum.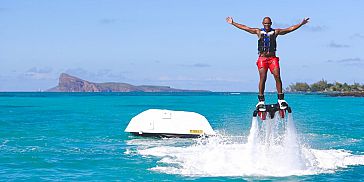 The FlyboardTM is connected by a hose to a powerful water pump, creating a water jet that will either send you soaring into the air or gently hovering above the water. You can choose to handle the equipment based on your preference; be it low and comfortable or high and extreme. The instructor controls the equipment, which in turn lets you freely focus on keeping your balance and maneuvering the FlyboardTM.
It is relatively easy to master the basics of the FlyboardTM, as it was observed that most of those who tested it for the first time began to fly in just a few minutes. Learn how to steer and control your elevation, as well as perform graceful landings.
You might even get to practice some tricks or simple stunts. Just imagine the rush of being able to burst out of the clear waters and fly up seemingly without gravity, where you will get to witness the glorious beauty of Grand Bay.
During the activity at sea, you will have to wear the swim vest which will be provided in different sizes between XS and XXXL. The swim vest and the board will let you float easily on the sea ensuring your safety.
At the end of your session, you will head back to the point of embarkation and check out. The team will ensure that you will have an unforgettable, sensational experience full of exciting emotions and memories.
The FLYn'DiveTM Activity includes:
Pick up and Drop off by the Grand Bay beaches
Explanations and Briefing
Expert guidance by certified FLYn'DiveTM instructors
Obligatory safety measures
Equipment including the swim vest ( in different sizes (XS - XXXL)) and FlyboardTM (lent)
Refreshment Drink
Maximum fun and an amazing unforgettable experience
Get ready and strap into the FlyboardTM!
Note: You are encouraged to share this exciting adventure with a group of friends or family members. Groups will be done in private sessions without unfamiliar people.
---
FLYn'DiveTM Packages
You have the choice to select any or a combination of these exciting packages;
FLYn'DiveTM Flight Package
Description: FLYn'DiveTM Flyboard for a single person (single session)
FLYn'DiveTM Accompaniment Package
Description: FLYn'DiveTM Accompaniment for a single person (single session). The person accompanying the Flyboarder will be a spectator on the boat.
Note: Only in combination with FLYn'DiveTM Flight.
FLYn'DiveTM Activity: Expected Time Required
A single session with one participant of the FLYn'DiveTM Flight package is expected to have an overall duration of a bit more than 1 hour. For each additional person performing a flight (about 20 minutes flight) an additional 40 minutes more shall be expected.
Example: 3 FLYn'DiveTM Flight Package participants in one group would have to expect an overall duration of 2 hours 20 minutes.
FLYn'DiveTM Activity: Capacity Restriction
Maximum number of participants for one group: 4 persons of 16 years or older + 1 child of less than 16 years of age
The ideal group size for one session is 2-3 persons
Additional people (groups of more than 5 people) will have to be divided into several groups which will be handled sequentially
Weight restrictions:
Maximum weight, Flyboarder: 140kg
Maximum weight capacity for a group of 5 persons: 4 x 100 kg + 1 x 60 kg
Maximum weight capacity for a group of 3 persons only: 1 x 140 kg + 2 x 100 kg
---
Comments
Minimum Age: Above 14 years old for Flight Package.
Maximum participants for group session: 4 persons (16 years or older) + 1 person less than 16 years.
Pick up Point: Customers can be picked up at the Grand Bay Beach but also directly from the beaches of their hotels in Grand Bay.
Equipment: Swim vest will be provided in different sizes (XS - XXXL)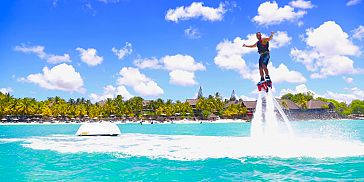 Terms and Conditions:
Parent or legal guardian for participants under 18 years will have to sign the voucher
Participants who cannot swim or have health problems are restricted from participating
You cannot perform this activity if you are under influence of alcohol or drugs
You cannot perform the FLYn'DiveTM Flight activity if you weigh over 140 kg
Pregnant women are not allowed to participate for safety reasons
Participants who do not fall in between shoe sizes 6 to 14 cannot participate
The activity is subject to weather conditions
The FLYn'DiveTM Accompaniment Package should be booked in addition to the FLYn'DiveTM Flight Packages.
No activity will be performed, if the customer does not sign the voucher.
You can reschedule the activity at least 48 hours before the appointment time.
In case you arrive late, there will not be any refund; therefore it is imperative to arrive on time at the agreed location.
Cancellation Policy: In case of a no show, a 100% cancellation fee will be applied
---
Prices
FLYn'Dive Flight Package: 135 Euro per participant
FLYn'Dive Accompaniment Package: 18 Euro per person