Liveaboard Catamaran Cruise Around Mauritius
| | |
| --- | --- |
| Location | All Regions |
| Operating Days | All Days |
| Duration | 5 days |
| Activity Time | 15:00 - 11:00 |
| Transportation | Offered as Supplement |
Activity Time
15:00 - 11:00
Transportation
Offered as Supplement
5 Days Catamaran Cruise Around Mauritius - Overview
4-Night & 5-Day Catamaran Cruise Around Mauritius with Optional Meals - Overview
Embark on a uniquely luxurious catamaran cruise around Mauritius, and discover the blissful sceneries, spectacular coves, and awe-inspiring Islets for 4 nights & 5 days.
Set sail on an exclusive sea adventure taking you on a memorable overnight cruise around Mauritius in the realm of the turquoise blue sea, luxuriant flora and fauna, breathtaking natural sceneries, and isolated pristine islets. Witness the beauty of the vibrating marine ecosystem along with the bountiful gorgeous coral reefs surrounding a turquoise lagoon and silky, blond, sandy beaches.
A journey like you have never experienced before, living aboard a luxurious catamaran cruise for 5 days, sailing around the paradise island of Mauritius.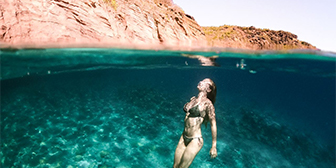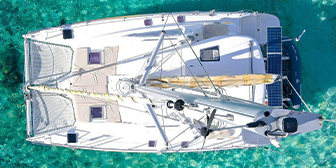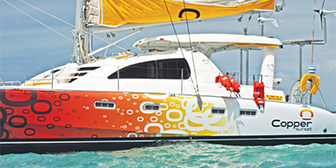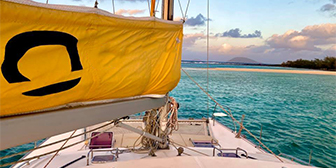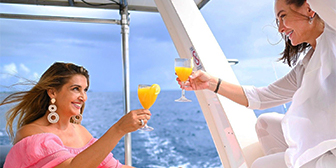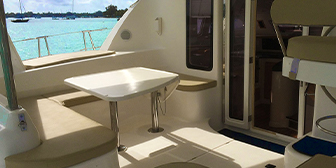 Highlights of the package:
Embark on a 5-day catamaran cruise around Mauritius
Set sail on the picturesque Indian Ocean, away from the crowd
Spend 4 nights & 5 days aboard a luxurious catamaran boat
Relish tantalising meals available on board as supplement during your wonderful cruise
Possible encounters with exceptional marine creatures, including dolphins, whales, etc
Explore the bustling city of Port-Louis on foot
Enjoy a snorkelling break at the popular Crystal Rock
---
5 Days Catamaran Cruise Around Mauritius includes:
4 Nights and 5 Days cruise around Mauritius
Live aboard Fully equipped and luxurious cruise
Snorkelling break
Discover the most popular islets around Mauritius
Enjoy some leisure time on the islets
Bath and beach towels
Optional: Breakfast, Lunch & Dinner meals (charges apply)
Note: Snorkeling equipment is not provided due to sanitary measures. Clients are requested to bring their own - mask, snorkel and fins.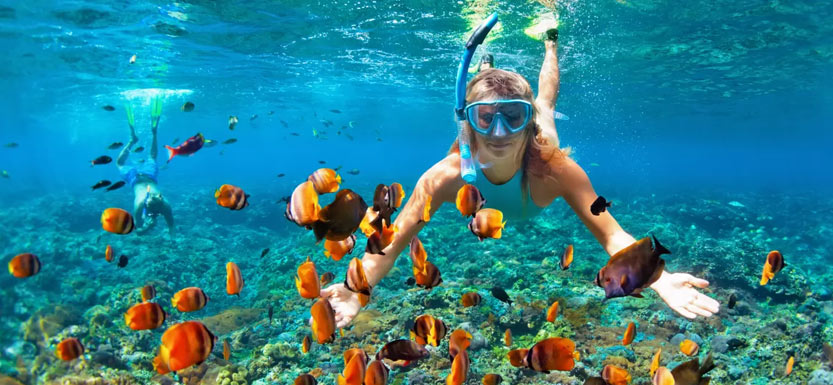 ---
Transportation & Driver Details
Transport is available for an additional supplement and will include pick up and drop off from any place / place of accommodation in Mauritius.
Car Capacities
You can choose from a selection of vehicles types:
Family Car - Up to 4 passengers
6 Seater vehicle - Up to 6 passengers
Minivan - Up to 10 passengers
About the Drivers
All drivers speak fluent English and French (Upon special request we can organize drivers who speak additional languages). The drivers, citizens of Mauritius, will be happy to provide you with information about Mauritius and each of its sights.
All drivers are very professional, time efficient and friendly. There is high emphasis on being always on time and providing reliable devoted service to customers.
---
Start & End times:
(*Note: If you would like to book the catamaran for only 1 or 2 days, we will have to check availability and revert back to you. )
| | |
| --- | --- |
| Duration: | 4 nights & 5 days* |
| | The Catamaran cruise is operational all days |
| Departure time: | 15:00 (day 1) |
| Return time: | 11:00 (day 5) |
---
Day 1
Departure from Grand-Bay 3:30pm
The team will welcome you and give you the details of your trip
Head to Flat Island and Gabriel Islet to visit the islands and watch the sunset
Dinner and overnight stay on the boat
Day 2
Wake up in the lagoon of Flat Island and Gabriel Islet
Breakfast on board
Head for Gunner's Quoin for lunch
Sail to Trou aux Biches lagoon for the night
Dinner and overnight stay on the boat
Day 3
Wake up in the lagoon of Trou aux Biches
Breakfast on board
It is time for a day of exploration on foot in the city of Port-Louis (1h30min crossing)
Lunch on the Cooper Sunset
Head for Balaclava Lagoon
Dinner and overnight stay on the boat
Day 4
Wake up Balaclava
Breakfast on the Cooper Sunset
Head to Black River Lagoon
Dolphin trip then sail to Le Morne lagoon
Lunch on the boat
Head to the lagoon of Petite Rivière Noire for Ile aux Bénitiers and exploration
Snorkelling around Crystal Rock
Dinner and overnight stay in the lagoon of Ile aux Bénitiers
Day 5
Wake up in the lagoon of Ile aux Bénitiers
Breakfast on board the Cooper Sunset
Dolphin excursion
Snorkelling in the lagoon of La Preneuse
Lunch on the Cooper Sunset
Return to Grand Bay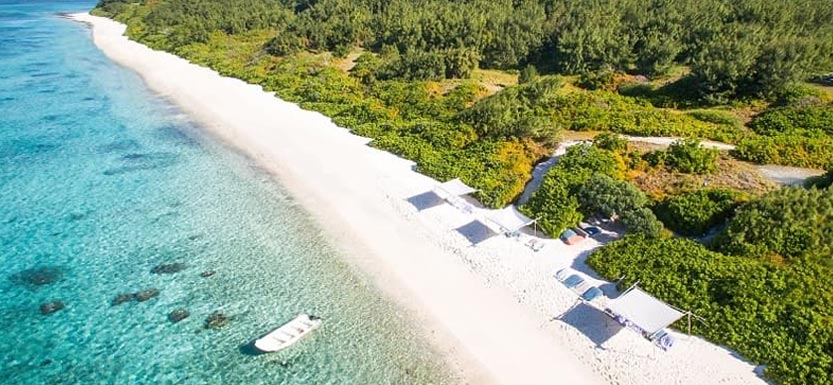 ---
Around Mauritius Catamaran Cruise Experience
Embark on a 4-night & 5-day sea adventure cruise around Mauritius in the fully equipped, luxury Leopard 43 catamaran - all set for a blissful sea trip discovery in the South Western part of the Indian Ocean.
Expand your travel experiences through this sea cruise, where each day will be a new adventure as part of the journey to complete the cruise around Mauritius. Discover the true gems of this tropical island by interacting with the spectacular marine ecosystem, encounter the most adorable marine creatures, including dolphins, whales, alongside many others.
Ensconce comfortably in the liveaboard catamaran, and take advantage of the excellent amenities and facilities available to make your overnight all-inclusive stay a pleasant and memorable one. With warm hospitality the staff on board will assist you during this incredible sea journey.
With the optional F&B supplement, you'll get served a delightful breakfast every morning while you contemplate the spectacular coves while you begin your day. Sip the delicious wine, relish a tantalising lunch and dinner menu with mouthwater dessert available on board for a surcharge during your wonderful cruise
Come across the awe-inspiring Crystal Rock while heading to Benitier island; escape on the pristine and isolated Northern islets, and experience Mauritian culture at touristy locations such as Grand Bay or Port-Louis. You'll also discover the famed pristine islets around Mauritius, including Flat Island, Gabriel Islet, Gunner's Quoin and Ile aux Bénitiers.
Although this catamaran cruise package lasts for 4 nights and 5 days, the itinerary can be customised for 1 or 2 days upon the management's discretion. Feel free to get in touch; we'll check for availability and get back to you!
About the Catamaran
The Cooper Sunset Leopard 43 is the perfect mix between a swift ride and the comfort of home. Featuring high standard materials, refined design and spacious areas, it is ideal for an amazing time at sea for up to 8 people plus 2 crew members overnight.
Onboard facilities:
4 double cabins with : HD television + DVD / air conditioning / private shower room and WC / mirror / storage / international plugs / wifi
WiFi (only around Mauritius)
Fully equipped galley
2 Dining Tables
Spacious air-conditioned interior lounge with dining table
Desalinator/generator 6500W / solar panels
Wind turbines / fishing rods
---
We suggest you to bring the following:
Hats
Spare clothes
Extra sun block cream for sun protection
Camera
Swimsuits
Scuba Diving
Towels
---
Liveaboard Catamaran Cruise Around Mauritius - Food & Beverages
The optional F&B supplement gives you the chance to have all your meals planned as per your preferences. There is a whole range of selections, you might also have the choice of mixed Creole Mauritian food or International dishes, all especially prepared for you by the very skilled chef.
Below is one example of the Menu plan:
---
| Liveaboard Catamaran Cruise Around Mauritius | |
| --- | --- |
| 1 Night | 1290 Euros |
| As From 2 Nights | 1190 Euros |
| F&B Supplement per Person | 125 Euros / Day |
---
Dear Customer, to book this activity please contact us on +230 269 1000.