Mahebourg Historical Naval Museum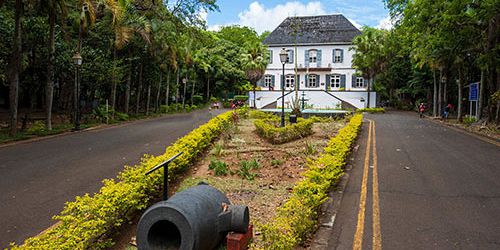 | | |
| --- | --- |
| Location | South |
| Operating Days | All Days |
| Duration | 1 hrs |
| Activity Time | Flexible |
| Transportation | Offered as Supplement |
| Comment | • Monday, Tuesday, Thursday, Friday & Saturday: 09h00- 16h00 • Wednesday: 11h00- 16h00 • Sundays & Public Holidays: 09h00- 12h00 |
About the Mahebourg Historical Naval Museum
Idyllically located in the small town of the South-East Coast of Mauritius, the National History Museum (Naval Museum) will take you into a historical journey of the island dating back to the 18th century.
Located in the southeast of Mauritius, the National History Museum of Mahébourg, is housed in Château Gheude, a national heritage building dating back to 1772. It showcases a number naval artefacts and the maritime history of Mauritius such as sea battles and shipwrecks.
The Naval Museum of Mauritius contains the reminiscences of the French colonial empire and the replicas of the ancillary that were used in the historical battle. The interesting aspects of the Naval Museum of Mahebourg lie not solely in its collection of exhibits, but also in its history as a building. It is worthwhile to see both the exterior of the building and the different exhibitions.
Built around 1772, the Chateau de Roubillard or Gheude Castle is beautifully nestled on the bank of La Chaux River where you can find a luxuriant park of gorgeous tall pine trees. This French colonial mansion was home to the Roubillard family notably the Commandant Jean de Roubillard of the district of Grand Port. The mansion was eventually bought in 1950 and turned into a museum under the Mauritius Museum Council.
The Museum consists of three floors, two of which are accessible to the public. There are various sections where you can learn about the different colonization periods of Mauritius including the remnants of the great Naval Battle of Vieux Grand Port. In addition, you will also get to see exquisite artifacts of many other ships wrecks such as of Pieter Both (the first Governor-General of the Dutch East Indies). Some bones of an extinct species of Giant Tortoises and of the Dodo are displayed at the museum. These bones bear testimony to their existence until some few hundred years back.
---
Comments
The suggested duration of the museum visit is between 1- 2 hours.
Opening Hours
Monday, Tuesday, Thursday, Friday & Saturday: 09h00- 16h00
Wednesday: 11h00- 16h00
Sundays & Public Holidays: 09h00- 12h00
Click Here to Book This Tour