Bel Ombre Off the Track Tour - Bel Ombre Nature Reserve
| | |
| --- | --- |
| Location | South |
| Operating Days | All Days |
| Duration | 4 hrs 30 mins |
| Activity Time | 09:30 - 14:00 |
| Transportation | Offered as Supplement |
| Comment | Participants must be physically fit for activity |
Activity Time
09:30 - 14:00
Transportation
Offered as Supplement
Comment
Participants must be physically fit for activity
Bel Ombre Off the Track Tour - Bel Ombre Nature Reserve - Overview
Nature lovers out there, Mauritius Attractions invites you on a little nature escapade in the South of Mauritius. This activity package is for the nature lovers who love a bit of thrill.
You will embark on an adventurous ride in the beautiful wild side of the southern part of the island. For the thrill and speed seekers, they can enjoy an adrenaline powered single or double quad ride through the reserve. This activity can also be done in a buggy if you would like to experience the adrenaline rush in a different way. A Mauritian lunch is also offered as part of this package at Enba Pié Restaurant. To make the happiness linger even more, you will end on a colourful note with a visit to the World of Seashells.you can find on the shores in the Indian Ocean and some rare ones as well.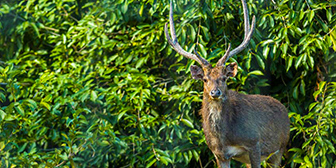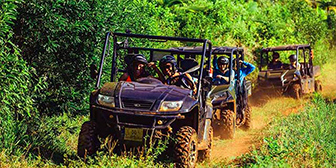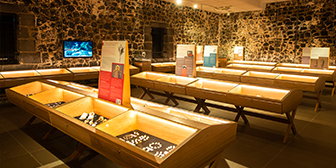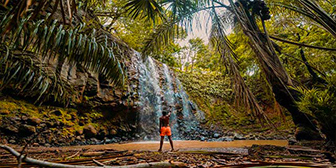 Highlights of this package:
Enjoy the discovery trail of the south of Mauritius on a quad bike or buggy
Ride through the rich reserve discovering the endemic flora and fauna of Mauritius.
Discover the lush green reserve, waterfalls, rivers and ride through the fields with a perfect view over the ocean.
Relish a sumptuous Mauritian lunch hosted at a B&B beautifully nestled in the heart of nature.
Get the opportunity to visit the World of Seashells to discover the largest collections of seashells in Africa
---
Bel Ombre Off the Track Tour - Bel Ombre Nature Reserve - Inclusions
4.5 hours day package of fun in nature, tasting local food & museum visit
Welcome Drink
Eco-trail to Cascade L'Exemple (Single or Double Quad or Buggy)
Stop at Exceptional Viewpoint over Bel Ombre and the Southern Coast
Safety Equipment and Briefing for Quad Biking / Buggy
1 bottle of water (500ml) per person
Access to Bathroom and Lockers
Lunch at Enba Pié
Visit to World of Seashells
Free Shuttle to Kaz'alala and World of Seashells (upon request)
Access to La Place Du Moulin - an old Sugar Factory of Bel Ombre
Free Pick up and Drop off for selected hotels in the area (see Transport section for more info)
---
Transportation & Driver Details
As part of his package, pick up and drop off is available for clients residing at the following:
Heritage Awali
Heritage Le Telfair
Heritage The Villas
So/Sofitel So Mauritius
Outrigger Mauritius Beach Resort
Tamassa Resort Hotel
Kaz'alala Hosted BNB
For clients residing elsewhere, transport is available for an additional supplement and will include pick up and drop off from any hotel/place of accommodation in Mauritius. The same is subject to availability and organised by our service provider.
Car Capacities
You can choose from a selection of vehicles types:
Family Car - Up to 4 passengers
6 Seater vehicle - Up to 6 passengers
Minivan - Up to 10 passengers
About the Drivers
All drivers speak fluent English and French (Upon special request we can organise drivers who speak additional languages). The drivers, citizens of Mauritius, will be happy to provide you with information about Mauritius and each of its sights.
All drivers are very professional, time efficient and friendly. There is high emphasis on being always on time and providing reliable devoted service to customers.
---
Bel Ombre Nature Reserve, South Region
| | |
| --- | --- |
| Starting Time | 09:30 (you are to arrive at least 15 minutes before) |
| End time: | 14:00 |
| Duration: | 4 hours 30 mins |
| Age Restriction: | Quad: 18 years for the driver & 12 years for the passenger |
| | Buggy: 16 years for the driver & 5 years for the passenger |
---
09:15 - Arrival Time at the Bel Ombre Nature Reserve
09:30 - Departure Time for the Discovery trail on Quad / Buggy
11.30 - Lunch at Enba Pié
13.00 - Visit at World Of Seashells
14:00 - Return to the Bel Ombre Nature Reserve
---
About the Bel Ombre Off the Track Tour - Bel Ombre Nature Reserve
Time spent in nature is always rewarding for the body and soul. The fresh crisp air filling our lungs and the scenery soothing our eyes and heart is just what we expect on a nature escapade. Imagine adding an exciting ride through the dense and beautiful nature to this whole experience - it will make your day out even more memorable!
Your package starts early in the morning. You will need to reach 15 minutes prior to the beginning of the activity - The Discovery Trail on Quad or Buggy. If you choose to ride your quad solo or double, you will be briefed on how to manoeuvre the vehicle and provided with safety equipment. During the briefing you will be offered a welcome drink to help you start the day on a sweet note. Once briefed and well equipped, get ready to roar your way into the fields, the forest, by the rivers and heading towards one of the most beautiful viewpoints of the south. If you opt for the buggy ride, you will not be short of any fun either. Whizz your way through nature, sit back, buckle up and enjoy the views.
After one hour and a half of your adventurous ride, you will be brought to the departure point again from where you will head to Enba Pié for lunch. You could always request for a free shuttle service at the welcome centre of Bel Ombre Nature Reserve. Nestled in the heart of nature in Bel Ombre, Enba Pié promotes a sense of community, making guests fall in love further with the Mauritian hospitality. The food served at the restaurant is all about Mauritian cuisine. Using locally sourced ingredients guarantees the freshest and best quality dishes while helping the local community. You will enjoy an exquisite lunch, with an amazing view and what will be even more heart warming will be the welcome received by the staff.
After lunch you will head to The World of Seashells museum. For concophiles, this place would be a true gem. With more than 8000 items on show of more than 1500 species, this seashell heaven will have you end the day on a more relaxed and colourful note. You will learn about sea shells, the myths and legends associated with them, their impact on the marine ecosystem and how global warming and pollution are affecting them.
World of Seashells is located at La Place du Moulin in Bel Ombre, where the old sugar factory of Bel Ombre used to be. You will have access to visit 'Bel Ombre d'Antan' - an interesting and informative display of panels telling the stories of Bel Ombre related to sugar. You will also be able to view original, restored pieces of machinery and cogs used in the factory.
Once your visit is over, you will return to the welcome centre of the nature reserve, still beaming with happiness. This package is for everyone who wants to discover the beauty of Mauritius through amazing views and experience the Mauritian hospitality on a more local front and learn about new things during their stay.
About the Bel Ombre Nature Reserve
Nestled within the spectacular and historic 2,500-hectare estate of Heritage Bel Ombre,is an exceptional invitation to the wild side of Mauritius. The reserve provides a premium land experience in the heart of a scenic nature reserve wrapped in a stunning biodiversity that packs fun adventures for visitors of all ages.
The striking blue and warm Indian Ocean on one side and dramatic lush landscapes of tropical forests, rivers, waterfalls and mountainous terrain on the other will make for a true back-to-nature experience. The geomorphology, climate and vegetation of Bel Ombre Nature Reserve also provide excellent habitats for various plant and animal species.
Enjoy exclusive picnics, exciting quad or buggy drives, energising treks in lush nature, breathtaking views, impressive waterfalls and intact natural beauty. The 4x4 safaris are also available if you are looking for a more relaxed tour.
About the World of Seashells Museum
World of Seashells is the only Seashells museum in Mauritius.
Unique in Mauritius, World of Seashells presents 8,000 pieces from the collection of Mr. Le Court de Billot. This passionate Mauritian conchophile has collected seashells from around the world with concern of ecosystems and species. The collection began before him with his parents. They entrusted it to him as they also passed on their passion for shells.
During your visit, you will discover all the secrets of the shells: their morphology, their living mechanism, their defence system, the beautiful, perfect patterns and dreamy colours. You will also learn how humans have used shells throughout the world over the course of centuries.
---
Camera

Hat

Mosquito Repellent

Appropriate clothing for quad/buggy trail

Sport Shoes
---
Bel Ombre Off the Track Tour - Lunch
A local lunch will be served at Enba Pié.
---
| Bel Ombre Off the Track Tour - Bel Ombre Nature Reserve | |
| --- | --- |
| Single Quad - 1 Person | 135 Euros / Quad |
| Double Quad (Min 2 Persons) | 160 Euros / Quad |
| Buggy Ride (Min 2 Persons) | 160 Euros / Buggy |
---
Booking Attributes