Private Catamaran Day Cruise - 3 Northern Islands of Mauritius
| | |
| --- | --- |
| Location | North |
| Operating Days | All Days |
| Duration | Flexible |
| Activity Time | 09:00 - 16:30 |
| Transportation | Offered as Supplement |
| Comment | Maximum no. of participants: 17 pax |
Activity Time
09:00 - 16:30
Transportation
Offered as Supplement
Comment
Maximum no. of participants: 17 pax
Discover Paradise: Exclusive Catamaran Day Cruise to 3 Northern Islands of Mauritius - Overview
Embark for an exclusive and unforgettable voyage on this 3 Northern Island Day Cruise! Mauritius Attractions invites you to come aboard for a captivating sea adventure, exploring the stunning northern islands of Gunner's Quoin, Gabriel Islet, and Flat Island. As part of the itinerary, you will encounter an array of captivating fish species as you immerse yourself in the vibrant marine world during an exhilarating snorkelling experience.
In addition, savour a delectable breakfast, tempting snacks, and a mouthwatering lunch served by the exceptional team on board. Indulge in a variety of food options, allowing you to personalise your menu and add an extra level of excitement to your journey. As you unwind on the pristine white sand beaches, take pleasure in your favourite drinks and soak in relaxation. Create unforgettable moments with your loved ones during this remarkable 3 Northern Island Day Cruise.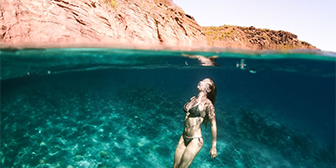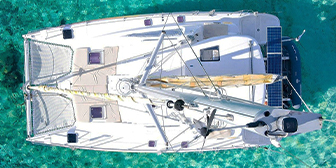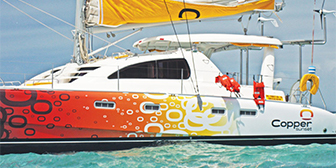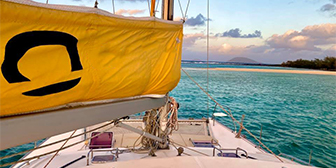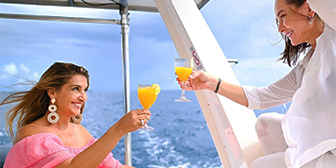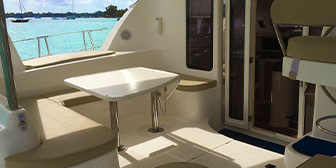 Highlights of this package:
Enjoy an exclusive private tour for only you and your group (up to 17 passengers!)
Full day enriched with activities and marvellous marine discoveries
Explore the picturesque islands of the northern region
Snorkel in the crystal-clear turquoise waters
Ability to choose from several menus available
Experience the Mauritian tropical weather in the most unique way
Revel in tranquillity as you bask in the serene lagoon of the white-sand beaches
Explore the unspoilt beauty of nature
Relax on a luxurious and comfortable catamaran
---
The Exclusive 3 Northern Islands Day Cruise includes:
Full-day package to 3 Northern islands
A range of menu choices to suit your preferences
Breakfast, lunch and snacks, including drinks (optional)
Snorkelling at Coin de Mire to explore its seabed
Visit and exploration of Gabriel Islet and Flat Island
Discovery of the fauna and flora of the islands
7+ hours aboard a luxurious and private catamaran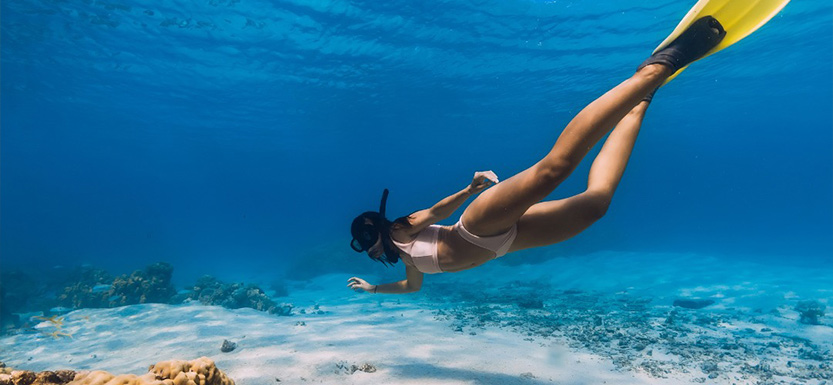 ---
Transportation & Driver Details
Transport is available for an additional supplement and will include pick up and drop off from any hotel / place of accommodation in Mauritius.
Car Capacities
You can choose from a selection of vehicles types:
Family Car - Up to 4 passengers
6 Seater vehicle - Up to 6 passengers
Minivan - Up to 10 passengers
About the Drivers
All drivers speak fluent English and French (Upon special request we can organise drivers who speak additional languages). The drivers, citizens of Mauritius, will be happy to provide you with information about Mauritius and each of its sights.
All drivers are very professional, time efficient and friendly. There is high emphasis on being always on time and providing reliable devoted service to customers.
---
| | |
| --- | --- |
| Departure time: | 9:00 am |
| Return time: | 16:00 or 16:30 |
| Duration: | The duration of this trip is approximately 7/7.5 hours. |
---
Departure from Grand Bay around 09:00
Breakfast on board (pastries and drinks)
Sailing to Gabriel Island and Flat Island to explore the surroundings and enjoy the beaches
Lunch will be served to relish your chosen menu upon reservation
Snorkelling session at Gunner's Quoin
The cruise will return to Grand Bay at 16:00/16:30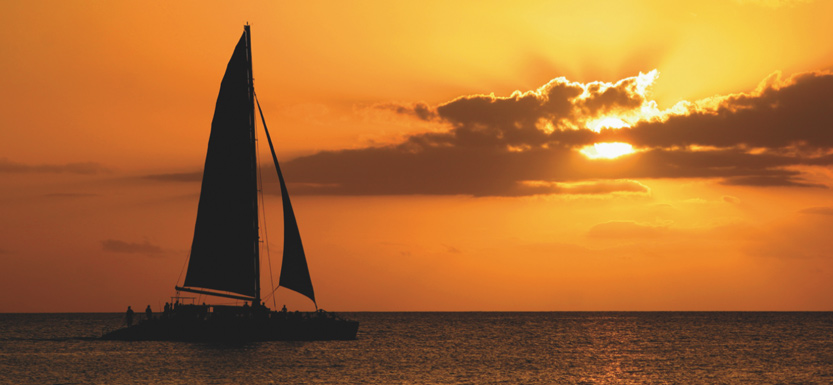 ---
Unveiling the Wonders of 3 Northern Islands - Exclusive Day Cruise Package
Embark on a joyful sea journey aboard the luxurious and Private Catamaran, 'Cooper Sunset,' for a 1-day cruise to explore the magnificent northern ocean of Mauritius and visit 3 iconic islands. Known for their heavenly beauty, the northern islands offer dreamy beaches where you can bask in the warm sun while feeling the gentle caress of the marine breeze.
You will get the opportunity to perform an extraordinary snorkelling session near Gunner's Quoin to explore its wonderful sea bed in the crystal-clear waters of the island. Observe and swim along diverse varieties of colourful and exotic sea creatures as well as marine plants found uniquely in Mauritius.
The friendly and professional crew members will serve you delicious breakfast and lunch on board so you can feast on your chosen menu to add excitement to your fantastic sea journey. Snacks will be offered in between for you to get a taste of some of the Mauritian delicacies.
Allow yourself to relax on the sand or go for a walk along the endless and spotless shore. You can also sunbathe for a beautiful tan and earn a healthy bronzed Mauritian holiday glow on your skin. Share a drink with your loved ones as you create memories on the pristine white sand beach.
Furthermore, you can immerse yourself in the heart of preserved nature and marvel at its pure and untouched beauty. Whether exploring on foot or taking a refreshing dip in the inviting waters, you'll be captivated by the rich fauna and flora.
A trip to the 3 northern islands of Mauritius is an unforgettable adventure. Witness spectacular oceanic sights and learn about the islands in a way that you never could before. A trip to the northern islands of Mauritius is a great way to experience the wonders of Mauritius and make memories that will last a lifetime.
About the Catamaran
The Cooper Sunset Leopard 43 is the perfect mix between a swift ride and the comfort of a home. Featuring high-standard materials, refined design and spacious areas, it is ideal for an amazing time at sea for up to 8 people plus 2 crew members overnight.
Onboard facilities:
4 double cabins with HD television + DVD / air conditioning / private shower room and WC / mirror/storage / international plugs/wifi
WiFi (only around Mauritius)
Fully equipped galley
2 Dining Tables
Spacious air-conditioned interior lounge with dining table
Desalinator/generator 6500W / solar panels
Wind turbines/fishing rods
---
Walking shoes
Spare clothes
Swimsuit
Hat/Cap
Camera
Towel
Hat
Sunglasses
Sunscreen
---
3 Northern Islands Private Day Cruise - Food & Beverage
This package includes a selection of dishes created particularly for you by a highly experienced chef. You have the choice betweem 2 different menus below.
Below is one example of the Menu plan:
---
| Catamaran Day Cruise - 3 northern islands | |
| --- | --- |
| Catamaran Day Cruise - Bare Boat | 890 Euros |
| BBQ Lunch | 69 Euros |
| Mauritian Lunch | 59 Euros |
| Children Menu ( 6-9 yrs ) | 59 Euros |
| Children Menu ( 0-5 yrs ) | Free of charge |
---
Booking Attributes