Private Fishing Excursion in Le Morne - Popping & Jigging
| | |
| --- | --- |
| Location | South West |
| Operating Days | All Days |
| Duration | Flexible |
| Activity Time | Flexible |
| Transportation | Offered as Supplement |
| Comment | Maximum no. of participants: 5 pax |
Transportation
Offered as Supplement
Comment
Maximum no. of participants: 5 pax
Private Fishing Excursion in Le Morne (Popping & Jigging) - Overview
One foolproof way to fully explore the ocean is an adrenaline-filled fishing experience and this is exactly what Mauritius Attractions has planned for you. Sail your way across the shimmering lagoon, all the way to the spectacular reef, witnessing mind-blowing views along the way while basking in pure serenity.
With experienced guides sharing with you handy tips and tricks, you'll be amazed at how fast you get your first catch. This package offers you the chance to attempt 2 fishing techniques, popping and jigging- each one targeting different kinds of prey. No better feeling than getting rewarded with a giant fish after a long battle against the mighty marine monsters.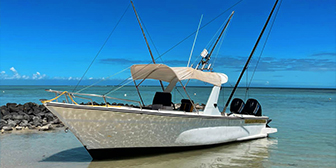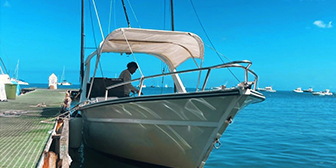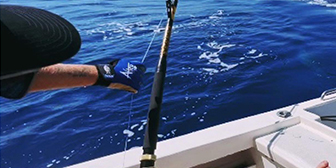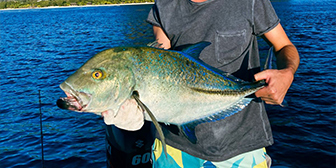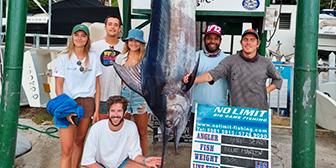 Highlights of this Activity:
Head southwest for a private fishing excursion with your squad
Choose the 5-hour fishing trip or pop & jig for 8 hours
Cruise the crystal waters, admiring the picturesque coastline up to the reefs
Learn the A-Z of fishing in the open-sea from the expert guides
Feel the contentment of getting the perfect catch at the reef
Quench your thirst the drinks offered onboard
Hassle-free fishing experience with all equipment provided
---
Private Fishing Excursion in Le Morne - Popping & Jigging includes:
Private fishing excursion with your close ones (5 pax)
Exclusive popping & jigging experience at the reef
Option between 5 or 8 hours fishing trip
Opportunity to catch multiple reef species
Friendly and experienced fishing guides
All equipment provided on state-of-the-art fishing boat
Beverages provided
Access to Le Morne Anglers Club facilities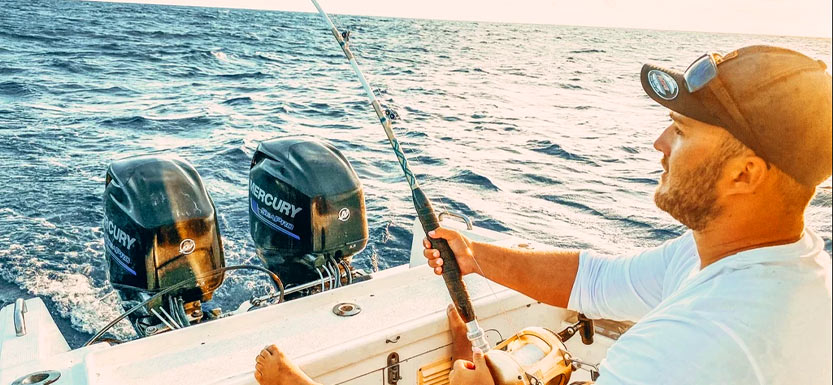 ---
Transportation & Driver Details
Transport is available for an additional supplement and will include pick up and drop off from any hotel / place of accommodation in Mauritius.
Car Capacities
You can choose from a selection of vehicles types:
Family Car - Up to 4 passengers
6 Seater vehicle - Up to 6 passengers
Minivan - Up to 10 passengers
About the Drivers
All drivers speak fluent English and French (Upon special request we can organise drivers who speak additional languages). The drivers, citizens of Mauritius, will be happy to provide you with information about the island and each of its sights.
All drivers are very professional, time efficient and friendly. There is high emphasis on being always on time and providing reliable devoted service to customers.
---
Black River, South Western Region
Start & End times:
(*Note: Start & end times are flexible, depending on the tides)
| | |
| --- | --- |
| Operational Days: | Everyday (upon availability) |
| Activity time: | Flexible* |
| Duration: | 5 or 8 Hours |
---
About the Private Fishing Excursion in Le Morne - Popping & Jigging
Nestled comfortably in the south west region of the island is an exceptional marine biodiversity as well as remarkable sites on land. View the sensational panoramas of Le Morne as you cruise the blue lagoon, headed towards the open-sea.
Take your pick between a private 5 or 8-hour fishing trip and bask in full excitement as you pop and jig at the reef. This exclusive fishing excursion is nothing short of a thrilling experience that you get the privilege of sharing with just your loved ones at the Mauritian reefs- a dream fishing destination for many.
Don't worry if you are a novice since there are plenty of fish in the sea, hence increasing the probability to capture at least one of the aquatic creatures. And good news if you're experienced- you'll have a blast reeling in the perfect catches one after the other.
What is popping and jigging you may ask. Well, popping is a fishing technique that involves using a surface lure called "popper", which comes in various colours and shapes. Conversely, jigging penetrates the surface of the water with the help of a lead sinker and a hook, to mimic the erratic swimming style of injured fish, thereby attracting nearby fish.
The enthusiastic fishing guides will hype you up and assist you in getting your giant reef catch on the line as well as pull it on board. Learn how to set up the equipment, the fishing techniques, the dos and don'ts of popping and jigging along with interesting insights on the marine species.
Included in this package is all the latest fishing gears and required safety equipment. Therefore, you only need to pack your sun protection items as well as your camera to click beautiful pictures of the stunning sceneries and your catches of the day. You might as well soak in the sun and get a nice tan while you sip on your drinks on the way back.
Even if you don't manage to catch any fish, it won't take much away from this heartwarming experience, the trip alone is worth it!
Deep Sea/ Big Game Fishing in Mauritius
Mauritius is very famous for deep sea fishing which has been practised by the locals for many years. With perfect conditions prevailing throughout the year, the possibilities to fight giant Blue Marlin, Black marlin, Mako sharks, Tuna and many other exciting fish are made available to experienced anglers and beginners.
Mauritius holds several world fishing records (IGFA), including that of the mako shark of 1115 pounds, the blue shark of 400 pounds, a bonito of 41.5 pounds, a white tuna of 224 pounds and a 'bécune' of 125 pounds.
The famous Blue marlin's enormous size and legendary fighting ability makes it one of the most highly targeted gamefish in the world. These true giants are top of the food chain - they lurk in the waters surrounding Mauritius, waiting to pounce on an unsuspecting tuna or a lure bubbling and splashing behind a boat. They are generally loners and put on a spectacular battle when hooked, jumping all over the surface while also staying under and fighting down and dirty. Battle's with these monsters can last well over three hours; the longest fight in Mauritius was twenty six hours before the line broke!
With its rich marine fauna, Mauritius is revered by Deep Sea Fishing enthusiasts worldwide.
For an angler, little can compare to the thrill of the chase to get the adrenaline pumping. The roar of the inboard engines, and the scream of tightly stretched lines when a marlin or other game fish has taken the bait, is a pulse-racing experience!
---
Sunglasses

Sunscreen

Hat

Sun Protection Clothing

Patches/Tablets for Sea-Sickness

Food and Drinks

Towels

Camera
---
| Private Fishing Excursion in Le Morne - Popping & Jigging | |
| --- | --- |
| 5 Hours Fishing Excursion ( Up to 5 Pax ) | 425 Euros |
| 8 Hours Fishing Excursion ( Up to 5 Pax ) | 550 Euros |
---
Booking Attributes