Private Overnight Luxury Catamaran Cruise
| | |
| --- | --- |
| Location | West |
| Operating Days | All Days |
| Duration | 22 hrs |
| Activity Time | 14:00 - 12:00 |
| Transportation | Offered as Supplement |
| Comment | Meal menu, cruising route and day program can be tailor made as per client's preferences. Max no. of people: up to 8 people. |
This activity is not available until further notice
Private Luxury Catamaran Cruise with Overnight Stay
Enjoy an all-inclusive overnight stay on-board the most luxurious catamaran currently operating in Mauritius – the Lagoon 500.
This luxury overnight catamaran cruise is ideal for those who seek to escape from the rush of everyday life. Sail on the turquoise water of the west coast and admire the stunning sunset far on the horizon while benefiting maximum comfort and VIP treatment.
This luxury catamaran cruise will make you feel as if you were in a top class hotel, offering all the possible facilities and features for you to experience cruising in the most elegance and stylish atmosphere.
The catamaran, a Lagoon 500 cruising vessel is 50-foot in size and fully equipped with the most modern equipment for providing the cruising experience and ideal setting for your overnight stay.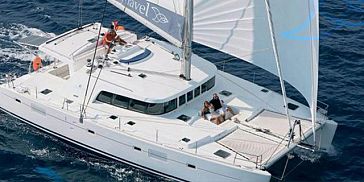 It is an air-conditioned catamaran and you are sure to benefit from various amenities such as kitchen with refrigerator, spacious lounge/dining area with Plasma TV and DVD/CD player, embedded auto-pilot and GPS navigation system, a dinghy and 4 luxury cabins each with en-suite bathroom and queen size beds (which can easily be converted into twins bed).
Adding to that, a professional team which will accompany you during your trip for you to spend a real special time on the water.
Having vast experience in the Yacht charter market and an instinctive understanding of the customers every wish, we planned this yacht day cruise providing an unsurpassed taste of luxury and first class treatment.
We will make sure that you have a great time with your loved one with full relaxation and maximum convenience.
You will sail through the crystal clear water and appreciate breathtaking scenery around you, also enjoying snorkeling inside the lagoon, discovery of the local marine line, dining the delicious food prepared by the on-board chef and drink as much as you want from the bar.
Private Luxury Overnight Catamaran – Cruise Itinerary:
Join your catamaran team at 14:00 in the Black River Bay and be prepare to be spoil with treatment of kings. You will be captivated by the tranquility of the paradise setting surrounding Mauritius.
Your itinerary is as follows:
Day 1
Welcome cocktail
Cruising Towards Flic en Flac
Snorkeling at La Preneuse
Sailing into the coves and stunning lagoon of Le Morne
Stop for an incredible and tropical Sunset
Dinner
Spend the night on board
Day 2
Continental Breakfast served on board
Cruising towards Tamarin bay to watch Dolphins
Snorkeling
Lunch served on board
Sail back to the shore
Arrival back to Black River at around 12:00 pm
Your trip will end on the next day as from noon. Upon special request, and for a supplement, it is possible to extend the cruise for an additional time period.
Note: As part of your private overnight stay, you will enjoy an all-inclusive package where you will be provide with an unlimited drinks access (wine, Green Island Rum, Phoenix Beer, Juice, Water, Tea and coffee) and as well as 3 course meal-dinner, continental breakfast and a BBQ lunch.
More information on the Luxury Overnight Catamaran Cruise
The cruise begins with a typical Mauritian welcome cocktail.
Your first class catamaran cruise starts in the bay of Black River where you will sail along the coast line to Flic en Flac passing through Tamarin bay.
We will take you on a breathtaking snorkeling trip inside the lagoon of La Preneuse. The catamaran then continues to sail into the coves and stunning lagoon of Le Morne as the water glows.
You will make a little stop at the most favourable view spot for you to enjoy the sunset in a paradise setting and why not appreciate a special snorkeling before the final rays of sun disappears beholding a spectacular views around you.
A delicious dinner will be served on board in calm sea conditions. A large variety of dishes is propose to you. Your final menu choices should be communicate during the reservation process.
After having a luscious diner with the ocean view and the gentle and fresh sea winds, you can surely choose to sit on the deck of the catamaran and watch the starry night sky looking out for shooting stars-'Etoiles Filantes'. You will enjoy maximum privacy to spend some wonderful moments with your loved one on a spacious and luxurious catamaran.
You can either choose to wake up early in the morning to watch the sunrise in the lap of the ocean or sleep late. The crew member will serve you a delicious continental breakfast for you to gain enough energy for the day ahead.
Set sail towards Tamarin bay, and with some luck, you will see dolphins swimming very close to the catamaran. Don't forget to take off your camera to immortalize this unique moment.
This is indeed a special chance to explore the spectacular lives of these magnificent marine mammals in their aquatic habitat. The catamaran will surely stop for you to enjoy a swim and some snorkeling.
A delicious BBQ lunch accompanied with a selection of drinks will be served on board as you glide over the calm lagoon to end this wonderful trip that you will not forget so soon.
A memorable adventure that you will cherish your whole life.
Food & Beverages on-board
As part of the luxury catamaran cruises, you will be on an all-inclusive basis where you will be provide with an unlimited drinks access (wine, Green Island Rum, Phoenix Beer, Juice, Water, Tea and coffee) and as well as 3 course meal-dinner, continental breakfast and a BBQ lunch.(personally prepared for you by the chef from a selection of possible menus).
The menu will be planned as per your exact preferences consisting of mixed Creole & Mauritian food or of International dishes, all especially prepared for you by the very skilled chef.
Dinner & Beverages for Evening Charters
Select your starter / soup / main course and dessert (one same menu for everyone)
Starter: Seafood gratin
OR Baked Ratatouille and Mini Chicken Skewers
OR Greek Salad with Shrimps
OR Carpaccio (Tuna)
OR Smoked Marlin and Palm Heart Salad
OR Prawns cocktail
Soup: Vegetable soup / Chicken soup / Fish soup / Crab soup / Onion Soup / Dhal / Kidney Bean / Lentils Soup
Served with Garlic bread
Main Course: Beef steak with sauce accompanied with Garlic potato puree, Sautéed mushroom and Vegetables
OR Chicken and Prawn curry accompanied with Saffron rice and caramelized onions, Vegetables, Pickles, Chili sauce, Tomato chutney
OR Lamb steak with sauce accompanied with Gratin Dauphinois, Salad and Vegetables
OR Pasta(Spaghetti or Tagliatelle) with Seafood in tomato sauce
OR Grilled lobster & Giant prawns accompanied with Pasta salad and Vegetables
Dessert: Sorbets & Seasonal fruit cocktail
OR Flambéed Banana and Chocolate
OR Vanilla Ice Cream and Seasonal fruit cocktail
Beverages: mineral water, juices, soft drinks, Phoenix beer, Green Island rum, South African wine (rose and white), tea & coffee
Continental breakfast
Juice, fruits, cereals (Cornflakes, Mueslie), honey, roasted bread, butter, jam, yogurt, peanut butter, tea, coffee, chocolate, omelette (garnishes: cheese/tomato/ham/mushroom) or poached egg with grilled bread, on request: bacon and pastries (croissant and chocolate bread)
BBQ Lunch
Grilled chicken, grilled fish accompanied with salads
Note: Your final menu choices should be communicate during the reservation process.
About the luxurious catamaran – Lagoon 500
This is the most luxurious catamaran currently operating in Mauritius and it usually used by our VIP clients for either day charters or overnight cruises. The unique catamaran Luxury Lagoon 500 catamaran was built by special request in France in 2011, available for freight in Mauritius. The boat is like a top class hotel, offering all the possible facilities and features as well as has 4 luxury cabins.
Cabins are very spacious with the high top design. Catamaran planning/orientation is made in the most convenient way and wholly suited to holidays of the most demanding clients.
The Luxury Catamaran is equipped with all the extras like air-conditioners, water tanks, water cooler, ice maker, TV, DVD with excellent variety of films and music for any taste, 4 comfortable cabins, each set with bathroom, completely equipped kitchen and basically all that you can think of, making sure you have an enjoyable cruise experience.
In order to bring into life almost all fantasies about exotic gastronomy, the catamaran is equipped with top notch equipment such as: 4 burner gas cooker, double-side sink, 4 refrigerators, 2 freezers, oven, microwave oven, bread baker and other kitchen Household appliances. You will get to enjoy the delicious food while sitting by a perfect dinning table, placing 8 people together in maximum comfort.
The upper deck is an ideal place for spending the day enjoying the great views all around, for sunbathing and for having good discussions. On the edge of the catamaran you will find a table, minibars and spacious hammocks.
All this and many more great facilities are available on-board for guaranteeing top luxurious cruise experience and for your maximum comfort, fun and entertainment.
Luxury Accommodation onboard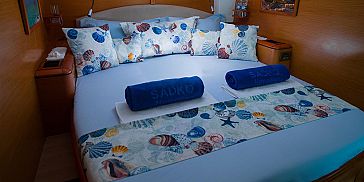 When you first enter any of the cabins, you will notice the harmony alliance of space and light. The catamaran interior is decorated by luxurious light wood. Brand porthole, placed all around the perimeter, creates the feeling of lightness. For both ventilation and light, there are 4 huge hatch located on the roof.
For the best comfort and relaxation, there is a king-size L-shape sofa, a lounge area and also a TV area with an LCD television as well as stereo system for you to watch movies and enjoy your favorite music playing throughout the day.
Each cabin is fully air conditioned and equipped with LCD TV, DVD and audio system. Due to removable partition, beds can be easily modified from one big double beds to two twins beds. All cabins have en-suite shower room and toilets. The cabins also have a huge illumination that enables you to enjoy gorgeous sea view as well as enables the natural light to come inside.
About the Lagoon 500 – Yacht Cruise Experience:
Exclusivity and Privacy – You and your guests will be the only aboard and are guaranteed exclusively and privacy with friendly attendant professionals who will cater for your every need personally.
Unique dinning experience – Exquisite menus are prepared to your liking accompanied by the world's finest beverages, all served on board whenever and wherever you choose. Each meal is personally prepared for you by a qualified personal chef from a choice of fine dinning menus.
Yacht Sailing in Mauritius
A yacht charter in Mauritius offers sunny days in the world's third largest coral reef surrounding a turquoise lagoon and silky, blond, sandy beaches.
You will get to cruise inside the beautiful crystal clear water lagoons, enjoy a unique sailing experience, seeing breathtaking views of the landscape of Mauritius from the sea.
Swept by the regular south east trade winds from March to November, north east from December to February, and the pleasant climatic conditions that prevail year round, Mauritius is an ideal paradise cruising destination for sea lovers and sailors.
Comments
Location: West
Operating days: All Days
Duration: 22 hours (Day & Night)
Activity time: Start: 14:00 – End: 12:00
Maximum number of person: up to 8 persons
All-inclusive basis including snacks, gourmet lunch (personally prepared for you by the chef from a selection of possible menus), soft drinks and variety of quality beverages.
The maximum capacity for the cruise is 8 passengers
There is a possibility for late check-in or Check-out (for small supplement)
Kids as from 3 years old must wear a life jacket during the whole cruise
The itinerary can be modified on the client's request and with Management's approval.
Snorkeling equipment is not provided due to sanitary measures. Clients are requested to bring their own - mask, snorkel and fins.
---
Prices
Price for the charter of the Lagoon 500 for the Overnight Cruise: 1750 Euro
Supplement per person for the all-inclusive menu and stay on-board: 175 Euro / person
This activity is not available until further notice