River Trekking Adventure at Eau Bleue
| | |
| --- | --- |
| Location | South East |
| Operating Days | All Days |
| Duration | 5 hrs |
| Activity Time | Flexible |
| Transportation | Offered as Supplement |
| Comment | Minimum number of participants: 2 |
Transportation
Offered as Supplement
Comment
Minimum number of participants: 2
This activity is only available during rainy season; please confirm availability before booking.
River Trekking Adventure at Eau Bleue - Overview
Eau Bleue waterfall is a hidden gem in Mauritius and offers a unique river trek for adrenaline seekers.
During the rainy season, Eau Bleue transforms into a beautiful sight, with its clear and clean fresh water running down into the lake from the river. This combination of weather, a challenging trail through a river combined with the paradistic view of the waterfall makes the trek very worthwhile.
It's a memorable experience which will make you feel a deep connection to nature. So if you want a life changing activity, think about this one.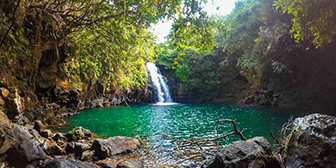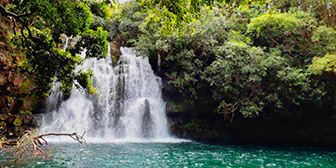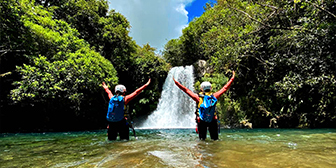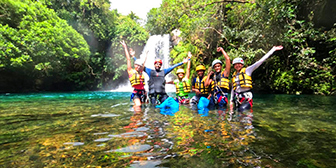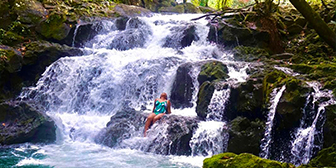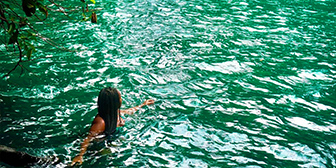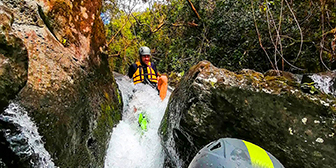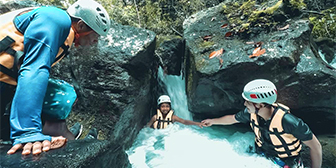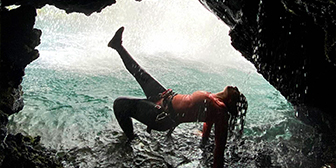 Highlights of this package:
Embark on a Unique river tour at Eau Bleue amidst a rich forest
Adventurous trail through a fast flowing river for nature lovers who like a nice adrenaline rush
Abseil down the waterfalls or jump into the lake for a refreshing swim for a rewarding experience while cooling off
An authentic outdoor experience where you get to learn while having fun in nature and discovering hidden gems
Get through the trek with knowledgeable guides ready to shed some interesting facts about the area
---
River Trekking Adventure at Eau Bleue - Inclusions
5 hour River Trekking Adventure with a guide
Trek through river and visit a few waterfalls with magnificent views
Experience thrilling cliff jump or abseil down the waterfall
Swim and dive into the refreshing clear water ponds
Professional instructors to guide you around and ensure your safety
Safety equipment such as harnesses, life jacket and helmet
Mauritian lunch/fruits provided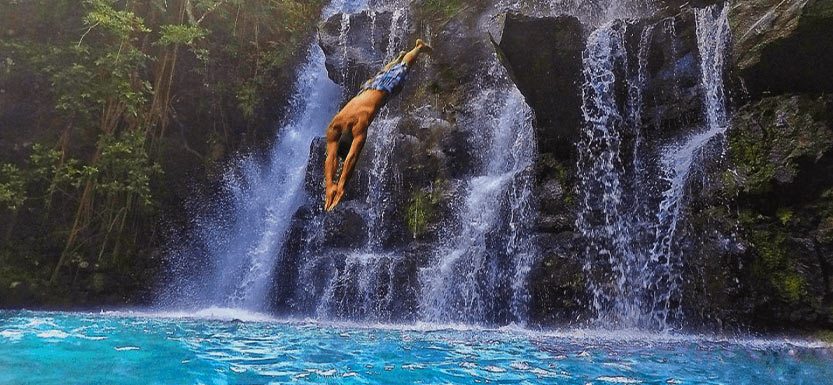 ---
Transportation & Driver Details
Transport is available for an additional supplement and will include pick up and drop off from any hotel / place of accommodation in Mauritius.
Car Capacities
You can choose from a selection of vehicles types:
Family Car - Up to 4 passengers
6 Seater vehicle - Up to 6 passengers
Minivan - Up to 10 passengers
About the Drivers
All drivers speak fluent English and French (Upon special request we can organise drivers who speak additional languages). The drivers, citizens of Mauritius, will be happy to provide you with information about Mauritius and each of its sights.
All drivers are very professional, time efficient and friendly. There is high emphasis on being always on time and providing reliable devoted service to customers.
---
| | |
| --- | --- |
| Time: | As from 08:30 (you are requested to reach at least 15-30 minutes before the activity start time) |
| Duration: | 5 hours |
---
About the River Trekking Adventure at Eau Bleue
Eau Bleue is ideal for an adventurous getaway and a must for those looking to explore the unknown spots and treasures of Mauritius. Being one of the most adventurous sites on the island offering beautiful natural scenery and views of waterfalls - this setting is what makes Mauritius definitely a paradise island. The rewarding experience from the trek is much soothing to the eyes and to the soul, Eau Bleue Waterfall is simply pure bliss.
The Eau Bleue Waterfall is also known as Cascade Rama by locals. It actually consists of six waterfalls near the Eau Bleue reservoir and the quiet village of Cluny which is found in the South East of Curepipe. The waterfall takes its name from the blue crystalline pools filled by underground springs.
Before you start your activity, you will meet with your guide who will greet you with a safety briefing and advice on how to proceed during the trekking session. Safety measures and equipment will be in place for you to be able to enjoy the thrilling abseils and jumps safely.
The river has about 4 to 5 waterfalls and each of them will give you the opportunity of abseiling down or you can choose to jump off into the waters below. The waterfalls are between 8 and 15 meters high, giving you a perfect thrill and adrenaline rush as you walk and swim under these waters.
Eau Bleue is also a peaceful place ideal for relaxation. The lush, green vegetation surrounding the area will certainly soothe your eyes and stimulate your body and mind with positive energy and spirit. After your trekking activity through the steep slopes, you are invited to refresh yourself in the clear blue water of the waterfalls.
About The Guide And The Spirit Of The Trip
All hiking excursions and treks will be supervised by experienced and professional guides in Mauritius. During the hike, the guide will share extensive knowledge about the reserve and its surrounding areas.
The trip will take you around some of the most beautiful places in Mauritius and you will get to learn more about the fauna and flora and what's being done towards its preservation, making this a unique and enriching experience.
When booking this trip you will be part of an amazing comradery where you will be helping each other to get to the destination, hence it might be a good idea to book this activity as a group, to ensure you already know each other.
About Hiking In Mauritius
The little gem of Mauritius raises its glory much more above the elongated white sandy beaches, swaying palm trees and stretched blue azure lagoons. Being a volcanic island, it has several breathtaking summits and valleys to explore on foot. The island is well known for its distinct flora and fauna. It's flora is composed of 700 species of indigenous plants.
---
Trainers or hiking shoes
Mosquito repellent
Camera - to capture those memories.
Hat
Water Bottle
Backpack
---
| River Trekking Adventure at Eau Bleue | |
| --- | --- |
| Price per Participant | 85 Euros |
---
This activity is only available during rainy season; please confirm availability before booking.
Booking Attributes