Sunseeker Luxury Day Cruise - Northern Islets Of Mauritius
| | |
| --- | --- |
| Location | North |
| Operating Days | All Days |
| Duration | Flexible |
| Activity Time | 08:30 - 16:30 |
| Transportation | Offered as Supplement |
This Activity Is Not Operational Until Further Notice
Private Luxury Sunseeker Cruise In Mauritius
Venture to the remote Northern islets of Mauritius, to enjoy the awe-inspiring sea horizons and the unspoilt sites, surrounded by turquoise blue waters- an idyllic getaway on the paradise island!
Embark the luxurious Sunseeker on a private cruise to discover the surreal seascapes, the glistening lagoon and the exotic tropic birds soaring above, as you sail across the waters and view the captivating Northern islets of Mauritius.
Mauritius being of a volcanic origin has unparalleled natural beauty to offer you. With the Sunseeker private luxury cruise, you are sure to experience the pure enjoyment of cruising in the open air and sea, where you can unwind yourself and appreciate the blissful vast sea.
---
About The Sunseeker Private Luxury Day Cruise - Northern Islets Of Mauritius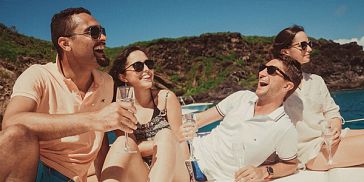 Your wonderful day begins at Mont Choisy, where you will be greeted by friendly staff with a refreshing welcome cocktail and breakfast to set you in the mood.
Take your time, relaxed in the luxurious and elegant setting while sipping your drink. This is the perfect time to connect yourself with the blissful surroundings. If weather conditions permit, you may even visit Snake and/or Round Island.
At around noon the staff will serve a delectable gourmet lunch where you can savour on a wonderful culinary experience. In the afternoon, you will have the privilege, of enjoying some secluded time on Gabrielle Island before eventually returning to the docks with the skipper.
This Flat Island cruise experience includes
Cruise to the secluded and beautiful Northern islets
Spectacular views of Coin de Mire
Witness the famous tropical sunset
Snorkelling opportunities in the crystal-clear lagoons
Welcome cocktail
Continental Breakfast
Gourmet Lunch on board- 3 course lunch menu
Drinks
---
Itinerary - Sunseeker Luxury Day Cruise - Northern Islets Of Mauritius
8:30 - Arrival at the departure point, enjoy a welcome cocktail
8:45 - Breakfast is served
9:30 - Boarding of the Sunseeker for the excursion
Boat cruise along the northern coast line
Cruise along the 'Gunner's Coin' with brief from the skipper on the northern islands.
If sea conditions permit, cruise to Snake and / or Round Island
Morning at Gabriel Island for a swim and brief history of the relics on the island.
Leisure time
11:30 - Departure for "Palisade" (Gabriel Island) or "Gunners Coin
12:00 - Lunch is served
13:00 - Leisure time
15:30 - Return to Gabriel Island to enjoy the island alone
16:30 - Back to departure point
---
Meal Plan for the Sunseeker Private Cruise to Northern Islets:
Savour on a delicious breakfast at the luxurious beach club and a gourmet lunch on board surrounded by the glistening turquoise-blue ocean:
The Breakfast includes:
French vienoiseries
Fresh fruits
Toast
Homemade jams
Tea, coffee & juice
The Gourmet Lunch includes:
Smoked marlin and potato salad & hard-boiled eggs with spring onions
OR
Vegetables couscous salad with mint and Argan Oil with poached prawns
Roasted chicken with banana chips & grilled vegetables served with tuna and sweetcorn bruschetta, arugula leaves and roasted garlic
OR
Roast beef with banana chips, grilled vegetable served with tuna and sweetcorn bruschetta arugula leaves and roasted garlic
Seasonal fruits with cottage cheese and Eucalyptus honey topped with sunflowers seeds
OR
Chocolate cake served with St Julien vanilla sauce
Coffee or tea & Delicacies
Welcome Cocktail, Flat & Sparkling Water, Soft drinks ( Coca-Cola, Fanta & Sprite), Fruit Juice, Wine( Red, White or Rose), Beers and Schwepps Tonic
NOTE: For vegetarian guests, upon request an alternate lunch will be served.
---
Information about the Northern Islets
Gunners Quoin (Coin de Mire)
Commonly known as Coin de Mire, this huge rock structure is a haven of magnificent tropicbirds such as the 'Paille en Queue'. The islet is situated 8 km north of Mauritius, and is well known by divers as one of the best diving sites of Mauritius.
The islet offers crystal clear waters with great visibility and ideal snorkeling conditions year-round.
You will likely spot a number of native birds flying around Coin de Mire or nesting in the cracks of the cliffs. The island offers a simply breathtaking view of the whole natural scenery!
Gabriel Island
The lush Gabriel Island also known as Ilot Gabriel is among one of the most popular Northern Islets. It is located near the Round Island and the Flat Island, just some 10 kilometres north of Cap Malheureux.
The island is the most prefered islet among tourists and locals for a fun and relaxing catamaran cruise. It is extended over an area of 42 hectares surrounded by unspoiled, fine white sand and turquoise crystal-clear waters.
It is also very well-known for its safe snorkeling and diving sites; an idyllic destination for a day of relaxation on the beach.
Besides the panoramic view, the island is special in the sense that it is full of lush green vegetation and indigenous fauna and flora. Its coastal vegetation is typically of sandy dunes; a large slice of the island is covered by the Baume de l'ile Plate', an endemic Mauritian plant. Pailles-en-Queue, a native tropical bird, hover continually and Bojer's skink run through the rocks like quicksilver. Easy access has been made for everyone in order to explore the fauna and flora without creating any disturbance.
Flat Island
Flat Island or Ile Plate is another popular islet in Mauritius, located to the north of Mauritius, nearby Round Island. It stretches over an area of more than 300 acres and it is the largest islet off the Mauritian coast.
As its name suggest, the island is mostly flat, but has a single hill topped by a lighthouse. The vegetation on Flat Island is much denser than on Gabriel Island, which makes it quite particular. Also, the island harbors an internationally famous dive site called The Shark Pit where divers can witness sharks swirling within the pit for the rich oxygen available due to the crashing waves
---
About the Sunseeker Speedboat
True to its renowned brand name, the famous Sunseeker Superhawk 50 offers you a luxurious cruising experience with high standards. It is the absolute perfect combination of performance and comfort. The Superhawk is 50 feet long and has an impressive targeted top speed of 50 knots. The luxurious speedboat has proved to excel in quality, style and performance.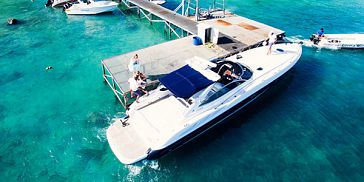 Type: Sunseeker Superhawk 50
Length: 15, 29 metres (50 ft)
Water Tank: 300 litres
Engine: Triple Turbo Diesel (Yanmar 6LY2A-STP 420Hp) with Tri-Max Surface Piercing Drives
Maximum Speed: 36 knots
Cruising Speed: 24 Knots
Features: 1 Cabin, en-suite bathroom and toilets, Kitchen, lounge, air-conditioned
Cabin Crew: 2
Maximum Capacity: 6 people
---
Comments
Departure Time: 08h30
Return Time: 16h30
Maximum capacity: The speedboat can accommodate up to 6 passengers
Reservation: Required 48 hours in advance (Monday to Friday) by phone and is subject to availability
What to bring: We suggest bringing beach towels, hats, extra sun block cream for sun protection, cameras, and swimsuits.
Note: This excursion/itinerary depends solely on climatic conditions. An alternate route or date will be proposed should the weather be unfavorable.
---
Price
Bare Boat:650 Euro (Minimum 2 Pax)
Price per person (lunch & drinks): 75 Euro/Person
This Activity Is Not Operational Until Further Notice
Please contact us on +230 269 1000 or +230 5257 5757 to check for availability before proceeding with the booking.