Sunseeker Royal Yacht – Overnight Cruise in Mauritius
| | |
| --- | --- |
| Location | North West |
| Operating Days | All Days |
| Duration | 2 days |
| Activity Time | Flexible |
| Comment | Duration: Overnight Cruise (36 Hours). Transport on Request. |
This Activity Is Not Operational Until Further Notice
Royal Sunseeker Manhattan 63 – Overnight Cruise Experience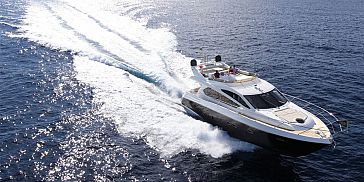 Spend a fantastic overnight Royal Sunseeker yacht charter for an ultimate getaway from all the hustle and bustle of daily life. A luxurious moment of authentic experience like never before, in a comfortable, sophisticated and lavish yacht of the highest class.
The exquisite design and interior décor of the yacht will leave you with pleasant surprises and with some really great memories. Go on a journey for an epic adventure with your loved ones, and discover the exceptionally north and west coasts of the paradise island of Mauritius.
Enjoy an overnight stay on the luxuriously appointed Sunseeker Manhattan 63 , being pampered in a true VIP style.
The on-board chef is sure to prepare any meal as per your every wish, providing palatable dishes featuring Eastern European, Russian, Italian and French cuisine. All prepared with much skill and using the finest, freshest products.
Get charmed by the classy and stunning designs of the spacious staterooms, the saloon and entertainment space along with the panoramic superstructure windows ensuring a feeling of openness in this world class yacht.
In addition, you will get to discover the virgin islets of the north and west coast of Mauritius, featuring incredible beaches, stunning views, where you will also get the chance to swim with the dolphins!
The Sunseeker Yacht Cruising Route – North, West & South West:
Day 1
Enjoy a luxurious car transfer which will pick you up at 08.00 in the morning from your hotel travelling by land to Port Louis where the yacht awaits you. At Port Louis you will boat the yacht and start your cruise experience heading from Port-Louis to the beautiful Gabriel island a protected natural reserve which is mostly famous for if its beautiful unspoiled beaches, with crystal clear water. The cruise takes you along the west coast, sailing through the turtle bay marine park, passing by many of the most famous beaches of Mauritius until reaching Gabriel Island for you to explore this heavenly islet and let yourself relish the beauty surrounding you.
Besides contemplating the marvellous surroundings, you will also get the chance to enjoy a savoury lunch with drinks and beverages of your choice in this luxuriously appointed yacht.
At around 1.30 pm, the yacht will cast off from the Gabriel islet to head towards the stunning neighbouring Flat Island where you will get to enjoy the pristine beauty along with the turquoise sea and unspoilt white sandy beach.
Experience a pure enjoyment of cruising in the open air, unwind yourself and appreciate the blissful nature beauty, the vast sea around you on the spacious flybridge.
At 16h00, the yacht will stop at Grand Bay for you to enjoy visit of this bustling village, enjoying some shopping, visit of the local market, the village center and/or just enjoying some relaxation at the famous bay.
Dinner will be served either on-board or in one of the famous beach restaurants of Grand Bay – as per your preferences.
Enjoy your overnight on this luxury yacht, having spacious staterooms which are lavishly decorated. They are classy, sophisticated and come along with excellent amenities to make you feel comfortable for a pleasant stay.
Day 2
In the morning you can awaken to the sunrise or slowly start the day with a full continental breakfast with fresh coffee or tea, while the yacht will gently cast off from Grand Bay and will set to the gorgeous Tamarin Bay, at the south west of the island.
Once there, you may even like to take a plunge with the remarkable dolphins at the Bay. Swim along these marvellous creatures up close, and have an amazing time. Or you might rather chill and relax on the flybridge while enjoying the warmth of the sun.
Lunch will be ready by noon, dishes will be meticulously prepared according to your preferences by the highly skilled chef. Savour your meal, and relish drinks and beverages of your choice.
In the afternoon, you will have the chance to visit the unspoilt Benitier Island, and Le Morne peninsula. On the way you will spot the magnificent, and very well-known Crystal Rock, which is a rocky formation found inside the large west coast lagoon. You will surely get to see the beautiful scenery of the west coast of Mauritius from the island.
Your yacht cruise experience will end at 17h30, where you will be brought back to Port-Louis having land transfer in one of our top luxury vehicles back to your place of accommodation.
Additional information on the Sunseeker Yacht Overnight Cruise:
Meal Options:
Please note that special meal can be created as per individual requests. You are advised to provide your meal preferences either at the time of booking or at least 48 hours prior to the cruise time. A large selection of drinks and alcoholic beverages is available on-board the yacht. With that, maximum will be done to cater for any additional beverages as per your wishes.
The Meal plan on yacht Royal Orchid consists of breakfast, lunch, dinner, snacks, drinks and alcoholic beverages.
Menus will be adapted according to individual taste, the list below serves to provide an idea of some of the dishes offered as part of our a la carte menu:
Menu Details:
Caviar delights:
Red caviar Salmon served on the ice with lemon and croutons / Black caviar Oscietra on the ice with lemon and croutons / Beluga served on the ice with lemon and croutons / Pike caviar on prescription from our Executive chef
Starters:
Pancakes rolls with cream cheese and Norway salmon / lemon dressing and red salmon caviar/ chicken and mushroom sauces / Cheese platter assorted with fruits and honey / Meet platter assorted with giant olives and artichokes / Caprese with fresh tomatoes and Burato cheese / Carpaccio with smoked Marlin, toasts and capers/ with duck and tartufo / Tartar with Salmon/ Tuna with dried tomatoes and capers/ grilled vegetables and olive oil /Veal tartar with dried tomatoes and croutons / Eggplant roll with feta cheese and garlic sauce
Salads:
Mixed salad with smoked duck and orange sauce / smoked marlin, Mauritius palm hearts and tomatoes / with tomatoes, feta cheese and black olives / Salad with Parma ham, pine nuts and blackberries / with Salmon roll, vegetables and mustard dressing / with arugula, shrimp and tomatoes cherry
Main dishes:
Chicken on the grill with mushroom sauce / Veal steak angus on the grill / Marble beef on the grill / Australian lamb chops with bones / Duck leg grilled with orange sauce / Duck fillet with drunk peer / Foie gras with pear and onion comfit / Grilled Dorado/Wahu/Salmon/Tuna/Red Snapper/ for your choice/ Tiger prawns grilled with lemon-garlic sauce / Lobster on the grill / Seafood platter mix on the grill
Sushi Menu:
Sushi nigiri: Tuna, Salmon, Smoked salmon, Shrimp, Scallop, Caviar
Sushi roll: Avocado, Cucumber, Tuna, Shrimp, Salmon, Crab meat, California roll, Philadelphia roll, or Dragon roll
Desserts:
Tiramisu / Panna cotta / Assorted homemade ice cream or fruit sorbet
About the Royal Sunseeker Manhattan 63 Yacht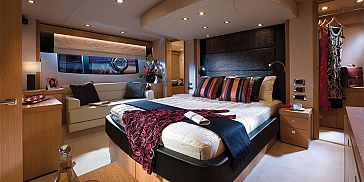 Luxury Accommodation on Board
The Manhattan 63 forms part of one of sunseeker's most versatile line of motor yachts. From inside-out the Sunseeker Manhattan 63 epitomizes up to perfection the style and technique of the Sunseeker flybridge range. Right from the first glance this improved Manhattan will capture your sight and heart.
Its exterior is covered with an isophthalic polyester skin coat with powder bound mat, the hull is stiffened with longitudinal stringers supported by transverse bulkheads and its topsides are finished with a balsa-cored material. Its strong exterior will allow you to sail tranquil and peacefully.
Experience a high standard of vacation in the luxurious and classy Royal Sunseeker Manhattan with 21.07m long (69'1''), along with its four lavish bedrooms with a midships full-beam master and panoramic superstructure windows.
The impeccable staterooms have a distinguish look, such as a lacquered interior finishes and veneer, scatter cushions, along with extraordinarily carpet. You will likely find a cosy and restful double berth, two reading lights, settees next to the panoramic side windows, top quality flat screen television, windows, with opening portholes and graceful curtain, the walk-in hanging wardrobe with a mirror, and en suite shower room with bath amenities, along with large toilet; all styled like a five star hotel.
There is also a galley installed at the main dining area, and is fully equipped counting with an electric refrigerator and freezer, a hob extractor fan, microwave combination oven, and much more. Manhattan 63 Yacht boasts a vast space on the flybridge as well, which offers twin helm seats, wet bar, forward sunbeds, relaxed seating for 8 to 10 guests and an overall length of 6.5 metres. You can relax and unwind, with the added benefit of feeling the warmth of the sun on your skin. A true benchmark for Pure Enjoyment!
The Sunseeker Motor Yacht Manhattan 63 is proving very popular and confirms that Sunseeker Yachts are truly World Class Yachts.
Features:
4 cabins:
1 master cabin king size bed + TV + Hi-Fi + Full bathroom + safe + closet + A/C
1 VIP cabin queen bed with TV + Hi-Fi + full bathroom + cabinets + A/C
2 twin cabins with TV + Hi-Fi + full bathroom + A/C
Accommodation includes: Sleeps 8 guests in 4 cabins; 1 Master aft cabin; 1 Forward VIP guest cabin; 1 Starboard twin guest cabin; 1 Port twin guest cabin; 2 crew
The Spacious Saloon offers: 40" Bang & Olufsen BeoVision rise and fall LCD TV; B&O surround sound; B&O DVD/CD/Radio; Ipod docking; Zoned deck sound system.
Additional Features:
Air Conditioning to tropical specification with second shore power inlet
Electric cooling unit for flybridge coolbox
Electrically operated side opening window in the Galley
Foredeck speaker system – Stereo removable waterproof speakers on stainless steel brackets and fixed waterproof remote control
Freshwater deck wash system with outlets forward and aft including deck wash hose kit
Fusion DVD/CD/MP3/Radio tuner linked to TV with stereo speakers with Apple iPod dock in the Forward Cabin
Fusion DVD/CD/MP3/Radio tuner linked to TV with stereo speakers with Apple iPod dock in the Port Cabin
Fusion DVD/CD/MP3/Radio tuner linked to TV with stereo speakers with Apple iPod dock in the Starboard cabin
Galley worktop and flooring upgraded to Granite
Glendinning Cablemaster – 1 x power feed and recovery AC shorepower cable
Harmon Kardon BDS2 head unit with Stereo flush mount speakers and Apple iPad/iPhone Airport Express wireless connectivity and an Auxiliary HDMI socket linked to AV system in the Master Stateroom
Interior Wood Finish – Black American Walnut
Underwater lights – Aqualuma LED wide angle x 4
Upgrade Flybridge speaker system. Additional pair of Fusion 7" Marine waterproof
speakers and standard two speakers upgraded from 6" to 7" with 4 channel amplifier.
10" Fusion subwoofer with amplifier
Water purifier for ice maker – General Ecology Nature Pure in-line system with spare cartridge
---
Comments
Maximum 6 guests for overnight cruise
Infant (0-2yrs) is free of charge
---
Prices
Price for the Royal Sunseeker Manhattan 63 – Overnight Cruise Experience for 3 adults or 2 adults + 2 children (under 12 years): 18,900 Euro
Supplement for each additional Adult: 1,300 Euro
Supplement for each additional Child (ages 5-11): 750 Euro
Supplement for each additional Infant (ages 0-4): Free of Charge
This Activity Is Not Operational Until Further Notice
Please contact us on +230 269 1000 or +230 5257 5757 to check for availability before proceeding with the booking.