Tailor-Made Helicopter Transfer
| | |
| --- | --- |
| Location | All Regions |
| Operating Hours | 06:00 - 18:00 |
| Operating Days | All Days |
| Duration | Flexible |
| Activity Time | Flexible |
| Comment | Maximum number of participant: 6 / Price excludes the landing fee (where applicable) |
About Tailor-Made Helicopter Transfer
Enjoy a personalised Helicopter Transfer Service on the Paradise Island of Mauritius, whether it be for business or leisure purposes.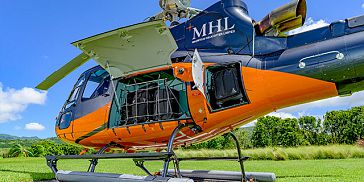 Imagine yourself on a helicopter flight with VIP treatment, where you can escape all the hustle and bustle of the cities, traffic and stress. Contemplate the beautiful land and seascapes of the beautiful island of Mauritius. This comprehensive Helicopter Flight package is tailored to meet any request including leisure, entertainment, business travel and special occasions.
With this tailor made package, you will be able to enjoy a number of privileged services. We will be able to arrange landing sites which are close to your departure points and destinations, simple boarding procedures and uninterrupted straight-line flight where you can arrive on time without stress.
With our experienced team and depending on your requirements, single or multiple helicopter transfer flights can be arranged to suit any itinerary in Mauritius. We will make sure that all aspects of the required service are met and ensure to exceed the high standards we set ourselves. So let us know your preferences and we will execute them.
Tailor Made Helicopter Transfer Services We Offer
Transfers: Tailor made package from and to a place of your choice (airport to any helipad, or from any helipad to any other location)
Multiple transfers: Create your own flight route with several stops along the way
Helicopter Day Package: Create an helicopter trip day package consisting of helicopter flight and activities
---
Additional Information on The Tailor Made Helicopter Services
Tailor Made Helicopter Transfer Service
Soar high up above the island of Mauritius as you experience the most exciting transit from anywhere you prefer, across the island. Whether you wish to experience a direct helicopter transfer from the airport, or from any helipad on the island, we will ensure that you get to your destination much faster and in style, offering the VIP treatment you deserve.
Board comfortably on your preferred helicopter, and hold onto your breath for the spectacular, scenic aerial views of Mauritius. As you fly you will enjoy magnificent views of blue lagoons, pristine coastlines, undulating sugar cane fields, meandering roads, majestic mountains, colourful houses and the lush green vegetation of the island. Free yourself from the tiring traffic jam, enjoy privileged services and discover this tiny paradise from the sky.
Tailor Made Multiple Helicopter Transfer Service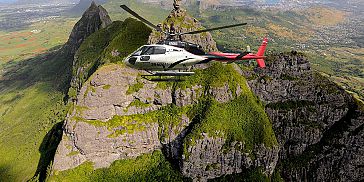 This Multiple Helicopter Transfer Service will allow you ample time to hop from one place to another without being bothered by the road traffic or the noisy cities and towns, seeing large areas of the island from high above and minimizing your land travelling time. With this option you will have the freedom to create your own itinerary with multiple stops along your way.
Fly without stress and enjoy the smooth transitions in a comfortable helicopter at a faster pace. Simply sit back and cherish the awe-inspiring views of Mauritius, where you can view the magnificent blue lagoons, pristine coastlines, undulating sugar cane fields, meandering roads, majestic mountains and other spectacular views.
Create Your Own Helicopter Day Trip Package
Create your special private helicopter day trip package and experience a memorable day while touring the paradise island of Mauritius. The island is surrounded by pristine islets blessed with white sandy beaches, magnificent coves, and crystal clear water where you can spend some quality time in the company of your beloved ones.
So whether you prefer to have lunch, play golf, sightsee or even enjoy luxury experiences such as touring on a private speedboat to a pristine islet, the helicopter transfer will be at your service. Experience a privileged helicopter transfer wherever you wish to spend your day and we will make it happen!
---
List of Helipads in Mauritius
Helicopter Services - List of Helipads
Region & Location
Particulars / Landing Fee
East Coast
1
Prince Maurice Hotel
Resident only
2
St Geran Hotel
Landing fee applicable to non-residents - MUR 1,500/- (excl vat)
3
Belle Mare Plage Hotel
Landing fee applicable to non-residents - MUR 1,380/- (incl vat) per landing
4
Le Touessrok Hotel
Resident only
5
Ile aux Cerfs Golf Course
For lunch & golf only
6
Domaine Anse Jonchee
Authorization required
7
Anahita
Resident of Four Seasons & Anahita only
South East
8
SSR International Airport
All customers and no landing fees
9
Domaine du Chasseur
Authorization required
South West
10
Le Paradis Hotel
Resident only
11
Bel Ombre Golf Course
Landing Fee applicable - MUR 1,800/- (incl vat)
12
Varangue Sur Morne
Landing fee - MUR 2,000/- (incl vat)
North West
13
Royal Palm
Residents only and before 15:00 only
14
Maritim Hotel
i. Resident of Maritim - Landing fee MUR 1,500/- (excl vat)
ii. Non-residents - Landing fee MUR 1,500/- (excl vat)
North
15
LUX Grand Gaube Hotel
Landing fee applicable to non-residents and operations after 09:30hrs - MUR 1,500 (excl vat)
---
About The Helicopter
Bell Jet Ranger Helicopter
The five-place helicopter is the safest single engine helicopter in the world. It is a turbine engine powered helicopter. The helicopter is fast, comfortable, reliable and provides an unrivalled view. The fleet comprises a seating with a capacity of 4 passengers plus the pilot. A trained and experienced helicopter pilot, according to global safety standards, will guide you throughout your amazing trip.
Registration: 3B-NZD
Make: Bell
Model: 206 Jet Ranger
Lifting Capacity: 500 kg
Crew: 1 Pilot
Passenger Capacity: 4 passengers
Engine: 2 single engines (Bell jet Ranger 206BIII)
Airbus Helicopter
Airbus Helicopters (part of the Airbus Group and formerly known as Eurocopter) are the leading manufacturer of helicopters, offering a range of aircrafts for civilian and military use.
This lightweight, twin-engine helicopter offers you a luxurious flight experience, being able to accommodate up to 6 passengers. The aircraft is almost 13 meters long and has an impressive top speed of 220 kilometers per hour (at maximum weight). It is the perfect combination of performance, comfort and high standards.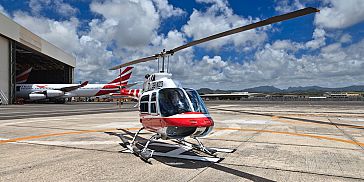 Type: Eurocopter AS 355 N & NP
Engines: 2 Turbomeca Arrius 1A "N"/ Arrius 1A 1 "NP"
Cruising speed at maximum weight: 220 km / h
Range capability: 713 km
Length: 12.94 m (42.45 ft)
Height: 3.14 m (10.30 ft)
Cabin Crew: 1 pilot
Maximum Capacity: 6 people
---
Important Details to Submit
In order to process any helicopter booking, client MUST provide the following details:
Name of each participant as per the passports and the Gender
Nationality
Passport number
Date of birth of each participant
Weight of each participant
In case of any Children or baby, please specify same with the above details
Dear Customer, to book this activity please contact us on +230 269 1000.