Trois Mamelles - Hiking Trip
| | |
| --- | --- |
| Location | West |
| Operating Days | All Days |
| Duration | 4 hrs |
| Activity Time | 06:30 - 12:30 |
| Transportation | Offered as Supplement |
| Comment | Please note that this activity is subject to availability and weather conditions |
Hiking Trip to Trois Mamelles in the West of Mauritius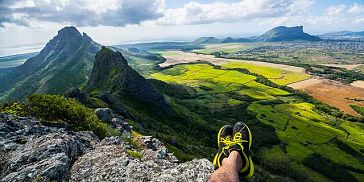 Do not miss the opportunity to cross one of the most exciting ridge-lines on the island, at Trois Mamelles, and stand in awe of the spectacular scenery that lies on both the North and South-Western flanks.
The hike forms part of the isolated range comprising of Mt Rempart to the west and Les Trois Mamelles to the east. Set your inner adventurer free with this hiking trip to the middle peak of the trio, as you climb to an altitude of 600m.
Enjoy the thrill of conquering challenging terrains as the mountain trail weaves and winds along the edge of the summit ridge line. This can be an amazing opportunity to break away from sandy beaches and hotel activities to rejuvenate yourself in the midst of tropical nature.
---
About the Trois Mamelles Hiking trip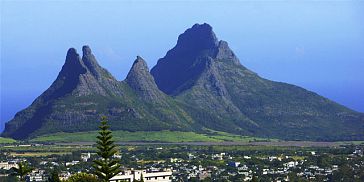 At the starting point for this hiking trail at Trois Mamelles, you will meet your guide for the day for a safety briefing before you start the journey.
Throughout your hiking trip, you will spot splendid flora and fauna with some endemic species that are particular to this region. As you keep on going down the hiking trail, it will curve into the fields and go towards Trois Mamelles. The hike is can be quite challenging at times where certain points require you to climb steep slopes and go up a few short rocky sections where you may have to use your hands.
It is also worth noting that the trail is only shaded for roughly a third of the hike. Hence, it is important that you are well-equipped with sunscreen, drinking water and good trekking shoes due to the uneven tracks.
The Trois Mamelles Mountain's rugged trail is worth the extra effort because of its incredible views of the west of Mauritius at the summit. From here you will be able to see marvelous coastal views, the flourishing natural landscapes of the island as well as the other 2 peaks of the mountain.
---
About Hiking in Mauritius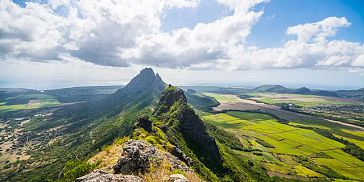 The little gem of Mauritius raises its glory much more than its famed white sandy beaches, swaying palm trees and stretched azure-blue lagoons. Being a volcanic island, it has several breathtaking summits and valleys to explore on foot. The island is well known for its distinct flora and fauna - its flora is composed of 700 species of indigenous plants.
To learn more about hiking and trekking in Mauritius check our Trekking in Mauritius page.
Comments
Region: West
Hike duration: 3-4 hours (depending on fitness level)
Distance: 8 km
Start time: 06:30 a.m.
Difficulty: Moderate (⅗)
Ascent Elevation: 600m
Please note that this activity is subject to availability and weather conditions
What to bring: It is recommended to bring a backpack, hiking or sports shoes, sunscreen, insects' repellent, drinking water and spare clothes.
Minimum number of participants: 4 persons
Maximum number of participants: 10 persons
---
Prices
Price per Adult: 59 Euros
Price per Child (13-18 yrs): 45 Euros