Unique Lunch Experience on a Boat - South West Coast
| | |
| --- | --- |
| Location | South West |
| Operating Days | Weekends Only |
| Duration | 3 hrs |
| Activity Time | 12:00 - 15:00 |
| Transportation | Offered as Supplement |
| Comment | Reservation is required 48 hours in advance. |
Operating Days
Weekends Only
Activity Time
12:00 - 15:00
Transportation
Offered as Supplement
Comment
Reservation is required 48 hours in advance.
A Lunchtime Odyssey: Embark on a Unique Boat-Dining Journey in Mauritius - Overview
Calling all seekers of exceptional experiences, sea lovers & fine cuisine enthusiasts! Are you ready to have a lunchtime escape like no other? Mauritius Attractions introduces a unique lunch experience aboard the Moon Bar'k boat, allowing you to savour every bite of your culinary journey while being caressed by the gentle sea breeze on the South West coast.
From starters that tantalise the palate to irresistible main courses, every dish is a masterpiece. With its unique blend of culinary excellence and stunning seascape, this boat-dining setting offers you the best of both worlds.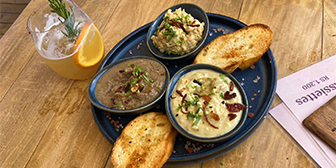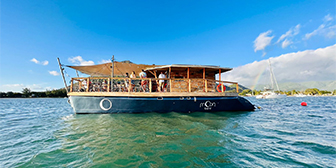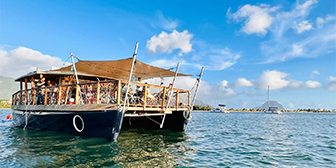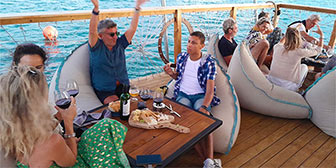 Highlights of this package:
Experience a unique boat-dining adventure in Mauritius
Elevate your lunchtime with a 3-hour culinary voyage on the Moon Bar'k boat
Indulge in culinary excellence with the set menu boat-dining delight
Craft your perfect meal: choose your starter, main course, dessert, & drink
Let the waves enchant your senses as you soak up the beauty of Mauritius
Discover paradise through every sip and taste; a lunch experience like no other
---
Unique Lunch Adventure on a 100% Mauritian Boat - Inclusions
Unique boat-dining experience
3 hours aboard the Moon Bar'k boat
Delicious set menu
Choose 1 starter + 1 main course + dessert of the day
Complimentary drink: 1 Classic Cocktail or BaoTaï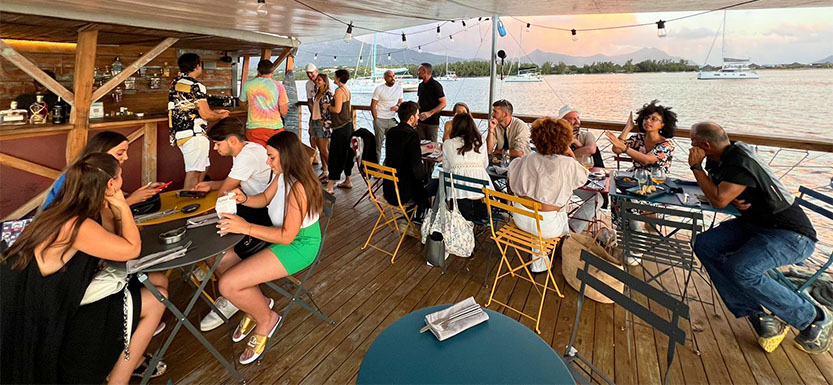 ---
Transportation & Driver Details
Transport is available for an additional supplement and will include pick up and drop off from any place /place of accommodation in Mauritius.
Car Capacities
You can choose from a selection of vehicles types:
Family Car - Up to 4 passengers
6 Seater vehicle - Up to 6 passengers
Minivan - Up to 10 passengers
About the Drivers
All drivers speak fluent English and French (Upon special request we can organise drivers who speak additional languages). The drivers, citizens of Mauritius, will be happy to provide you with information about Mauritius and each of its sights.
All drivers are very professional, time efficient and friendly. There is high emphasis on being always on time and providing reliable devoted service to customers.
---
Le Morne Anglers Club Jetty, South West Region
| | |
| --- | --- |
| Operating Days: | Saturday & Sunday |
| Activity time: | 12:00 - 15:00 |
| Duration: | 3 Hours |
---
Lunch on the Moon Bar'k Boat - A Truly Unique Experience in Mauritius
For those in pursuit of something extraordinary, Moon Bar'k beckons. Leave behind the ordinary lunch scene and embrace the allure of this one-of-a-kind boat-dining concept along the scenic south west coast of Mauritius.
Picture yourself on the graceful, wooden boat, Moon Bar'k, swaying to the rhythm of the sea. It's not just a lunch; it's a sensory escape, a moment to cherish. Let this unique boat-dining setting be your retreat where delectable cuisine harmonises with the soothing sea breeze, creating memories that linger long after the meal.
Begin your gourmet journey with a starter, transitioning seamlessly to the main course. You can choose from the Fish of the Day, the Duck Leg Confit or a Beef Fillet - all paired with delectable side dishes. As for plant-based enthusiasts, the Vegan Burger presents a delightful union of flavours, served alongside crisp French fries and a salad.
Conclude your culinary odyssey on a sweet note with the dessert of the day, and enhance your journey with a Classic Cocktail or the intriguing allure of a BaoTaï. As you curate your culinary voyage, every element comes together to create a symphony of flavours and sensations.
For some, this is a dream; for others, it's a reality lived. Moon Bar'k invites you to be part of this extraordinary journey, where dining becomes an art, the sea becomes your companion, and every moment is a masterpiece.
About the Boat - Moon Bar'k
This uniquely designed boat has a partially covered wooden deck with plush beanbag seating area, ensuring both comfort and relaxation as you embark on a culinary journey like no other. Bask in the tropical sun or seek shade under the boat's canopy, allowing you to customise your dining experience to your preference.
Amidst wooden elegance and the symphony of the waves, every sip and every taste transforms into an unforgettable experience reminiscent of paradise.
---
Camera
Sea sickness tablets
---
Unique Boat-Dining Experience in Mauritius - Lunch Menu
As part of this lunch package, you can choose any ONE from the list of starters, main course & dessert.
---
| MoonBar'K - Lunch | |
| --- | --- |
| Lunch Package (Set Menu + Complementary Drink) | 49 Euros |
---
Booking Attributes