Visit Chamarel 7 Coloured Earth
| | |
| --- | --- |
| Location | South West |
| Minimum Age | 5 |
| Operating Days | All Days |
| Duration | Flexible |
| Activity Time | 08:30 - 05:00 |
| Transportation | Offered as Supplement |
| Comment | Summer (October - May) : 08.30 am to 5.30 pm | Winter (June - December) : 08.30 am to 5.00 pm |
Activity Time
08:30 - 05:00
Transportation
Offered as Supplement
Comment
Summer (October - May) : 08.30 am to 5.30 pm | Winter (June - December) : 08.30 am to 5.00 pm
Chamarel 7 Coloured Earth Visit - Overview
Nature lovers out there, Mauritius Attractions invites you on a little nature escapade in the South of Mauritius. One of the 'Top 3 must see' in Mauritius, Chamarel 7 Coloured Earth plays a key role in showcasing Mauritius' natural beauty and uniqueness. Chamarel, a unique region steeped in history & blessed by geology welcomes you for a colourful moment in its reserve.
This nature reserve is the ideal place of interest to add to your to-do list during your vacations in Mauritius. The main attraction is th Geopark where you can witness the different coloured earths and leanr about their formation and composition. Your entrance tickets gets you access to the shop, the restaurant, the tortoise park and you also get to see the waterfalls.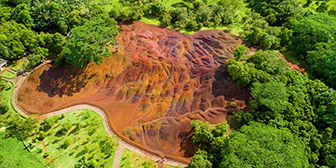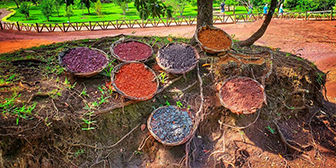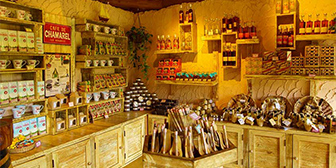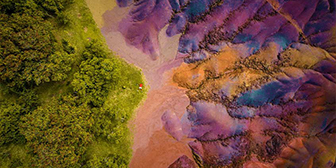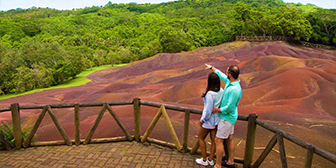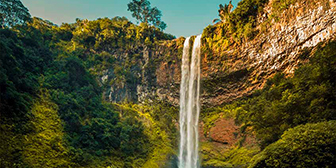 Highlights of this package:
Discover one of the most popular tourist attractions of Mauritius
Witness with your own eyes this surreal 7 coloured earth natural occurrence
Get to see the cousins of the extinct giant tortoises, the Aldabra Tortoises, up close
Visit the incredible 100m waterfalls snaking through the dense green vegetation
Visit the shop for some local made treats and do not miss the chance to sip on the pure Arabica coffee made in Mauritius.
The ideal activity to do with family
---
Chamarel 7 Coloured Earth Visit - Inclusions
Entrance to Chamarel 7 Coloured Earth
Visit La Cascade de Chamarel Viewpoint
Visit of the 7 Coloured Earth Reserve
Visit the Tortoise Park and get to pet the Animals
Access to Chamarel Coffee Shop
Access to Chamarel Souvenir Shop
Wi-Fi on site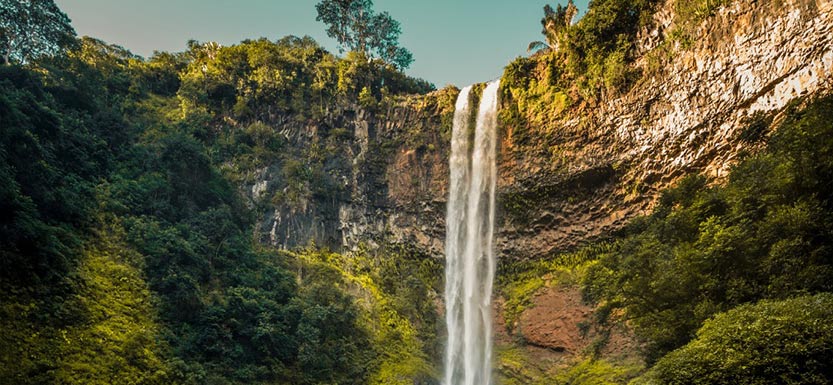 ---
Transportation & Driver Details
Transport is available for an additional supplement and will include pick up and drop off from any hotel / place of accommodation in Mauritius.
Car Capacities
You can choose from a selection of vehicles types:
Family Car - Up to 4 passengers
6 Seater vehicle - Up to 6 passengers
Minivan - Up to 10 passengers
About the Drivers
All drivers speak fluent English and French (Upon special request we can organise drivers who speak additional languages). The drivers, citizens of Mauritius, will be happy to provide you with information about Mauritius and each of its sights.
All drivers are very professional, time efficient and friendly. There is high emphasis on being always on time and providing reliable devoted service to customers.
---
Chamarel, South West Region
| | |
| --- | --- |
| Operating Days: ​​​​​​ | Everyday (open during public holidays unless stated otherwise) |
| Operating Times: | Summer (October - May) : 08.30 am to 5.30 pm |
| | Winter (June - December) : 08.30 am to 5.00 pm |
| Duration: | Flexible |
---
About the Chamarel 7 Coloured Earth Visit
One of the most iconic places of interest Mauritius is renowned for - you cannot leave the island without visiting Chamarel 7 Coloured Earth.
A member of the Royal Society of Arts and Sciences of Mauritius, drew attention to this particularly curious natural occurrence back in 1879. This unusual phenomenon, the Seven Coloured Earth, has since become one of the Major Tourists Attractions of the island.
During the visit you will get to witness the infamous dunes of upto 15 metres of coloured earth. The reserve is also home to giant tortoises, a few who are long term residents and are practically the friendliest giant tortoises you will ever meet. Your entrance tickets also allow you to visit the waterfalls viewpoints and get access to the coffee shop and the souvenir shop.
About the Chamarel 7 Coloured Earth Geopark
Set in the middle of lush green vegetation, this unique geological curious happening is one of those amazing creations of nature that will mesmerise you. With distinct colours of red, brown, violet, green, blue, purple and yellow, the Geopark has 15 metres of highly coloured dunes. An almost surreal, lunar-like spectacle of rainbow-hued sand dunes before your eyes.
Rooted in the history of Chamarel, the Seven Coloured Earth Geopark provides visitors with an extraordinary glimpse into millions of years of natural history, geology and evolution.
The undulating strips of multi-coloured sand that spontaneously settle in different layers are one of the most photographed and visited sights on the island. They sit in an open clearing whose lower edge is skirted by an endemic plant garden highlighting the natural heritage of Mauritius. On the upper edge, spectacular views of a vast amphitheatre of ravines clothed with luxuriant tropical vegetation and a glimpse of the picturesque Chamarel Waterfall in the distance.
About The Chamarel Waterfalls
The tallest single-drop waterfall in Mauritius at about 100m high, the Chamarel Waterfall is a striking piece of nature standing amid dense vegetation. Fed by the waters of three distinct streams pouring into Saint Denis River, it has a powerful rush with a peak flow rate in excess of 40,000 m³ per minute.
Proceeding along the Seven Coloured Earth Geopark's 3km access road, which makes for a scenic drive to the geosite, don't miss the waterfall's viewpoint on your left. The sight not only floods the senses with freshness but it is also a spectacular showcase of millions of years of volcanic activity.
About The Tortoise Park
Get up close to the resident giant tortoises called Toto, Tizean, Rosette, Nini, Tizom and Tifam. Watch them enjoying the day, munching away their food, wandering at a leisurely pace or simply lazing about in their enclosure. A favourite among kids of all ages, and adults as well.
Originally from Aldabra in the Seychelles, the species can reach up to 1m in length with an average lifespan of more than 150 years. The park's oldest giant tortoise is said to have died at the age of 250 years. The second-largest species of tortoise in the world, the Aldabra species is a cousin of the native domed and saddle-backed giant tortoises, which have gone extinct since the early 18th century.
About Café Chamarel and the Coffee Shop
Chamarel is not only a feast for the eyes, it is equally as delicious a treat as it can get! The Chamarel Coffee Shop is the foodie stop to make this piece of heaven on earth. This casual outlet offers a Seven Coloured Earth-themed food and beverage concept that focuses on providing guests with a "happy" dining experience.
Indulge yourself in a place where European café culture meets tropical lifestyle, serving a menu of locally-produced food as well as the authentic Café de Chamarel, the only coffee locally grown and roasted in Chamarel and commercialised locally and internationally. Its growth on volcanic soil is part of what makes the taste of a cup of Café de Chamarel so unique.
The Chamarel Coffee:
Chamarel Coffee has been produced in Chamarel since 1967. The plantations were established by the Bel Ombre sugar estate with the assistance of Oswald du Chasteleer, a coffee planter previously based in the Belgian Congo. Today, Chamarel Coffee is the only coffee grown and processed in Mauritius.
Chamarel Coffee is made from pure Arabica coffee beans. Arabica, or Coffea Arabica, is one of the most popular coffee varieties in the world. A small tree that grows up to 9 metres high, it originated in the highlands of Ethiopia and is believed to be the first species of coffee ever to be cultivated by humans.
About the Souvenir Shop at Chamarel
Take home your own slice of Chamarel's Seven Coloured Earth Geopark with a souvenir from the shop bordering the coloured earth site.
You will find lots of choice, including branded items, the region's homegrown and roasted coffee, Café de Chamarel and a number of other locally-sourced and crafted products for visitors of all ages.
This unique shopping experience engages our customers with geology, ecology and various tropical retail items at a range of price points.
---
Camera

Hat

Mosquito Repellent
---
| Visit Chamarel 7 Coloured Earth | |
| --- | --- |
| Price per Adult | 12 Euros |
| Price per Child (5-12 years) | 6 Euros |
---
Booking Attributes