Wingfoiling in Mauritius - Mont Choisy
| | |
| --- | --- |
| Location | North |
| Minimum Age | 12 |
| Operating Days | All Days |
| Duration | Flexible |
| Activity Time | Flexible |
| Transportation | Offered as Supplement |
| Comment | You can choose from a 1-hour, 2-hour or 1-day wingfoiling rental. |
Transportation
Offered as Supplement
Comment
You can choose from a 1-hour, 2-hour or 1-day wingfoiling rental.
Wingfoiling Rental (Mont Choisy) - Discover the Thrills of this Exciting Water Sport in Mauritius - Overview
A sensation that has taken the water sports world by storm; wingfoiling has emerged as the absolute mega trend. With its unique fusion of kitesurfing and windsurfing, wingfoiling introduces a fresh and enchanting twist to the traditional water sports scene. Mauritius Attractions offers you the chance to experience this one-of-its-kind activity in the heart of Mont Choisy - the gateway to an exhilarating aquatic adventure in Mauritius!
As you embark on your wingfoiling journey in Mauritius, a world of endless possibilities opens before you. Harness the power of the wind and glide gracefully across the lagoon, with the vibrant hues of the coral reef beneath you and the lush palm-fringed coastline as your panorama.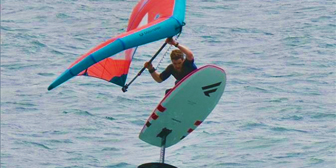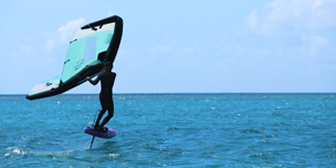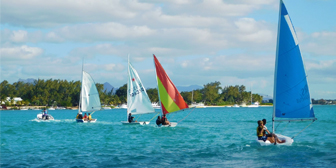 Highlights of this activity:
Experience the thrill of wingfoiling, a beginner-friendly water sport
Opportunity to learn the very basic wingfoiling skills
Feel the freedom of flying with the excitement of riding the waves
Witness the beauty of the surrounding landscapes as you glide across the azure lagoon
Master the art of wingfoiling in a safe environment with expert instruction (optional)
Benefit from the best wingfoiling conditions at one of the best beaches in Mauritius
---
Wingfoiling in Mont Choisy (Beginner-Friendly Activity) - Inclusions
1 hour, 2 hours or 1 day wingfoiling rental
Safety briefing instruction
Wingfoiling equipment
Maximum security
1 hour wingfoiling lesson with a professional instructor (optional)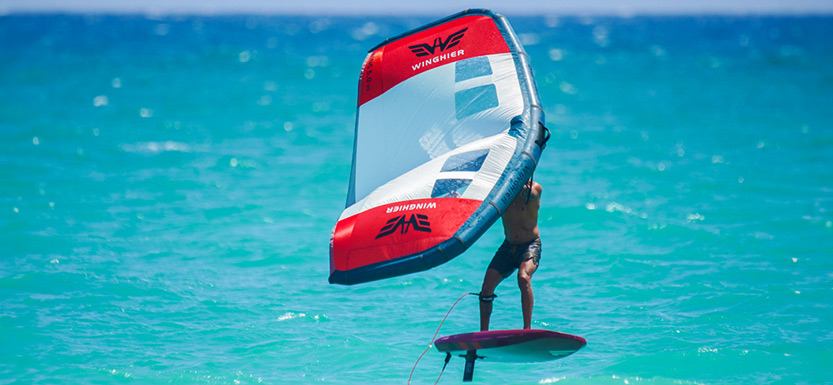 ---
Transportation & Driver Details
Transport is available for an additional supplement and will include pick up and drop off from any hotel / place of accommodation in Mauritius.
Car Capacities
You can choose from a selection of vehicles types:
Family Car - Up to 4 passengers
6 Seater vehicle - Up to 6 passengers
Minivan - Up to 10 passengers
About the Drivers
All drivers speak fluent English and French (Upon special request we can organise drivers who speak additional languages). The drivers, citizens of Mauritius, will be happy to provide you with information about Mauritius and each of its sights.
All drivers are very professional, time efficient and friendly. There is high emphasis on being always on time and providing reliable devoted service to customers.
---
Coral Azur, Mont Choisy, North Region
| | |
| --- | --- |
| Operational Days: | All Days |
| Operating Hours: | 10:00 - 17:00 (lunch break 12.30 until 13.30) |
| Activity time: | Flexible |
| Duration: | 1 hour, 2 hours or 1 day |
---
Wingfoiling Mauritius - The Enchanting Fusion of Kitesurfing and Windsurfing
Unleash your inner adventurer, surrender to the allure of flight, and experience the sheer joy of wingfoiling in Mont Choisy.
Derived from the fusion of kitesurfing and windsurfing, wingfoiling introduces an enchanting twist to the traditional water sports scene. Its effortless blend of grace and excitement has captured the imagination of water sports enthusiasts from around the globe. Now, a thrilling opportunity awaits those seeking to embark on this incredible journey in Mont Choisy, Mauritius.
Feel the warm tropical breeze gently embrace you as you stand atop a stable wingfoiling board, perfectly designed to ensure your balance and ease of manoeuvrability. The inviting waters of Mauritius, with their gentle swells and calm currents, create an ideal playground for both beginners and seasoned enthusiasts to revel in the joy of wingfoiling.
Additionally, for those looking to embark on their wingfoiling journey in Mauritius, a dedicated instructor awaits, ready to guide and support anyone eager to embrace the allure of wingfoiling. With his wealth of experience and passion for imparting knowledge, the instructor is committed to sharing the secrets of this captivating water sport, providing both introductory sessions for those seeking a taste of adventure and intensive lessons for those yearning to dive deeper into the art of wingfoiling.
1-hour Wingfoiling Rental
For those seeking a brief introduction or a taste of wingfoiling, our 1-hour rental option allows you to experience the thrill of gliding over the water with the wind at your back. It's the perfect opportunity to get a feel for the sport and see if wingfoiling is your new passion.
2-hour Wingfoiling Rental
If you're eager to dive deeper and spend more time mastering the art of wingfoiling, our 2-hour rental option provides an extended session to refine your technique and truly immerse yourself in this captivating water sport. With each passing minute, you'll gain confidence and become more attuned to the synergy between wind, water, and wing.
For the ultimate wingfoiling adventure, our 1-day rental option grants you the freedom to explore the possibilities of this exciting sport at your own pace. From sunrise to sunset, you'll have ample time to perfect your skills, experiment with different manoeuvres, and revel in the sheer joy of gliding effortlessly over the Mauritian waters.
About the Location - Mont Choisy Beach
Stretching almost 3 kilometres from Trou aux Biches to Pointe aux Canonniers, this is the island's longest beach: a gently curving strand of golden sand lined with a shady grove of filao trees on one side and by gentle, crystal-clear aquamarine water on the other.
The beach is characterised by its gentle arch which shows the waters curving as they hit the shores. It enjoys the panoramic scenery of the Indian Ocean, featuring gentle turquoise coloured waters, powdery white shores and a rich marine life.
The only RYA recognised centre in the Indian Ocean
At the sailing centre, a team of experienced and RYA qualified staff is always available, both on and off the water, to provide top-notch instruction and prioritise safety. Their dedication shines through as they share their passion, knowledge, and enthusiasm in a friendly and approachable manner, creating a welcoming environment for all.
The instructor-to-client ratio of 1 to 4 guarantees that each participant receives dedicated attention and support throughout their journey. With their commitment to providing exceptional instruction, fostering a love for the sport, and prioritising safety, you can trust that you're in good hands with this experienced and passionate team.
---
Swimwear
Suitable shoes
Towels
Water
Suncream
Spare clothes
---
| Wingfoiling in Mauritius - Mont Choisy | |
| --- | --- |
| 1 Hour | 49 Euros |
| 2 Hours | 75 Euros |
| 1 Day | 110 Euros |
| 1 Hour instructor | 15 Euros |
---
Booking Attributes