Astronaut Underwater Training Experience
| | |
| --- | --- |
| Location | South |
| Location | South West |
| Operating Days | Monday, Tuesday, Wednesday, Thursday, Friday, Saturday |
| Duration | 3 days |
| Activity Time | Flexible |
| Transportation | Offered as Supplement |
| Comment | Location: Flic en Flac at La Pirogue hotel; Chazal Nature Reserve. All participants should produce a valid medical certificate for sport diving including stress-ElectroCardioGram results |
About the Astronaut Underwater Training - Unique in Mauritius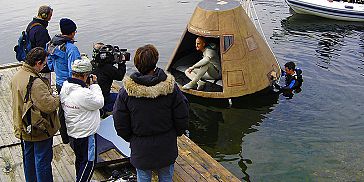 Have you ever wondered what it would be like to be in a space zero-gravity environment? No need to leave Earth with our Astronaut Underwater Training program, offered right here in Mauritius!
We brings you the unique opportunity to experience a real spaceflight training underwater, in a secured environment with a Space-like setting for you to get an insight about the Journey of an Astronaut into space.
You will get familar with the advance science and technology available on the Space Station, also enjoying your training with NASA and European Space Agency's Zero-Gravity Flight Veterans.
More Information on Astronaut Underwater Training
For astronauts and space scientists, underwater space training habitats are the next best thing to orbital "zero-gravity" conditions both in terms of similarity in weightless-like conditions and in experiencing how to move and operate in an extreme, isolated environment akin to outer space.
This psycho-physical and operational training program provides Ground & Underwater Weightless training to prepare people to board on a Scientific Research, Techno-Innovation and Educational flights in Mars-Gravity, Moon-G and Zero-G conditions.
As part of the Astronaut Underwater Training Experience, participants will be able to experience on several phenomena where gravity and its absence are a factor.
The Astronaut Underwater Training program also facilitates the creation of new knowledge and exposure to the high-technology related to space exploration. Space-fans, researchers and technology are also being given user-friendly access to Microgravity Educational, Research and Development tools.
All these and more are enahanced here in Mauritius as part of the new exciting project in turning Mauritius paradise island into the First Space Knowledge Tropical Destination.
So come and enjoy a unique "Space holiday" in the tropical hub of Mauritius where an unparalleled aerospace research and education, grows in synergy with international key-players, basic and applied-research institutions.
Astronaut Underwater Training - Program Inclusions:
Basic training certification
Training curricula and tools
Full-time VIP assistance in English, French, Dutch and/or Italian by top-level experts during all training activities led by experts from European Space Agency
Underwater Diving Trainning
Diving equipment
Scuba Space Diving services include:
The Underwater diving trainning varies based on your previous diving experience and your diving certificate as per the below:
For non qualified divers (Level 1): Scuba diver qualification, and Space diver training (2 pool sessions and 3 sea sessions). They will be qualified as a PADI Scuba diver (study book included included French / English / Italian/ German)
For qualified divers (Level 2): focusing on Space diver trainning, including 2 pool session and 2 sea sessions.
Active Learning and Classes on:
Space Program Management, Technology Innovation related to aerospace, astronomy, astrophysics, cosmology, exobiology, archeoastronomy, crewed space systems, aerospace flight operations, space exploration, astronaut training, space payload engineering, aero-fluid-dynamics, rocket science and space propulsion, microgravity-related life-sciences or material sciences, pharmacology, biomedicine, biology, bioengineering, robotics applied to aerospace programs.
Training Sessions & Astronaut Underwater Training Itinerary
DAY 1 - Introduction to Astrounaut Training & Space Training
Day one starts with an orientation session at 9:00 in the morning at La Pirogue hotel conference centre, with NASA and ESA Microgravity Flight Veterans.
The training course entails:
Medical certification check up, Anthropometric tests, and English & NASA jargon tests. Please note that you will be provided with documents, forms and gadgets.
Around 11:00 – 13:00 till 15:00- 17:00, there will be an underwater familiarization training in the pool or lagoon at Flic en Flac.
By the evening, just after your dinner, around 21:00 till 22:00 there will be International Space Station tracking and real time fly-by, galaxies and planet observation if (weather & NASA schedule permits)
DAY 2 – Outdoor Training (flight & orientation)
Start the next exciting training session at Chazal nature reserve to test your physical aptitude, starting as from 09:00 in the morning till 17:00 in the evening. This training entails:
Astronaut training and preparation to fly and to re-entry from flight
Orienteering and survival training for off-nominal re-entry from Space
Vertigo tests and zip-line evacuation training in tropical forest
Familiarization with weightlessness in waterfalls in natural lakes in tropical forest
DAY 3 – Diving & Performance Analysis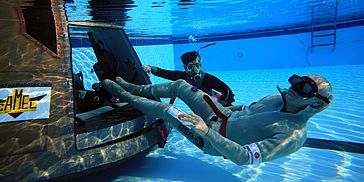 Day 3 starts as from 09:00 in the morning with Multimedia workshop on Microgravity Flights- NASA and ESA vis-a-vis Mauritius space program. The program entails:
PADI underwater training in open water
Mastering Microgravity- PADI underwater space training, and Moon-walking in open water, including diving
Analysis and evaluation of training results; preparation of Flight mission (at the beach)
Ends the program at around 6 pm, just after dinner with a ceremony & space party under the Milky Way (at the beach or, should it rain, at the hotel restaurant)
About The Space Instructor:
All courses will be featuring practical examples benefiting from the expertise acquired by the African Space Agency's senior staff and flight veterans for the SpaceLand program, namely the only non-USA entity participating since 2005 in the NASA Microgravity Pathfinder Flight Program from the Space Shuttle L.F. in Cape Canaveral, led by Eng. Doct. Carlo Viberti, former Responsible of the ESA Astronauts Activities Office and the European Technology Experimens on the Russian Space Station MIR http://www.astronaut.ru/as_italy/text/viberti.htm?reload_coolmenus.
Comments:
Safety Requirements: All participants should produce a valid medical certificate for sport diving including stress-ElectroCardioGram results, in English. Those who underwent surgery, suffer from asthma, or suffer from any medical conditions should produce an additional medical certificate in English stating they are fit for underwater dives.
Minimum age requirement: 10 years old. Please note those who are 60+ should produce a health certificate.
Meal: All meals, including lunch and dinner, can be provided at additional costs and upon advance request
Some of the images show SpaceLand Camps at the Kennedy Space Center and not necessarily reflect the actual underwater training environment in Mauritius
Qualified participants will have the chance, if they want, to enter a selection process to partecipate to actual weightless / Lunar-gravity / Mars-gravity research or educational flights: next flight mission open to the public is foreseen in 4 months from now and the selected individuals will fly on board the weightless flight vehicle used by SpaceLand at the NASA Space Shuttle L.F. in Cape Canaveral.
Price Exclusions:
The following is not included:
Transportation from your place of accommodation to the diving center / trainning location
Overnight Accommodation
Breakfast, lunch, dinner, drinks (water is included)
Medical certification for underwater sports
Diving insurance policy
Optional:
Non-Trainee Guest Package: special for friends and family members wishing to join in, on the pre and post astronaut underwater training activities but would rather keep both feet on the boat while the trainee practice Moon-Walking in the underwater site. This package includes merchandise and attendance at the welcome event, the night observation and the Award Ceremony.
---
Prices
Space Diver - Level 1 - For non qualified divers: Scuba diver qualification, and Space diver training (2 pool sessions and 3 sea sessions) - 3 days program: 1350 Euro
Space Diver - Level 2 - For qualified divers: focusing on Space diver trainning, including 2 pool session and 2 sea sessions - 3 days program: 1050 Euro
Customers who bought this activity also purchased