Car Rentals Policy - Mauritius Attractions Car Rentals Services
Unlimited mileage per day
All daily rental rates are on the basis of unlimited mileage per day, offering you to travel as much as you like.
Personalized delivery to any location in Rodrigues
Personalized delivery and pick-up services are offered to any location in Rodrigues, including to private villas/ accommodations, hotels and the Sir Gaëtan Duval Airport, Rodrigues.
Pick up and car delivery to any location in Rodrigues is offered for an additional one time total charge of 15 Euro (this is the total charge for both pick up and drop off of the car).

Drivers License
The driver must have a valid driving license for at least one year (minimum 21-23 years of age).
Reservation & Payment
A compulsory refundable deposit of Rs 20,000 / Rs 25,000 (exact amount depends on the type of vehicle) is required. The deposit can be done by credit card at the time of booking, or in cash upon delivery of the car. This deposit is refundable at the end of the rental period provided the petrol tank is full (the car is delivered with full tank), and no damage has been caused to the vehicle.
Petrol / Diesel
The vehicles will be supplied with a full tank of fuel at the commencement of your hire. It must be returned with a full tank at the end of the rental period. In case the car will be returned with a tank which is not full the cost of refuelling the car to a full tank state will be charged against the deposit.
Vehicle insurance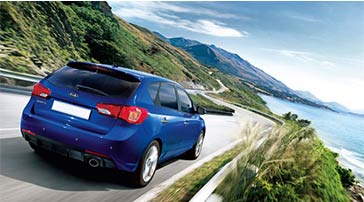 Cars are covered by a comprehensive insurance policy with unlimited liability sum. The insurance covers all cases, except the ones caused by driving under the influence, violation of the rental terms or culpable negligence. In the unlikely event of an accident, the hirer is responsible to cover damages in the amount not exceeding Rs 20,000 / Rs 25,000 (depending on the car model).
The Rental Rates Exclude
Rental periods
The car rental rates are based on a 24-hour period.