Club Med All Inclusive Day Package At Pointe Aux Canonniers
| | |
| --- | --- |
| Location | North |
| Operating Days | All Days |
| Duration | 6 hrs |
| Activity Time | 11:00 - 17:00 |
| Transportation | Offered as Supplement |
"
Did you know?
For with
Lions Interaction / Cheetahs
, you are free to carry your camera with you and take as many pictures you want during the Interaction.
CURRENTLY UNAVAILABLE
Club Med All Inclusive Day Package at Pointe aux Canonniers
Enjoy an All-Inclusive Special Day Package at Club Med Pointe aux Canonniers at the North of Mauritius
Visit Club Med at the North of Mauritius and Experience a memorable luxurious day at the Club Med Hotel having all the hotel facilities for you to enjoy throughout the day.
Situated on the beach at the village of Pointe aux Canonniers at the very Northern Part of the Island, Club Med Pointe aux Cannoniers is a small paradise where colonial style bungalows play hide and seek in luxurious vegetation made up of rare species and tropical plants.
Beautiful resort, great Beach, delicious food, open bar with ocean views, water sports - Mauritius Attractions has the extreme pleasure to offer its client this elite all-inclusive day stay experience at Club Med Pointe aux Cannoniers, without having to pay for a one night package.
Why Club Med Pointe aux Canonniers?
Whether you travel with family, friends or as a couple, Club Med offers the ultimate all-inclusive experience where everything you can image of is included in one package.
Enjoy gourmet dining throughout the day prepared by international chefs, full open bar with premium alcoholic and non-alcoholic beverages, various water and land activities as well as fun and exciting entertainment program - Club Med Pointe aux Canonniers has it all:
Coral reef and white sand: the ocean is always present from morning to night
The hotel offers a unique kind of international lunch buffet, which you are sure to enjoy!
Plenty of inland activities, no chance of being bored while being there.
An amazing vibe with music regularly playing around the pool; the staffs are outstanding and fun, creating an amazing ambiance - for which Club Med is famous for.
The beaches were perfectly manicured and there were heaps of activities on hand!
This resort has a great atmosphere for all ages and there is always something fun happening (dances, shows, pool games etc.)
What is Included? A lot! - (all included in price)
As part of the package, you are offered to:
Enjoy various sports and leisure activities
Benefit from a large menu of alcoholic and non alcoholic drinks all day long
Discover mouth-watering international buffets at the "Belle Creole" Restaurant
Appreciate the afternoon tea around the "Fregate" Bar
---
The Day Package starts at 11:00 AM - 17:00 PM.
Actually, you will have a Day of self-satisfaction as you relax and enjoy your time in Club Med Hotel with the Best Customer Service Ever.
Club Med - Package Description
Take part in an array of activities such as a game of tennis or water activities!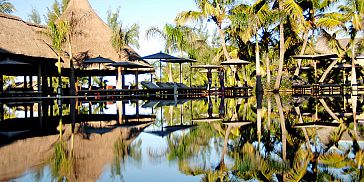 As a sport lover, you are sure to enjoy a wide variety of sports and leisure activities such as the: Table tennis, Beach Volley, Fitness Classes, Tennis, Mini football, Cardio and Weights Room
Water activities offered at the hotel: Snorkeling, Sailing, Aqua dynamic, Water - Polo and Kayaking
Plenty of drinks - To quench your thirst, the "Fregate Bar" welcomes you all day long in a lounge ambiance, where you can choose from a variety of drinks.
The "Dodo Bar", facing the Ocean is a real paradisiacal place! Enjoy your drink and admire the Ocean simultaneously! "
A large menu of alcoholic and non-alcoholic beverages is at your disposal during the day.
Unforgettable lunch buffet - Between 12.00 am and 2.00 pm, the "Belle Creole" restaurant invites you to relish the international buffets prepared by the talented executive chef.
Once in the "Belle Creole" restaurant, you will have no limits to your appetite!
You can choose from a canopy of Mauritian, Italian, Chinese or Indian Cuisine, all offered in the famous Club Med lunch buffet for you to enjoy….. All you have to do is enjoy the delicious food and eat as much as you wish…
After lunch or even before lunch, you are bound enjoy a dip in the irresistible blue water of the beautiful Swimming Pool of Club Med…
Enjoy the 600 meters of sand beach on the lagoon where you can enjoy safe swim with your friends and family or enjoy playing interesting games!
At 4.00 pm, time to be around the "Fregate Bar" to appreciate the afternoon tea. Sip your tea and enjoy the view of the twinkling water!
After your tea, the fun continues…Make sure to complete all the activities included in this package within the two hours left…!
At around 17.00 pm, time to say good bye to caring staff of the beautiful Club Med, while keeping this memorable day in your heart.
---
About Club Med Pointe aux Cannoniers
Flanked by a long white beach, the entirely renovated Resort provides an idyllic setting for families to share special moments and live out their dreams
Welcoming and comfortable, the elegant bungalows boast contemporary decor.
Club Med welcomes the most demanding of guests into a world of supreme refinement.
A beautifully elegant Club Med Resort in luxuriant tropical grounds
Spacious and comfortable Suites* with sea view
A 1,000-yard stretch of fine white coral sand beach, one of the finest beaches on the island
Beaches
Two public beaches to choose from
The main beach is almost 1000 yards of fine white coral sand with a defined bathing area, equipped with deckchairs, parasols and showers.
The second beach is farther from the centre of the Resort. 200 yards long, and equipped with deckchairs and parasols.
Grab the unique opportunity to experience a memorable and remarkable day at Club Med Pointe aux Cannoniers, enjoying all the hotel facilities throughout the day.
Kindly please note that on the following dates, we have special festive packages with different menus, drinks package and entertainment.
Accordingly, the prices are different and the standard prices below are not applicable on these specific dates.
24th of December 2015
25th of December 2015
31st of December 2015
1st of January 2016
---
Prices
Price per Adult: 59 Euro
Price per Teenager (12-18): 45 Euro
Price per Child (4-12): 28 Euro
Price per infant (2-4): 19 Euro
Price per infant (0-2): Free of Charge
CURRENTLY UNAVAILABLE
Dear Customer, to book this activity please contact us on +230 269 1000.