8 Days Luxury Catamaran Fishing Trip To St.Brandon
| | |
| --- | --- |
| Location | All Regions |
| Minimum Age | 4 |
| Operating Days | All Days |
| Duration | 8 days |
| Activity Time | Flexible |
| Transportation | Included in price |
| Comment | This trip can be fully customized as per your preferences |
This activity is not available until further notice
8 days Luxury Catamaran Fishing trip to St.Brandon
Crazy about fishing?
Looking to discover a virgin fishing destination?
Are you up for a once in a lifetime adventure?
Searching for something extraordinary?
Look no further! This is definitely the ideal trip for you!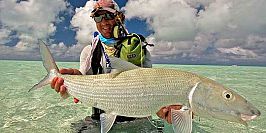 This special 8 days trip to St. Brandon is all about doing the extraordinary, discovering a true heaven on earth with various astonishing species and having a lifetime memorable experience.
On-board a luxurious 50 feet catamaran you will head 430km North-East of Mauritius for about 36 hours of sailing before reaching the remote virgin island of St. Brandon for the best fishing experience of your life.
The islets of St Brandon are regionally important for their seabird populations, Green Turtle nesting sites and are sanctuary for sharks, rays and many big fish!
All visitors of St. Brandon are amazed by the nature beauty of the islets and the St Brandon's Atoll is exactly a miracle for truly sophisticated discoverers
Your 8 days journey to St. Brandon on board our Luxurious Catamaran
Embark on our Magnificent, fully equipped luxury catamaran, escaping from civilization
Spend your days exploring the multitude of pure white sand flats and broken coral islands, all of which are full of bonefish
Enjoy full board meal plans, mixed Creole and International food prepared by an outstanding cook.
The Ultimate Fishing Experience: 4 ½ days of fishing
Enjoy snorkeling experience seeing sharks, rays, turtles and many big gish
Opportunities to observe turtle nesting
---
Fishing Experience at St.Brandon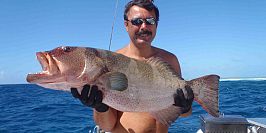 St. Brandon is a true fishing heaven!
When fishing at St. Brandon you are sure to target various species and to have a once in a life time fishing experience.
It is going to be the most spectacular bonefishing experience you will ever encounter! Most tides anglers can expect to see shoals of these shallow water speedsters. Over the past season we have landed Bonefish of up to 87cm fork length and weighing 15lbs.
St Brandon's is also the most productive Indo-Pacific Permit fishery witnessed. When specifically targeting these gloriously finicky fish, guests can have multiple shots per day.
The GT fishing can be quite varied. Some days you can see over 100 fish and at other times none at all. St Brandon's isn't a place where you are going to get shots at GT's everyday but it is certainly the place to break the 100 cm mark.
Target Species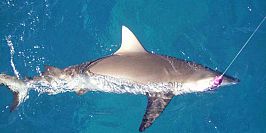 Bonefish, Indo-Pacific Permit, Giant Trevally, Bluefin Trevally, Golden Trevally & Greenspot Trevally.
Other notable fish species one can encounter on the flats include Golden, Yellow Dot and Green Spot Trevally.
Fishing will be organised from catamaran, on flats and from the shore using Zodiac rubber boats to deliver fishermen to the spots.
---
About St. Brandon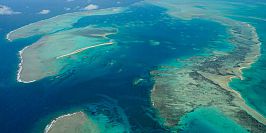 Saint Brandon's (Also known as Cargados Carajos Shoals) is a group of over 50 small islands, coral ridges and vast sand flats which is cut by three major passes and extends 50 km from north to south.
Situated 268 nautical miles north-east of Mauritius's main island this area is rich in fish stocks, flora and fauna. The magnificent condition of the coral reefs and the lobster infested outer reefs is the proof that except the small population of Creole natives who live on Raphael Island in the northern area, there has been very little human interference at St. Brandon since its have been first discovered.
For many years foreigners were restricted from visiting St Brandon shores, but thankfully, the red tape has finally been cleared to allow us to offer this unique trip on-board the most luxurious catamaran for both Mauritians and foreigners to discover St Brandon.
---
About the Luxury Catamaran
This is the most luxurious catamaran currently operating in Mauritius and it usually used by our VIP clients for either day charters or overnight cruises. The unique catamaran Luxury Lagoon 500 catamaran was built by special request in France in 2011, available for freight in Mauritius. The boat is like a top class hotel, offering all the possible facilities and features as well as has 4 luxury cabins.
Cabins are very spacious with the high top design. Catamaran planning/orientation is made in the most convenient way and wholly suited to holidays of the most demanding clients.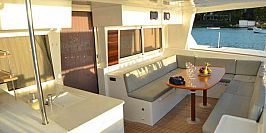 The Luxury Catamaran is equipped with all the extras like air-conditioners, water tanks, water cooler, ice maker, TV, DVD with excellent variety of films and music for any taste, 4 comfortable cabins, each set with bathroom, completely equipped kitchen and basically all that you can think of, making sure you have an enjoyable cruise experience and an unforgettable trip to St Brandon.
In order to bring into life almost all fantasies about exotic gastronomy, the catamaran is equipped with top notch equipment such as: 4 burner gas cooker, double-side sink, 4 refrigerators, 2 freezers, oven, microwave oven, bread baker and other kitchen Household appliances. You will get to enjoy the delicious food while sitting by a perfect dinning table, placing 8 people together in maximum comfort.
The upper deck is an ideal place for spending the day enjoying the great views all around, for sunbathing and for having good discussions. On the edge of the catamaran you will find a table, minibars and spacious hammocks.
All this and many more great facilities are available on-board for guaranteeing top luxurious cruise experience and for your maximum comfort, fun and entertainment.
Luxury Accommodation On-board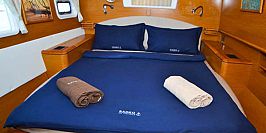 When you first enter any of the cabins, you will notice the harmony of space and light. The catamaran interior is decorated by luxurious light wood. Brand porthole,placed all around the perimeter, creates the feeling of lightness. For both ventilation and light, there are 4 huge hatch located on the roof.
For the best comfort and relaxation, there is a king-size L-shape sofa, a lounge area and also a TV area with a LCD television as well as stereo system for you to watch movies and enjoy your favorite music playing throughout the day.
The catamaran can accommodate maximum of 8 people, sharing 4 double cabins. All cabins are very spacious with separate toilets and showers. Each cabin is fully air conditioned and equipped with LCD TV, DVD and audio system. Due to removable partition, beds can be easily modified from one big double beds to two twins beds. All cabins have en-suite shower room and toilets. The cabins also have a huge illuminator that enables you to enjoy gorgeous sea view as well as enables the natural light to come inside.
To summarize - Honestly it would be impossible to find in Mauritius any better boat for having this great 8-days cruise adventure!
Technical details and equipment
Catamaran measurements: Length 16.54m , Width 8.52m
Engine 2 x 75 HP - engine Capacity 1000 L
Water Capacity 1000 L
Air Condition System
2 Power Generators (12W/220W)
2 Solar Batteries
2 Diving compressors
Watermaker 200L/H and Ice Maker
4 Refrigerators
2 Freezers
Navigation Raymarine Satellite Phone
JVC Sound system (160W) with 4 Outside speakers, 2 Inside speakers
5 LCD and DVD systems in the Living room, and in each cabin
Fully equipped kitchen
Washing machine
Dishwashing machine
4 Double Cabins, each with Air-condition, TV, DVD, Sound syatem and Shower room
6 Diving cylinders
Sundeck
Safety equipment EPIRB
ZODIAC - inflatable central consol boat with 40 power suspended engine
---
8 Days Luxury Catamaran Fishing Trip To St Brandon - Itinerary
Day 1
16h00 - Safety briefing by captain and embarkation
17h30 - Departure from Caudan and setting sail off to St Brandon, 430 km North East of Mauritius for 36 hours navigation
Dinner is served onboard
Overnight stay
Day 2
Sailing continues towards the Cargados Carajos shoals
Trolling & fishing opportunities during the day
Breakfast, lunch and dinner are served on board
Overnight stay
Day 3, 4 and 5
05h30- 06h00 estimated arrive at St Brandon (Day 3)
Free time to relax and enjoy a relaxing nap after the long sail or decide to get off board, swim or sun tan on the beach
Spend some time on the Cargados Carajos shoals - an archipelago with sand banks, shoals and islets.
Spend time fishing leisurely
Visit some of the islets around,
Hunt for lobsters and sea urchin for their meal
Snorkeling and swimming
Breakfast, lunch and dinner will be served
All activities will be under the supervision and guidance of the crew & skipper.
Day 6
16h00 - Departure from St Brandon in the afternoon
Day 7
A whole day of sailing in the open sea
Fishing opportunities
Day 8
04h00-04h30 - Estimated time of arrival at Mauritius, depending on weather conditions
---
Inclusions and Exclusions
Included in this 8-days Cruise Package
Return transfer from hotel/airport – boat – to hotel/airport
Full Board stay consisting of 3 meals a day (breakfast, lunch, dinner)
8 days cruise experience
Overnight stay in a comfortable en-suite cabins, each with comfortable king size beds
Four and half days of fishing (weather permitting)
Fishing licenses, fishing equipment for trolling and bates
Passenger's insurance
Selection of drinks, such as beer, variety of soft drinks & water
Not Included in the Package
Permit fees for foreigners (application minimum 35 days before the trip) – 5000 Rs per person
International flights to Mauritius
17ft mono-hulls with 2 x 15 HP 2-Stroke Yamaha engines – available locally for an additional charge
Meals and accommodation in Mauritius before and after the cruise
Spirits, wine, items of a personal nature
Gratuities for guides and boat staff
Personal travel & medical insurance
---
Additional information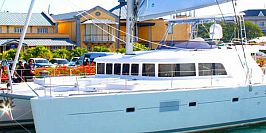 Fishing
St Brandon offers the possibilities to practice different types of fishing such as:
Jigging for king fish (a lot), babone, tuna, captain fish
Trolling for marlin, sailfish, dog tooth tuna, yellow fin tuna, and barracuda.
Popping for king fish, babone, red grouper and red snapper
Maximum number of anglers and guests onboard - 8

Equipment Included:

Trolling professional equipment
Professional popping equipment
Fishing Season: The best fishing season is all year round.
Weather:
Temperatures range between 25°C - 30°C. Wind averages 15knots.
Medical & Health Requirements:
Mandatory emergency medical evacuation insurance. A Yellow Fever certificate is required if travelling from a Yellow Fever infected area.
Satellite Phone & Communications:
St Brandon islands have no mobile network; however the Catamaran is equipped with a satellite phone available 24/7 which can be used by guests at an additional cost.
Caring for the Environment:
We take impeccable care of the ocean by keeping a strict waste policy: nothing is thrown in the water, all our waste returns back to the shore, where it is properly being disposed. Additionally, the boat is cleaned with non-caustic detergents to keep the coral reef alive. The catamaran is also equipped with solar panels, to keep the carbon footprint minimal. The catamaran is specially designed for providing a high standard of comfort and at the same time to be environment friendly.
Alcohol
For safety reasons, consumption of alcohol is prohibited during sailing (Mauritius-St Brandon, St Brandon-Mauritius); otherwise s this will be considered responsibility of the guest. Alcohol such as beers and local wine are available during the cruise. Should you would like to bring your own favorite beverages, you can do so and there is no corkage fee.
Bed Linen and Towels Change
The cabins will be cleaned twice a day and the bed linen will be replaced twice a day, towels are also available on-board and will be changed upon request.
---
Important Comments
We recommend spending 1 night in Mauritius for adaptation before the beginning of the trip to St. Brandon on-board the Luxury Catamaran.
It is required to provide a copy of their passport at least 35 days in advance prior the trip, providing enough time to issue all permits required for the St. Brandon trip
Since the lagoon of St. Brandon is home to stingrays and cone shells, it is very important to bring with you proper sea/water footwear.
Pregnant women, people following a specific treatment and children under 10 years old are not allowed to participate in this trip.
Maximum number of participants: 8
Snorkeling equipment is not provided due to sanitary measures. Clients are requested to bring their own - mask, snorkel and fins.
Clients should bring their sun-screens, personal belongings for overnight stays on board and any other specialized fishing equipment as per their wishes.
Please note that clients will not be allowed to keep any of the fish caught during the excursion.
Do you still have a doubt in your mind? We hope not! because you can be sure that St
Brandon is a real paradise on earth which promises you a lifetime experience second to none!
---
Prices
Exclusive-Private 8 days trip to St. Brandon (Bare Boat): 19500 Euro
Supplement per passenger (up to 8 passengers): 1250 Euro / person
This activity is not available until further notice