Exclusive Private Full Day Yacht Cruise In The North
| | |
| --- | --- |
| Location | North |
| Operating Days | All Days |
| Duration | 7 hrs |
| Activity Time | 09:00 - 16:00 |
| Transportation | Offered as Supplement |
This Activity Is Not Operational Until Further Notice
Exclusive Private Full Day Yacht Cruise in the North of Mauritius
Set out to enjoy the scintillating turquoise waters, clear blue sky and majestic islets of the Northern Coast of Mauritius. Enjoy a relaxed full day cruise experience with your family or friends cruising aboard a private yacht.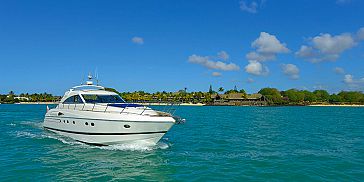 The yacht offers you the possibility to enjoy a luxury cruise in maximum comfort along with sophisticated equipment available on board.
Along with beautiful surrounding views throughout the full day private yacht cruise, you will also get to enjoy a selection of beverages and delicious food served onboard.
The yacht's unique and elegant design combines style and manoeuvrability, allowing it to reach locations inaccessible by catamarans and making cruising a fantastic experience. To make your time on the yacht even more enjoyable, you will also have the possibility of playing your favourite music on the premium sound system available onboard.
From the moment you board the yacht till the end of the cruise, you will experience pure relaxation, along with personalized service by a dedicated crew and the most amazing scenery you could possibly wish for!
---
About the Exclusive Private Full Day Yacht Cruise in the North of Mauritius
You will board the Princess V65 Motor Yacht at Sunset Boulevard, Grand Baie at 9 a.m.
The yacht will head out north cruising outside the bay and the lagoon toward the sea cliffs of Coin de Mire. As part of this day cruise you will cruise along the northwest coast of the Mauritius and have the chance to see the Northern islets; Coin De Mire, Flat Island and Gabriel Island.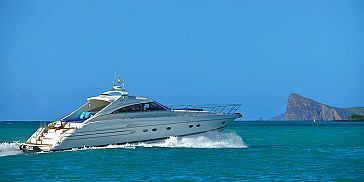 During the Full Day Yacht Cruise, you will get to enjoy a snorkelling break to discover the rich marine world of the Indian Ocean.The reef is home to variety of fish species that include Damselfish, Surgeonfish, Butterfly fish, juvenile Sailfin tangs, as well as tiny Pipefish and large Trumpet fish. Also, with some luck you may see sea turtles as well as dolphins during the snorkeling.
Lunch will be served onboard, whenever and wherever you like. After lunch, the yacht will stop sailing for you to enjoy some downtime where you can take in the gorgeous scenery of the lagoon and surrounding islets. Make the most of your time to bask in the warm tropical sun and enjoy pure relaxation.
During the entire day cruise, a friendly and professional staff will cater for your every need making sure you have everything you need to fully enjoy the cruise.
The yacht will then head back to Grand Baie, ending your luxury yacht cruise.
---
About the Northern Islets of Mauritius
Coin de Mire
The Coin de Mire Island, also called Gunner's Quoin, situated 8 km north of Mauritius, is well known by divers as one of the best diving sites of the island. The island is a nature reserve and as such it is not possible to go there. For those who enjoy bird watching, native birds can be seen flying around or nesting in the cracks of the cliffs such as our famous- the "Pailles en queue". The Coin de Mire highest point is at 142 meters.
Flat Island
Flat island, known as Île Plate in French, is located near Round Island, Île aux Serpents and Coin de Mire at the extreme north of Mauritius.It is the largest of the northern islets with a single hill topped by a lighthouse. Not only is the island a very popular venue for divers and snorkelers but it also has beautiful beaches bordering the crystal-clear turquoise waters of the Indian Ocean. North of Flat Island is Pigeon Rock, a spectacular bare rock stack, were many seabirds come for nesting.
Gabriel Island
Gabriel Island known also as Îlot Gabriel, is located near Round Island and Flat Island, at the extreme north of Mauritius (about 10 kilometres north of Cap Malheureux). In comparison to Flat Island, Gabriel Island has less Flora and vegetation and is a protected natural reserve. The island is most famous for if its beautiful unspoiled beaches, with crystal clear water surrounding the entire island. It is a very popular site for snorkelers, and also offers great dive sites.
Round Island
The uninhabited islet has an area of 2.08 square kilometres and a maximum elevation of 280 meters. The island is a nature reserve under the jurisdiction of the Mauritian Ministry of Agriculture and Natural Resources. Rare reptiles that are endemic to Round Island include the Round Island skink, Round Island day gecko, and Round Island boa.
---
Food & Beverages (at a supplement)
Lunch Menu
Snacks - Shrimp Cocktail Verrine/ Melon & Prosciutto Skewer/ Beef Carpaccio on Crouton
Starter - Salmon Terrine
Main course - Prawns
Dessert - Fruit Salad
Beverages - Water, Juice, Soft Drinks, Beer and Wine (South African)
---
About the Yacht - Princess V65 Motor Yacht
Maximum Capacity: 4 people and 3 crew members
Yacht Facilities on-board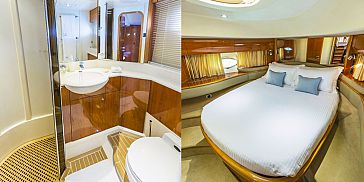 2 double cabins with independent bathroom
Air-conditioned square cabins
A front deck and 2 rear decks
Snorkelling equipment
Technical equipment – Radar, GPS, Autopilot, Chart plotter & Echo Sounder
Entertainment – TV, DVD, Music
Bar, Ice Maker, Refrigerators, Electric Barbecue
Outdoor Shower
Exclusivity and Privacy- You and your guests will be the only aboard and are guaranteed exclusively and privacy with friendly attendant professionals who will cater for your every need personally.
Yacht Sailing in Mauritius
A yacht charter in Mauritius offers sunny days in the world's third largest coral reef surrounding a turquoise lagoon and silky, blond, sandy beaches. You will get to cruise inside the beautiful crystal clear water lagoons, enjoy a unique sailing experience, seeing breathtaking views of the landscape of Mauritius from the sea.
Swept by the regular south east trade winds from March to November, north east from December to February, and the pleasant climatic conditions that prevail year round, Mauritius is an ideal paradise cruising destination for sea lovers and sailors.
---
Comments
Location: North
Operating days: All Days
Duration: 7 hours
Activity Time: 09:00 - 16:00
Reservation: Subject to availability
Note: This excursion/itinerary depends solely on climatic conditions
---
Prices
Price for Exclusive Yacht hiring for the day: 3890 Euro
Beverages and Lunch per person: 260 Euro
This Activity Is Not Operational Until Further Notice