Exclusive Private Full Day Yacht Cruise In The North-west
| | |
| --- | --- |
| Location | North West |
| Operating Days | All Days |
| Duration | 7 hrs |
| Activity Time | 08:00 - 15:00 |
| Transportation | Offered as Supplement |
"
Did you know?
Not sure how to get around the island? Check our
Mauritius Car Rental
offers and benefit from a reliable car rental services in Mauritius for the most attractive rates.
This Activity Is Not Operational Until Further Notice
Exclusive Private Full Day Yacht Cruise In The North-West of Mauritius
Embark on an exciting adventure in a truly lavish style along north-west coast of Mauritius with the Full Day Private Luxurious Yacht Cruise.
With the exclusive Princess V65 Motor Yacht, luxury, privacy and indulgence are the focal points of this exciting day out at sea. Enjoy unforgettable moments with your partner or family, cruising aboard a luxurious yacht, accommodating up to 4 persons onboard.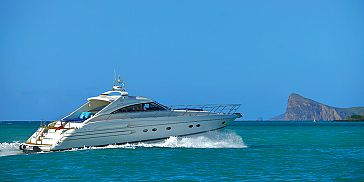 The yacht's unique and elegant design combines style and manoeuvrability, allowing it to reach locations inaccessible by catamarans and making cruising a fantastic experience. To make your time on the yacht even more enjoyable, you will also have the possibility of playing your favourite music on the premium sound system available onboard.
Throughout the day cruise, a dedicated crew will make sure that you have a great time onboard, assuring a highly personalised service. Along with a selection of beverages and delicious food served onboard, you will also get to enjoy snorkelling in the calm lagoon and have the chance to catch a glimpse of dolphins along the west coast.
Whether you wish to sunbathe on the deck of the yacht while soaking in magnificent views of the Indian Ocean, relax and spend quality time with your loved ones onboard, or go snorkeling in sparkling blue waters, this private luxury yacht cruise is a sure way of making your wishes come true. The yacht cruise is all about unveiling a world of absolute luxury in Mauritius, while discovering the true beauty of our island, lagoons and beaches.
---
Additional Information about the Private Yacht Cruise Experience
You will board the Princess V65 Motor Yacht at 8 a.m.
The yacht will head out west, cruising outside the bay and the lagoon towards Black River.
Along the way, you will cruise past the beautiful coasts of Mont Choisy and Trou aux Biches, while sailing through Turtle Bay Marine Park and continue heading south while enjoying great views of the entire west coast and of Port Louis as well. You will also get to see the mountain peaks of the island in the distance, as you cruise along.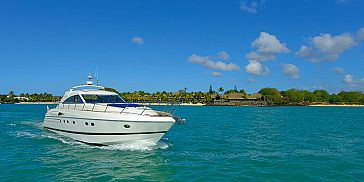 Once you reach Tamarin Bay in the Black River region, you will have the unique chance to watch dolphins in their natural habitat. This is an incredibly moving experience which will bring you into contact with strikingly beautiful scenery, unspoiled landscapes and friendly animals.
Marvel at the spectacular view of the Rempart Mountain, the Black River mountain range, and the magnificent Le Morne Mountain in the backdrop- making for some wonderful photographs.
You will also get to enjoy a snorkelling break in the lagoon to discover the rich marine world of the Indian Ocean. The lagoon is vast and shallow with large coral fields in good health, offering a very colourful and vibrant view.
Lunch will be served onboard, whenever and wherever you like. After lunch, the yacht will stop sailing for you to enjoy some downtime where you can take in the gorgeous scenery of the lagoon and surrounding views. Make the most of your time to bask in the warm tropical sun and enjoy pure relaxation.
During the entire day cruise, a friendly and professional staff will cater for your every need, making sure you have everything you need to fully enjoy the cruise.
The yacht will leave the West Coast at around 13:00 to head back, ending your luxury yacht cruise at 15:00.
---
About Dolphins in Mauritius
Dolphins are one of the most fantastic creatures that live in the ocean. The dolphins, while cheerful and playful are also a symbol of intelligence and grace. Dolphins live in pods of about 20 individuals or more and can be observed in the early morning, swimming along the west coast of Mauritius- from Tamarin to the deep sea, off the coast of Le Morne Peninsula.
The Bottlenose Dolphin and the Spinner Dolphin have made the West Coast of Mauritius a place for them to rest and sleep before going to the deep sea to feed.
---
Food & Beverages (at a supplement)
Lunch Menu
Snacks - Shrimp Cocktail Verrine/ Melon & Prosciutto Skewer/ Beef Carpaccio on Crouton
Starter - Salmon Terrine
Main course - Prawns
Dessert - Fruit Salad
Beverages - Water, Juice, Soft Drinks, Beer and Wine (South African)
---
About the Yacht - Princess V65 Motor Yacht
Maximum Capacity: 4 people and 3 crew members
Yacht Facilities on-board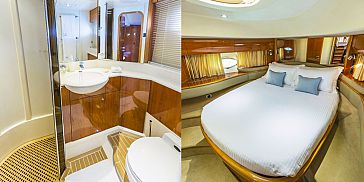 2 double cabins with independent bathroom
Air-conditioned square cabins
A front deck and 2 rear decks
Snorkelling equipment
Technical equipment – Radar, GPS, Autopilot, Chart plotter & Echo Sounder
Entertainment – TV, DVD, Music
Bar, Ice Maker, Refrigerators, Electric Barbecue
Outdoor Shower
Exclusivity and Privacy- You and your guests will be the only aboard and are guaranteed exclusively and privacy with friendly attendant professionals who will cater for your every need personally.
Yacht Sailing in Mauritius
A yacht charter in Mauritius offers sunny days in the world's third largest coral reef surrounding a turquoise lagoon and silky, blond, sandy beaches. You will get to cruise inside the beautiful crystal clear water lagoons, enjoy a unique sailing experience, seeing breathtaking views of the landscape of Mauritius from the sea.
Swept by the regular south east trade winds from March to November, north east from December to February, and the pleasant climatic conditions that prevail year round, Mauritius is an ideal paradise cruising destination for sea lovers and sailors.
---
Comments
Location: North, West
Operating days: All Days
Duration: 7 hours
Activity Time: 08:00 - 15:00
Reservation: Subject to availability
Note: This excursion/itinerary depends solely on climatic conditions
---
Prices
Price for Exclusive Yacht hiring for the day: 4850 Euro
Beverages and Lunch per person: 260 Euro
This Activity Is Not Operational Until Further Notice