Exclusive Romantic Royal Dinner at Sea
| | |
| --- | --- |
| Location | North East |
| Operating Days | All Days |
| Duration | 3 hrs 30 mins |
| Activity Time | 19:00 - 22:30 |
| Transportation | Offered as Supplement |
"
Did you know?
For with
Lions Interaction / Cheetahs
, you are free to carry your camera with you and take as many pictures you want during the Interaction.
Exclusive Romantic Royal Dinner at Sea
Enjoy the most amazing dinner with your loved one in an exclusive and romantic setting!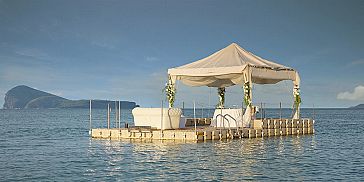 Offered by LUX* Grand Gaube in the North-East coast of Mauritius, let your partner and you be treated in a true VIP style, with maximum privacy, relishing on a gourmet dinner and personal server, for having the ultimate couple dinner experience.
The North-East coast is the ideal place to enjoy a romantic evening with many perfect 'US' moments to cherish! It is a unique invitation in the most romantic setting – a lovely table adorned with flowers and candles is set for the two of you under the twinkling stars.
After a warm welcome at the hotel, you are offered a cocktail as soon as you arrive. To make your evening with your beloved more memorable, you will have the opportunity on feast on a delicious 3-course dinner on the floating platform.
Reminisce on your glorious evening under the moonlight and imagine the romantic hideaway awaiting you!
More about the Exclusive Romantic Royal Dinner at Sea:
Spend an unforgettable evening with your loved one between the crystal clear waters of the ocean and the sparkling sky of the night - it promises to be an exclusive romantic experience for just the two of you!
Brought to you by LUX* Grand Gaube - a 5-star resort, this Romantic Couple Dinner Package starts at 19:00 pm and ends at 22:30 pm.
Along the beautiful North-East coast of the paradise island, this is an exceptional dining experience with a modern and romantic touch. In the middle of one of the most beautiful lagoon in Mauritius and with a dedicated personal service, you will surely enjoy the best escape with your partner.
As soon as you get to the entrance of the hotel, you will be charmed by the peace and bliss that prevail in the resort and its surroundings – a great beginning to a precious evening!
Your special evening starts with a hearty welcome by the hotel's devoted staffs. With a cocktail in hand, relax and anticipate the romantic moments awaiting you in the middle of the beautiful sea.
After a short boat transfer from the hotel's beach, you will arrive the platform where you will be surely overwhelmed with a feeling of complete satisfaction on seeing the romantic setting. A beautiful floating platform in the middle of the sea adorned with cotton curtains, flowers and a lovely table set for two with candlelight altogether make for a highly romantic evening.
As part of this amazing couple dinner package, enjoy a delightful 3-course meal from a selection of dishes under the glittering stars. You will definitely be taken to another world as you will be treated with royalty by a personal server who will cater for all your needs and desires and see to it that your Romantic Couple Dinner meets a successful and highly satisfactory end!
After your delicious meal, cozy up on the sofa specially set for you while you contemplate the stunning star-studded sky and appreciate the sweet sounds of the waves.
This Romantic Couple Dinner package indeed enables couples to enjoy a fine dinner with uncompromising high quality services in an ideal discreet atmosphere.
The Exclusive Romantic Royal Dinner Menu:
After you have well settled in the romantic ambiance, choose one dish from each course and relish your delicious dinner, full of exotic flavors.
Starters:
Grilled and marinated prawns with vegetables, olive tapenade and tomato salsa OR
Tuna ceviche with green asparagus, capers and parsley oil OR
Beef carpaccio with Grana Padano, seared mushroom OR
Carciofini and eggplant Caponata with garden herbs and pine nut
Main Courses:
Saffron risotto with vegetables and tomato confit OR
Grilled vegetables 'tian', tomato coulis and basil oil OR
Spring chicken with mushroom risotto and roasted cherry tomato OR
Ruby snapper with risoni pasta and grilled vegetables
Desserts:
Strawberry Tiramisu with Panpepato OR
Coconut Pannacotta, passion fruit coulis and jelly OR
Cannoli, ricotta cream and orange compote
Drinks:
All beverages are at an additional cost and can be selected directly from the menu card.
Optional add-ons:
For those looking to further enhance your dinner experience, with a small supplement, you can opt to add one of the following dishes as part of your main course meal:
Black Angus beef tenderloin, fork crushed potatoes and olive oil infused juice
Grilled lobster with roasted 'Grenaille' potatoes and lemon butter
Comments
The Romantic Couple Dinner by LUX* Grand Gaube is offered every day from 07:00pm till 10.30pm.
This package is offered for 2 people.
All beverages (excluding the welcome cocktail) are offered at an additional cost and can be settled directly at the hotel's service outlet.
About Grand Gaube Beach:
One of the most beautiful sites in Mauritius, you will not find a match for the gorgeous ocean views elsewhere other than Grand Gaube Beach.
Protected from the winds, the small floating platform of LUX* Grand Gaube Hotel lies on the crystal clear and turquoise lagoon in the North-east coast. You can enjoy spectacular views of the northern islets of Mauritius from the sea – Gunner's Quoin (Coin de Mire), Flat Island, Round Island and Serpent Island.
Take a break in one of the most beautiful coasts in Mauritius; this is island life at its most romantic and joyful self!
---
Prices
Price for the Romantic Couple Dinner Package - LUX* Grand Gaube for a couple (2 pax): 200 Euro (100 Euro / person)
Dear Customer, to book this activity please contact us on +230 269 1000.