Full Day Catamaran Cruise With A Dive At Coin De Mire
| | |
| --- | --- |
| Location | North |
| Operating Days | All Days |
| Duration | 8 hrs |
| Activity Time | 09:00 - 05:00 |
| Transportation | Offered as Supplement |
| Comment | Departure Point: Sunset Boulevard |
Full Day Catamaran Cruise With A Dive At Coin De Mire
Set out for an adventurous marine exploration at Coin de Mire with a Full Day Catamaran Cruise; where you will have the privilege to visit a haunting, yet spectacular wreck through an amazing diving experience.
Be ready to discover the scintillating turquoise waters, blue skies and warm sunshine, not to mention the majestic islet, Coin de Mire which stands proudly in the Northern Coast of Mauritius. With this full day catamaran cruise, you will get to dive 5 to 40 meters underwater with the best water visibility.
The stunning reef awaits you for an amazing marine exploration where you will get to encounter a variety of fish species that include Damselfish, Surgeonfish, Butterflyfish, juvenile Sailfin tangs, as well as tiny Pipefish and large Trumpet fish. With some luck you may see sea turtles as well as dolphins during the snorkeling.
While on your cruise, please your taste buds with mouth watering menus, and a selection of wine, beers, and soft drinks on board.
---
Itinerary Of The Full Day Catamaran Cruise With A Dive At Coin De Mire
Set sail on the turquoise waters to Coin de Mire in a beautiful catamaran to spend an amazing full day cruise. Your journey will begin at 09.00 am where the catamaran will be depart from Sunset Boulevard, Grand Bay. Upon boarding, the crew members and your diving instructor will welcome you. You will enjoy some really delicious baked pastries, cakes and snacks.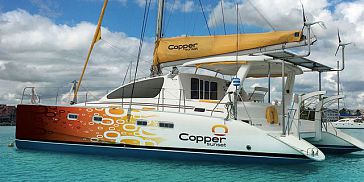 In the meantime, the catamaran will head to the absolutely gorgeous and majestic Coin de Mire, which is commonly known as the Gunner's Quoin, situated some 8 kilometers away from the northern tip of Mauritius. The islet covers an area of about 76 hectares of basalt rocks and plants.
It is home to lush green vegetation and hosts a diverse number of bird species such as the 'pailles en queue', the Wedged tail shearwater, Red tailed and White tailed tropic bird, along with the common birds like sparrows and doves which you should see soaring overhead. Interestingly, this area is incredible not only for its spectacular nature scenery but also because of its rich marine ecosystem.
As you reach the diving area, you will be equipped for the diving session. You will dive between 5 to 40 meters deep inside the sea, to explore the haunting and spectacular Djabeda wreck which is surrounded by an exquisite marine fauna and flora. The Djabeda wreck is a Japanese fishing boat lying upright on the sandy bottom at 34 metres. The wreck has been damaged slightly over the years and debris can be seen strewn across the sandy floor.The vessel is approximately 44 meters long, 10 meters high and 5 meters wide. As part of the dive you will pass some wreckage including the huge anchor, some of the wrecked parts are guarded by giant morays.
On the way to the wreck you will pass through amazing coral gardens, rich with plenty of fish and coral. This diving site is full of colorful soft coral, schooling fish, king fish, moray eels, triggerfish, stone fish, lion fish, parrot fish, leaf fish and sea slugs. Sometimes the wreck is also visited by barracuda, stingrays and dolphins.
After this amazing exploration, you will return to the catamaran at around 01.00 pm, where a scrumptious lunch is waiting for you, including yummy appetizers and snacks prepared by the crew. Soon after your lunch, take a relaxing pause and admire the open ocean. You may also get back to the beautiful seabed after your break.
At around 03.30 pm, the catamaran will depart from Coin de Mire to reach Grand Bay at 05.00 pm.
Summary of the Itinerary for the Full Day Cruise with a Dive at Coin De Mire
Departure: Sunset Boulevard, Grand Bay at 09.00 am
Enjoy delicious baked goods and snacks
Catamaran will head to Coin de Mire
Dive between 5 - 40 meters to explore the Djabeda wreck
Lunch onboard at 01.00 pm
Relax or plunge back into the waters
Head back to Grand Bay at 03.30 pm
Arrival: Sunset Boulevard, Grand Bay at 05.00 p
---
Food & Beverages On Board
As part of this special Full Day Catamaran Cruise, you will enjoy a tantalising menu with a wide selection of drinks: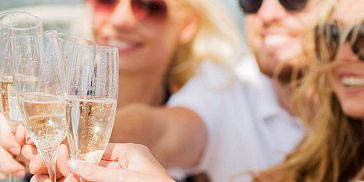 Food Menu:
Assortment of toasts
Verrines
Smoked marlin Carpaccio
Mini burgers
Crispy chicken with peri peri sauce
Samoussa
Fresh fruits
Drinks:
A selection of rum
Beer
Red/ white / Rosé wine
Soft drinks
Mineral water
Coffee and Tea
---
About the Catamaran Boat
The Catamaran features high standard materials, refined design and spacious areas for an amazing time at sea. Catering for groups of up to 18 participants, you are sure to enjoy an unforgettable day-cruising experience.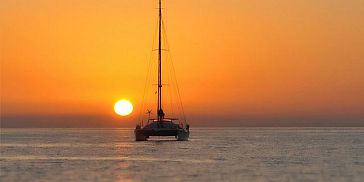 The catamaran is an air-conditioned and as such, you will enjoy luxury par excellence with a cozy setting. Benefit from various amenities such as a fully equipped kitchen, a spacious interior and exterior lounge including dining area, large comfortable sun beds and two trampolines. This first class catamaran is also embedded with an auto-pilot, GPS navigation system and audio system with a Smartphone's port.
In terms of accommodation, it offers four luxurious bedroom suites where one additional bed can be added for one child in each of the two front bedrooms. Each room is well air-conditioned and includes an HD TV, a private en-suite bathroom with a mirror and a cupboard.
Catamaran Facilities on board:
A fully equipped Leopard 43 Catamaran with 4 bedroom suites
Air-conditioned Lounge/ dining room (inside and outside) and1 large deck at the front of the vessel
Fully equipped kitchen
Large comfortable sun beds and 2 trampolines at the front of the catamaran
Snorkelling and basic fishing equipment
Mobile phone charger (on battery)
HD TV
CD and radio (port for smartphone)
Hot water (solar panels)
---
Comments
Point of Departure and Arrival: Sunset Boulevard
Starting Time: 09.00 am
Ending Time: 05.00 pm
What to bring: Clients should bring their sun-screen, sunhats, swimsuits, bath and beach towels and a change of clothes
Maximum number of people: 18 participants
NOTE: Kids as from 3 years old must wear a life jacket during the whole cruise
---
Prices
As From 790 Euro
Dear Customer, to book this activity please contact us on +230 269 1000.